150 Years after Gandhi's Birth, Authoritarianism in India Must Be Met with Resistance
BRICS, 9 Dec 2019
Matt Meyer and Binalakshmi Nepram | Resistance Studies – TRANSCEND Media Service
1 Dec 2019 – As we celebrate Gandhi's legacy, we must also stand in solidarity against ongoing repression in Kashmir and Manipur.
Ela Gandhi prepared for the commemoration of her grandfather's 150th birthday by gathering grassroots community members in KwaZulu-Natal surrounding the historic Phoenix Settlement, which served as the center of Gandhi's life when he first arrived in South Africa. Ela's work is set in a sharp contrast to the university posters screaming "No to Racist Gandhi" which have become all-too common throughout the African continent, as reports intensify regarding Gandhi's evolving views on race relations (including his significant early prejudices).
For many of us, however, we must look back at history mainly to guide us through present and future struggles. It is these which must loom larger than issues of appropriate legacy for long-past legends. As the 2019 anniversary of Gandhi celebrations come to a close, the question is less how we can best reflect upon the man. Rather, it is how the international peace, pacifist, and human rights communities continue to fail to urgently address the impending third-month anniversary of Kashmir under siege. This is all the more urgent as 2019 marks the sixty-first year of imposition of the Indian Armed Forces (Special Powers) Act against indigenous areas of Manipur and all of Northeast India.
Since at least 1989, the people of Kashmir have faced a lock-down, hyper-militarized, Indian government-led stripping of human rights, land rights, religious, cultural, political, economic, and natural rights. All of this is done as India successfully proclaims itself "the world's largest democracy," without irony or loss of revenue from human rights conferences held in its historic centers.
Whether or not the man most referred to as "Mahatma, the great soul" would be tacitly accepting his government's continued imperial machinations, or leading the resistance to the decades-long occupation, is hardly the point. It is more important to ask why peace and justice activists who supposedly follow in his footsteps have not put greater effort to stopping the crimes committed by growing Indian authoritarianism.
As has been unusually well-documented in the Western press, the past months of extreme repression have been torturous on the colonized population, with the New York Times admitting that "everyday life suffers" for the over twelve million citizens of the territory under contention. Not as well documented is the fact that the apparently new policies announced on August 5, 2019 by the government in Delhi are much more than just a twist of the right-wing government of the BJP and Prime Minister Modi. Simply put, they are the latest measures and culminating terrorism of a widespread Indian agreement that Kashmiris can at best be treated as second class quasi-citizens on their own land.
In fact, the only thing "new" about the August announcement was that it formally abrogates the long-standing Indian Article 370, which recognized—at least on paper—that the ultimate status of Kashmir had not yet been resolved. With Article 370 dismissed last August, India has unilaterally declared a final and permanent closing of any future negotiation or discussion of Kashmir's colonial status: it will remain, despite the will of the people, past history, international law, or however much nonviolent protest must be killed off, an occupied part of "democratic India."
The draconian repression of 2019 can best be seen as the method by which India hopes to permanently extinguish any last bit of hope which Kashmiris might hold for the possibility of self-determination. Issues of full sovereignty, as have been stridently advocated for years by strictly nonviolent and legal organizations such as the Jammu and Kashmir Coalition of Civil Society (JKCCS), appear off the table, both to Indian officials of all major parties but also to the global peace movement which shows little knowledge or concern about the ongoing crisis. As JKCCS continues to document under the most extreme conditions, the death toll mounts as even young children become targets and curfews expecting people to stay home all day simply cannot be logically followed. The specter of violence looms large on both sides, as not only positive change appears thwarted, but—for many young people—the possibility of peaceful change.
And Kashmir is not India's only "problem area." In Manipur, a state in the current Northeast Region of India that borders Myanmar, 2.2 million people belonging to 39 indigenous communities are currently under an Armed Forces Special Powers Act (AFSPA). AFSPA provides all Indian military personnel with complete impunity while operating in the region. Anyone can be arrested, imprisoned or killed on mere suspicion charges, without any warrant or reason. Those affected cannot approach the courts, who serve only the Indian authorities. Manipur, it should be noted, was an independent Asiatic nation state, functioning as an economic and cultural crossroads since the 18th century.
AFSPA was first introduced by the colonial British Government in 1942 to thwart Gandhi's "Quit India" Movement. In 1947, after the British left India, the newly independent government imposed the Act on the Northeast Region of India, where Manipur was merged into the republic as a "union territory" from 1956-58. The same act was later imposed upon Kashmir in 1989-1990. Manipur, Northeast India and Kashmir are the only regions on the Indian sub-continent where martial law is imposed as the law of the land. Yet little or no condemnation takes place from within India or the rest of the world. Any careful look at AFSPA, however, reveals that it is a clear violation not only of the Universal Declaration of Human Rights, but of the Constitution of India itself.
There are currently a minimum of 600,000 Indian military personnel operating throughout Jammu and Kashmir, and 100,000 Indian security forces and paramilitary units in Manipur. Manipur is one of the most militarized zones in the world, with reportedly one military personnel for every twenty Manipuris. Due to this protracted conflict, 20,000 people have died in Manipur over the past decades, and more than 1,500 extrajudicial killings have been recorded in the state. In addition to many cases of unsolved disappearances, over five hundred children have been recruited as child soldiers in Manipur and the Northeast Region, including very young girls. The conflict and repression in Manipur and Kashmir are classic cases of the world's forgotten conflicts.
Standing with Ela Gandhi at Phoenix half a continent away, it was a challenge and an honor to reflect on the urgent needs and work to be done to unite groups of Africans, Asians, Europeans, and Americans (south and north). Ela's own decades of work—as a local organizer, as a part of the United Democratic Front, as a Member of Parliament for the African National Congress after the end of apartheid, and now as a leader of South Africa's Gandhi Development Trust—has not diminished her steadfast smile, her hopeful spirit, or her ongoing work to bring people of all faiths and traditions together to continue the fight for justice. Under her leadership, Phoenix is becoming a place for local African youth to learn and study, to get free WIFI and share a coffee, to rebuild their society still so much in need. Here, the name of Gandhi has come to represent a special forward-looking, justice-based, continuous social change based on criticism, coalition-building, and resistance.
Reflecting critically on the countless celebrations of Ela's grandfather, and in the name of the young Asian and African people still seeking an end to colonialism, economic apartheid, and structural violence caused by injustice, it is time to declare a new commitment. For the next 150 years, peace researchers, professors, students and practitioners must pledge: not another celebration, not another anniversary, without freedom, decolonization and peace in Kashmir, Manipur, and the world.
__________________________________________________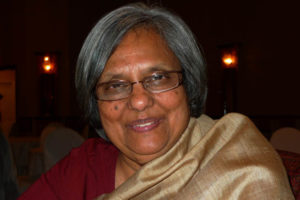 Ela Gandhi is a member of the TRANSCEND Network for Peace Development Environment, a granddaughter of the Mahatma and a native and resident of South Africa. She has been placed under house arrest for 8 years for political activism and was a Member of Parliament in the National Assembly from 1994 to 2003. She runs a newspaper and researches and collects information on Mahatma Gandhi and other heroes of the liberation struggle to compile them into documentaries for purposes of research and education. Serves in a voluntary capacity as:
-Hon. International President of World Council on Religions for Peace
-Chancellor of Durban University of Technology
-Chairperson of Satyagraha and Trustee of Gandhi Development Trust
-Member of African National Congress' Commission on Religious Affairs
-Vice Chair of International Centre of Nonviolence (ICON)
-Board member of the Legal Aid Board (LAB).
Matt Meyer is co-Secretary-General of the International Peace Research Association; Chair of the Financial Advisory Committee of the International Fellowship of Reconciliation; and War Resisters' International Africa Support Network Coordinator.
Binalakshmi Nepram is the founder of the Manipur Women Gun Survivors Network; Secretary General of the Control Arms Foundation of India; and convener of the Northeast India Women Initiative for Peace.
Matt Meyer and Binalakshmi Nepram are both associated scholars and fellows with the Resistance Studies Initiative of the University of Massachusetts/Amherst.
Go to Original – wagingnonviolence.org
Tags:
Asia
,
BRICS
,
Conflict
,
Culture
,
Democracy
,
Ela Gandhi
,
Gandhi
,
Geopolitics
,
Hinduism
,
History
,
Human Rights
,
India
,
Indigenous Rights
,
International Relations
,
Islam
,
Kashmir
,
Nepal
,
Pakistan
,
Politics
,
Religion
,
Social justice
,
Solutions
,
South Asia
,
State Terrorism
,
Terrorism
,
Violence
,
War
DISCLAIMER: The statements, views and opinions expressed in pieces republished here are solely those of the authors and do not necessarily represent those of TMS. In accordance with title 17 U.S.C. section 107, this material is distributed without profit to those who have expressed a prior interest in receiving the included information for research and educational purposes. TMS has no affiliation whatsoever with the originator of this article nor is TMS endorsed or sponsored by the originator. "GO TO ORIGINAL" links are provided as a convenience to our readers and allow for verification of authenticity. However, as originating pages are often updated by their originating host sites, the versions posted may not match the versions our readers view when clicking the "GO TO ORIGINAL" links. This site contains copyrighted material the use of which has not always been specifically authorized by the copyright owner. We are making such material available in our efforts to advance understanding of environmental, political, human rights, economic, democracy, scientific, and social justice issues, etc. We believe this constitutes a 'fair use' of any such copyrighted material as provided for in section 107 of the US Copyright Law. In accordance with Title 17 U.S.C. Section 107, the material on this site is distributed without profit to those who have expressed a prior interest in receiving the included information for research and educational purposes. For more information go to: http://www.law.cornell.edu/uscode/17/107.shtml. If you wish to use copyrighted material from this site for purposes of your own that go beyond 'fair use', you must obtain permission from the copyright owner.