(Italiano) COVID19: catastrofe o opportunità di cambiamento?
ORIGINAL LANGUAGES, 30 Mar 2020
Angela Dogliotti Marasso | Centro Studi Sereno Regis – TRANSCEND Media Service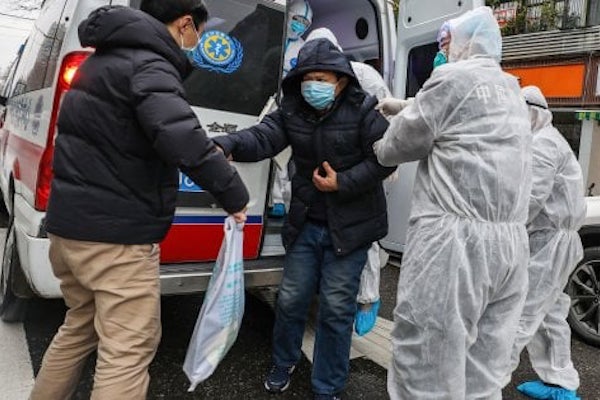 15 Marzo 2020 – All'emergenza climatica e a quella di milioni di rifugiati in fuga dalle devastazioni prodotte dalle guerre e dagli effetti del riscaldamento globale si è aggiunta in questi ultimi mesi quella sanitaria della pandemia da COVID19.
Come una goccia che fa traboccare il vaso, quest'ultima ha messo in evidenza tutte le fragilità delle nostre società opulente, dissipatrici, diseguali, aggressive verso ogni forma di rifiuto del sistema militare-industriale-scientifico dominato dal profitto e dal mercato senza regole.
Si può osservare, come hanno fatto alcuni, che molti altri sono i pericoli ai quali ci siamo assuefatti: dalle diverse forme di malattia, in alcuni casi di chiara origine ambientale, come certi tumori, alle numerose morti per incidenti stradali, alle guerre che in questo scorcio di secolo sembrano avere un andamento endemico e pervasivo in ampie aree del mondo.
Tuttavia la comparsa improvvisa e la diffusione rapida di un nemico invisibile, insidioso e sconosciuto, come il coronavirus, nei confronti del quale non ci sono ancora sufficienti difese e che perciò ci fa sentire impotenti e in pericolo, ha fatto osservare ad altri che dopo questa esperienza nulla potrà più essere come prima.
Probabilmente è vero, nel senso che questo virus scuote profondamente i miti del progresso e della crescita illimitata, la fiducia nella possibilità di controllo e di dominio da parte della tecno-scienza su tutto ciò che ci circonda, mettendo in discussione alcune fondamentali "certezze" e ribaltandone il significato.
Il primo concetto messo in discussione è quello di difesa: siamo abituati a pensare che la difesa sia "naturalmente" affidata alle armi e che la nostra "sicurezza" si difenda alzando muri, chiudendo porti e confini, ben pattugliati da eserciti e sistemi militari.
Ma di fronte a questo nemico invisibile le armi non servono. Anzi, si può osservare che proprio l'aver destinato grandi risorse alle spese militari, sottraendole ad esempio alla sanità e alla ricerca, ci rende più scoperti e indifesi.
Scopriamo, infatti, che nei confronti di questa emergenza il nostro sistema sanitario universalistico, che pure è uno dei migliori al mondo, vacilla e lamenta la mancanza di attrezzature, medici, strutture. Non siamo in grado di difenderci da questa aggressione perché ci siamo attrezzati a difenderci da altri "nemici", drenando risorse importanti che ora ci mancano.
Il COVID19 ci insegna dunque che il modo migliore di creare sicurezza è avere una società organizzata in modo tale da rispondere ai bisogni di tutti, a partire dalle fasce più deboli ed esposte.
Una società di questo tipo saprà garantire anche le proprie "difese immunitarie" contro i pericoli, interni ed esterni, che possono minacciarla, sviluppando l'uso corretto del potere da parte di ciascuno, le capacità di autogoverno e di resilienza, nonché forme organizzate di difesa popolare nonviolenta che i movimenti per la pace da tempo propongono.
Un altro importante ribaltamento di significato è quello del concetto di isolamento.
Da Trump a Salvini a Orban, le destre sovraniste di tutti i continenti hanno rispolverato un nazionalismo pericoloso e fondato sulla cultura individualista imperante, legittimata dal pensiero unico neo-liberista.
"Prima gli Italiani" o "America first" crea un isolamento, una barriera tra noi e gli altri, visti come nemici che mettono in pericolo la nostra sicurezza e dai quali distinguerci e separarci. È un isolamento che chiude agli altri, di chi vuole difendere i propri privilegi, e i propri interessi, anche a scapito della propria umanità.
L'isolamento al quale ci costringe il COVID19, in un inedito contesto di rinuncia agli abituali rapporti con gli altri, ha invece una diversa connotazione. Serve sì a proteggere noi stessi, ma allo stesso tempo, protegge anche gli altri, perché nessuno sa se potrebbe essere un veicolo di diffusione dell'epidemia. "Io resto a casa" è dunque una scelta di responsabilità, protezione e cura verso se stessi e verso gli altri.
È stato osservato, infine, che il COVID19 non guarda in faccia nessuno, colpisce poveri e ricchi, giovani e anziani, al Nord come al Sud, non fa differenze di sorta, è… democratico.
Anche chi pensa di essere più forte, potente, attrezzato, in realtà è debole e fragile come tutti: non c'è ricchezza, potere, posizione che tenga…Tutti hanno bisogno dell'aiuto degli altri, perché
NESSUNO SI SALVA DA SOLO. È la rivincita della solidarietà contro l'individualismo.
Ecco, questo è il punto.  Riusciremo a realizzare, dopo questa emergenza, un diverso rapporto tra noi, con le altre specie e con l'ambiente che ci ospita?
Perché il rischio che si perdano i freni inibitori, scatenando reazioni distruttive è concreto, se non si comprende che queste emergenze, climatica, sanitaria, migratoria, ci obbligano a cambiare passo, restando umani, anzi, recuperando pienamente i valori più profondi di fratellanza, solidarietà, sobrietà che sostanziano una vera democrazia e aprono una possibilità di futuro sostenibile per tutti. Proprio come è avvenuto dopo il cataclisma della seconda guerra mondiale, quando si è avvertita l'esigenza di creare istituzioni, come le Nazioni Unite, che si ponessero come strumenti alternativi per la risoluzione delle controversie internazionali.  Sappiamo che in realtà l'ONU è una istituzione troppo debole e priva di reale potere nel gestire le relazioni internazionali.
Ma oggi la somma delle diverse emergenze crea una situazione ancora più drammatica e insostenibile e richiede scelte, provvedimenti e comportamenti più decisi e radicali da parte di tutti, a partire dai governi e dalle istituzioni internazionali, fino a ciò che coinvolge gli stili di vita di ogni cittadina e cittadino.
Una direzione di marcia è stata indicata da Gandhi, in modo lungimirante, diversi decenni fa:
"Nel mondo c'è quanto basta per soddisfare le necessità di ciascuno, ma non abbastanza per l'avidità di alcuni".
________________________________________
Angela Dogliotti Marasso è membro della Rete TRANSCEND per la Pace, Sviluppo e Ambiente e direttrice del Centro Studi Sereno Regis a Torino.
Go to Original – serenoregis.org
Tags:
Coronavirus
,
Economy
,
Epidemics
,
Health
,
Pandemic
,
Public Health
,
Science
,
Science and Medicine
,
Trade
,
United Nations
,
WHO
,
World
DISCLAIMER: The statements, views and opinions expressed in pieces republished here are solely those of the authors and do not necessarily represent those of TMS. In accordance with title 17 U.S.C. section 107, this material is distributed without profit to those who have expressed a prior interest in receiving the included information for research and educational purposes. TMS has no affiliation whatsoever with the originator of this article nor is TMS endorsed or sponsored by the originator. "GO TO ORIGINAL" links are provided as a convenience to our readers and allow for verification of authenticity. However, as originating pages are often updated by their originating host sites, the versions posted may not match the versions our readers view when clicking the "GO TO ORIGINAL" links. This site contains copyrighted material the use of which has not always been specifically authorized by the copyright owner. We are making such material available in our efforts to advance understanding of environmental, political, human rights, economic, democracy, scientific, and social justice issues, etc. We believe this constitutes a 'fair use' of any such copyrighted material as provided for in section 107 of the US Copyright Law. In accordance with Title 17 U.S.C. Section 107, the material on this site is distributed without profit to those who have expressed a prior interest in receiving the included information for research and educational purposes. For more information go to: http://www.law.cornell.edu/uscode/17/107.shtml. If you wish to use copyrighted material from this site for purposes of your own that go beyond 'fair use', you must obtain permission from the copyright owner.