Pentagon Brass Can Kiss My Ass
TRANSCEND MEMBERS, 27 Apr 2020
Ann Garrison | Black Agenda Report – TRANSCEND Media Service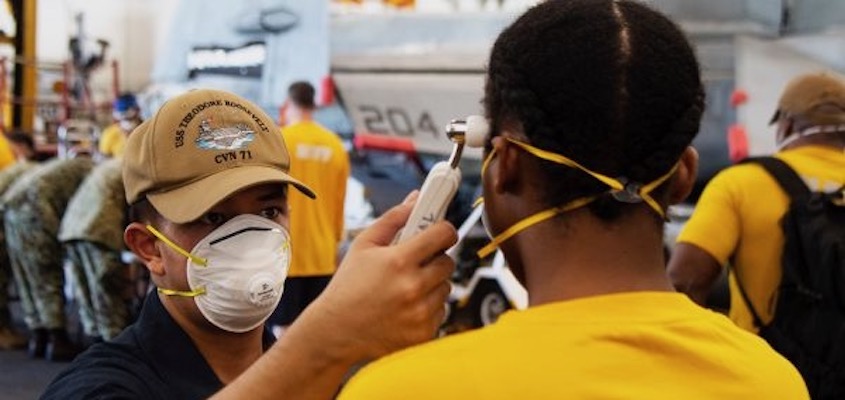 22 Apr 2020 – The coronavirus-stricken crew of the USS Roosevelt would be more useful making N-95 masks, building housing for people living on the streets, and tilling community gardens to prepare for supply chain collapse.
"Go fuck yourself with your atom bomb."
Pentagon brass say they're anxious that US adversaries Russia, China, North Korea, and Iran may take advantage of our pandemic-crippled armed forces in their hemisphere, but they can kiss my ass. I still don't have an N-95 mask, a coronavirus test, or a stimulus check, so how'm I supposed to worry that a Chinese aircraft carrier steamed through a strait in the East China Sea? That a Russian fighter jet flew within 25 feet of a US Navy surveillance plane over the Mediterranean? Or that Iranian Navy vessels are "harassing" the US Navy and Coast Guard in the Persian Gulf?
Why don't we just bring them all home? What the hell is our Coast Guard doing off the coast of Iran anyway? Who's protecting New Jersey?
I'm more frightened of empty grocery shelves, unemployment, and gun-toting militias egged on by the Orange Tweeter-in-Chief. I can't stand my own mind, and I keep hearing Allen Ginsberg howl in the back of it:
America I've given you all and now I'm nothing.
America two dollars and twenty-seven cents January 17, 1956.
I can't stand my own mind.
America when will we end the human war?
Go fuck yourself with your atom bomb.
The Pacific Theater
Meanwhile, disruption in the US Navy's Pacific Theater is its own story again this week. (Last week I reported on "The USS COVID-19, from Guam to Puget Sound.")
The crew of the nuclear-powered aircraft carrier USS Theodore Roosevelt are now building an "Expeditionary Medical Facility" (EMF) for sick sailors, their brethren, on Naval Base Guam, while the nuclear-powered aircraft carrier USS Chester Nimitz is still stuck at Naval Base Kitsap, in the Puget Sound Naval Shipyard, amidst fear of coronavirus on board.
Near the end of March the Navy reported coronavirus infection  aboard the nuclear-powered aircraft carrier USS Ronald Reagan, which is permanently forward deployed  at Yokosuka Base, Japan, but there are few details to be found because the Pentagon ordered all military installations to stop reporting COVID-19 infections and deaths .
The Nimitz, Roosevelt, and Reagan are three of the US Navy's 11 nuclear-powered aircraft carriers, each of which carries around 80 fighter jets. They are the largest aircraft carriers in the world with a total combined deck space over twice that of all other nations' aircraft carriers combined. France's Aircraft Carrier Charles de Gaulle is the only other nuclear-powered carrier in the world.
Back in 2011, the Navy deployed the USS Ronald Reagan to respond to the Fukushima nuclear power plant disaster, and sailors then on board have since been suing the Tokyo Electric Power Company for exposing them to dangerous levels of radiation and ensuing disease. They can't sue the US Navy because the Feres Doctrine  prohibits US soldiers and sailors from recovering damages for injuries sustained while serving, and that no doubt includes any caused by reckless maneuvering around the coronavirus.
Good news, nevertheless, is that the USS Roosevelt's crew put the brass on notice that their health is more than a strategic pawn by cheering their captain, Brett Crozier, as he disembarked, fired by Secretary of the Navy Thomas Modly for insisting the Navy respond to the epidemic onboard and protect its sailors in communications leaked to the press. And then by booing Modly when he tried to lecture them that Crozier was "naive or stupid." Modly has since "resigned," and Crozier seems to have a good chance of being reassigned or even restored to his command.
Hail Hail the Crew of the USS Roosevelt!
Back at Naval Base Kitsap
Last week Navy brass promised that the USS Nimitz would depart from the Puget Sound Naval Shipyard to relieve the USS Roosevelt "shortly." This week they chose the word "soon," and stressed that deploying the Nimitz is "critical to the nation's defense in this time of pandemic." On April 14, the Kitsap Sun  reported that the Nimitz crew are taking daily medical screenings, stepping up their efforts to disinfect the ship, minimizing group gatherings, and wearing t-shirts tied around their faces as cloth masks.
Why not deploy them making N-95 masks till there are enough to go around, building housing till no one's left living on the streets, or tilling community gardens to prepare for food supply chain collapse? Yeah, yeah, you can say I'm a dreamer with flowers growing out of my asshole, but I'm not the only one. Shipyard workers at Bath Iron Works, a General Dynamics subsidiary in Maine, have said they'd rather make wind-power turbines than battleships, and if polled, Puget Sound Naval Shipyard workers would likely say the same.
Back in the Pacific
On April 20, Breaking Defense published "COVID-19 Slams West's Nuke Carriers While China Signals Taiwan, Japan ," reporting that "China is operating the only aircraft carrier in the Western Pacific as the COVID crisis continues to ravage the USS Theodore Roosevelt in Guam, and the USS Ronald Reagan remains pierside in Japan."
China only has two aircraft carriers, neither of which are nuclear powered, so Breaking Defense must be referring to the Chinese aircraft carrier Liaoning, which is reported to have brazenly steamed through the Miyako Strait between Japan's Ryukyu Islands and Taiwan last weekend.
US, Japanese, and Taiwanese navies responded by sounding alarms, but at 155 miles wide, the Miyako Strait qualifies as international waters, meaning anyone's navy or merchant marine can traverse it insofar as international law exists. (Which is of course not far since neither the US nor its NATO allies feel obliged to respect international law, though they usually do feel obliged to come up with an excuse, strategic or humanitarian, for disrespecting it.)
China would legally violate Japanese and Taiwanese territorial waters, as defined by the United Nations Convention on the Law of the Sea, if it entered the straits between any of the other Ryukyu Islands, all of which are within 12 nautical miles of either Japan or Taiwan, but there's no sign they've gone that far.
The Miyako Strait
The Miyako Strait is of megamundo geostrategic significance because it's a key Chinese trade route, and one of China's People's Liberation Army Navy (CPLAN)'s only accessways to the Pacific from the East China Sea—which is actually north of the South China Sea. Beijing and Tokyo face off more or less longitudinally across the East China Sea, where Japan claims China promised to warn them before the CPLAN entered the Miyako Strait, but China says they made no such promise.
In fact, the Chinese navy didn't even much try to traverse the Miyako Strait until 2010 because China had never had much of a navy till then. Now they have two diesel-powered aircraft carriers and a raft of nuclear-powered carriers and subs on the drawing board, and who can blame them, given the massive US nuclear and conventional air, land, and sea-based military so close up to their shores?
China's not determined to blow up the world if they can't dominate it. They just want to build the biggest business empire it's ever seen.
_______________________________________________

Ann Garrison is an independent journalist based in the San Francisco Bay Area. She attended Stanford University and is a member of the TRANSCEND Network for Peace Development Environment. In 2014 she received the Victoire Ingabire Umuhoza Democracy and Peace Prize for her reporting on conflict in the African Great Lakes region. She can be reached at @AnnGarrison or ann@kpfa.org .
Go to Original – blackagendareport.com
Tags:
COVID-19
,
Coronavirus
,
Pentagon
,
US Military
DISCLAIMER: The statements, views and opinions expressed in pieces republished here are solely those of the authors and do not necessarily represent those of TMS. In accordance with title 17 U.S.C. section 107, this material is distributed without profit to those who have expressed a prior interest in receiving the included information for research and educational purposes. TMS has no affiliation whatsoever with the originator of this article nor is TMS endorsed or sponsored by the originator. "GO TO ORIGINAL" links are provided as a convenience to our readers and allow for verification of authenticity. However, as originating pages are often updated by their originating host sites, the versions posted may not match the versions our readers view when clicking the "GO TO ORIGINAL" links. This site contains copyrighted material the use of which has not always been specifically authorized by the copyright owner. We are making such material available in our efforts to advance understanding of environmental, political, human rights, economic, democracy, scientific, and social justice issues, etc. We believe this constitutes a 'fair use' of any such copyrighted material as provided for in section 107 of the US Copyright Law. In accordance with Title 17 U.S.C. Section 107, the material on this site is distributed without profit to those who have expressed a prior interest in receiving the included information for research and educational purposes. For more information go to: http://www.law.cornell.edu/uscode/17/107.shtml. If you wish to use copyrighted material from this site for purposes of your own that go beyond 'fair use', you must obtain permission from the copyright owner.