Conflict Resolution through Ho'oponopono
CONFLICT RESOLUTION - MEDIATION, 4 May 2020
Jacob Devaney and Puanani Burgess – TRANSCEND Media Service
The ancient Hawaiian method of Conflict Transformation presented by Jacob Devaney and Puanani Burgess.
(1) Hawaii's Ho'oponopono for Earth Day – 22 April
By Jacob Devaney
The Power of Humility, Forgiveness, Gratitude and Love
The global movement to take care of our home planet has taken many forms since it was first started in 1970. Protests, marches, political activism, local initiatives, tree planting parties, and global climate councils are a few of the many approaches that concerned individuals have taken. Change never comes in one form; each of these methods are valuable, yet there is one thing that is often overlooked. Healing the earth and healing ourselves are completely entwined, therefore, the spiritual component must be central to the evolution and transformation we seek in the international environmental movement.
It's time we took greater responsibility for healing ourselves and really owned this as the first step to creating global peace. Ancient cultures have much to teach us about this, in particular, the Hawaiian people, who have wisdom that is helpful to reflect on at this time.
Bill Mollison is credited as a modern visionary in the world, who coined the term permaculture,  which basically consolidates and expands upon indigenous land stewardship principles. He considered Hawaiians to be some of the greatest experts on land management and sustainability in the world. When living on small islands with limited resources, surrounded by thousands of miles of ocean, people must learn to live and work together in harmonious ways with each other and the land in order to survive.
Here is a simple but profound practice that comes from the Hawaiian Islands which is being highlighted this year on April 21 (the day before Earth Day) called Global Ho'oponopono.
As the world gets smaller, the population is exploding, and people are becoming more connected while consuming more. It is becoming more evident that our planet is an island of limited resources, floating through an endless sea of outer-space. That is why the wisdom of Hawaiian Culture is relevant to the whole planet right now.
"The greatest change we need to make is from consumption to production, even if on a small scale, in our own gardens. If only 10% of us do this, there is enough for everyone. Hence the futility of revolutionaries who have no gardens, who depend on the very system they attack, and who produce words and bullets, not food and shelter."
― Bill Mollison
 Malama Pono
The term Malama Pono loosely refers to the idea of caring for one's self and living life in a healthy way. However, it is well understood that the health of the individual, the community, and the land are entwined. The responsibility of caring for one's self includes: honoring the ancestors, looking out for the future generations, and living in an authentic way. This authenticity often brings us challenges, wounds, disagreements with friends or relatives, and sometimes bitter confrontations. So Hawaiians have a beautiful practice for bringing resolve, balance, and restoring harmony that is called Ho'oponopono.
There are many approaches to Ho'oponopono, practised in different ways across the islands, depending on family tradition. No one way is correct, but the objective is to consciously channel negative energy into positive outcomes for self and community. The popular approach involves saying these 4 things:
I'm Sorry – This is not about being wrong or right, it is about humility and recognizing that even when we mean the best, or stand firmly in our own truth we can still inadvertently hurt others. This is a natural part of being human, and acknowledging this is a powerful way to return to one's self. Returning to one's self can also include a return to our place in the greater community or environment.
Please Forgive Me – We free ourselves when we ask for forgiveness. Even if the person we ask it from doesn't give it to us right away, we have done all that we can do to resolve the situation just by sincerely asking for resolve. The ball is no longer in our court for this issue, we have completed our part.
Thank You – Gratitude is one of the most powerful ways to open the gates of abundance in the universe. This is a way of acceptance, even for painful encounters, as it shows that we have learned what we can from the painful situation. We are emerging stronger and wiser for having been through the storm.
I Love You – Love is the energy that connects us all, it is what animates us to take care of ourselves, our community, and the land. Only from an authentic place of lovecan we accomplish anything of real and lasting value in this world, yet we are often blocked from this energy by unresolved wounds or trauma. Ho'oponopono clears these blockages, returning us to a place of joy, connection, and personal power.
One can speak the four principles above to themselves, to their relatives, to their ancestors, to future generations, and to the land. By focusing this intention in the present moment, one will experience a profound energy shift. You may discover the places that you have a hard time speaking these words and that will make you aware of where the blockages are.
As a Non-Hawaiian, I must express a deep gratitude to the people, the culture, and the land, as they have endured a painful colonial history while having the strength to continue the tradition of Aloha.
Many Forms of Ho'oponopono
Being a guest on the Big Island of Hawaii (known as Moku O Keawe to locals), I have been blessed to hear many stories about how individuals learned or practiced Ho'oponopono. We have set up the #malamapono hashtag for individuals in Hawaii and elsewhere to share their stories of Ho'oponopono on social media. In this way, we may all benefit from hearing the stories of others, which can bring us closer together and strengthen our understanding of this powerful practice.
A friend of mine collects broken shells and makes jewelry with them. She says that taking something that is broken and making it beautiful as an artist is a powerful reminder of the process each of us must make as humans. Another friend, while going through a painful divorce, spent months moving large racks to create an altar for prayer and meditation.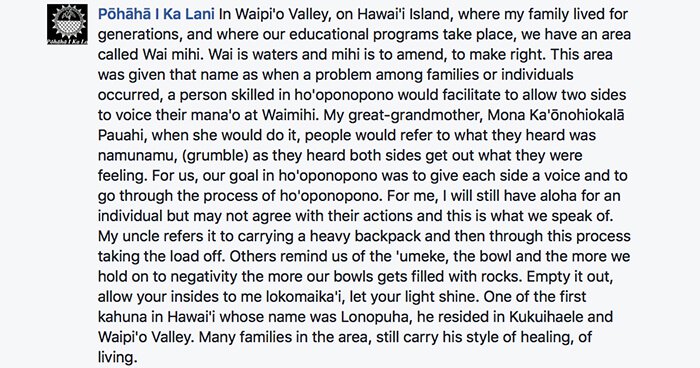 The ability to take the pain and channel it in a positive way is a form of Ho'oponopono, and the application of this philosophy is as endless as the challenges we face in life. I've heard stories of people being locked in a house together with food, and not allowed to leave until they have each spoken their peace, listened to the other's perspective, and agreed to respectfully honor their differences. This allows people to not accumulate so much emotional baggage.
Global Ho'oponopono for Earth Day
It is time for us to take this practice to ourselves globally, not just on Earth Day, but every day. This year, on April 21, at 12pm PDT there will be a special live broadcast with Hawaiian Kumu, Harry Uhaine Jim, from the Big Island. You can learn more about the event and register for free at www.malamapono.life. This ceremony will be broadcast from a very special place, at a very special time, on the day before Earth Day in order to set a spiritual intention to the festivities and events planned around the world to honor our planet.
Please share your own stories using the #malamapono hashtag and invite your friends to participate. Healing the earth starts with healing ourselves, our connection to each other, and to the ecological systems that sustain our lives. All approaches are needed at this time to protect what is sacred, and this will require unprecedented cooperation, respect, and love.
That is why the Cooperatist Movement is also a proud sponsor of the event along with Unify, United Religions Initiative, Pōhāhā I Ka Lani, Collective Evolution, Culture Collective, Four Worlds International Institute, UPLIFT, and others. This type of collaboration between organizations and individuals across borders and cultures is something we can all be proud of, and use as a model for what is to come. Before taking to the streets, or to your local government, or to your garden, take a moment to go inside, make things right with yourself so that you can bring a spiritual roundedness to your Earth Day Festivities!
___________________________________________
Jacob Devaney – Founder and director of Culture Collective, creative activist, musician, and producer.
Go to Original – upliftconnect.com
***********************************************************************
(2) How Hawaiian Tradition Sorts Out Family Disputes
By Puanani Burgess

Ho'oponopono is a traditional Hawaiian way to make peace in families when there's the kind of conflict that starts with something small and just gets bigger and bigger.
Ho'o is to make. Pono is a word that has three layers. The first layer is to behave righteously, with good spirit and good intention. If you do that, the second layer is that you create justice. If you operate with those two layers, you create the innermost layer: hope. So what you do by Ho'oponopono is you restore all of those layers, and you restore balance within the ohana—the family.
When I was a kid, I went to a Ho'oponopono session. My cousin stole a dollar from my aunt's purse and used it to buy candy, and everybody got into a huge flurry about it. My Aunt gave him what we call "dirty lickins"—basically a beating. And then her part of the family starts calling the kid names, and that leads to, "Naturally—he comes from that family over there, you know. They no good, too."
So it was just getting bigger and bigger. Finally somebody said, "I think we need to do Ho'oponopono and resolve this."
They asked the pastor of the church that most of us went to, to be the Kahu—to be the shepherd through this process. He talked to all the parties of interest to find out what happened from everybody's perspective. He asked everyone, "Are you ready to do Ho'oponopono? We're not going to do it until people are ready to be engaged."
So the Kahu decides who needs to be there, and people have to agree to come and stay, no matter how long it takes to finish.
Ho'oponopono always includes prayers and exultations. People stay together and rest, and eat, and come back again, and pray, and fast. So it's a whole big deal.
They call it unpeeling the onion, layer by layer. It starts at the surface: This is what happened. Then the Kahu will unpeel the layer and begin to explore the different perspectives until we get down to the innermost.
It turns out my cousin was walking home with friends, and they had money for candy. He didn't, and they wouldn't share. He lost face, and he felt shamed. So when he saw my aunt's bag there, he took the dollar, and he bought candy for himself as a way of restoring his pride.
He was sorry, and he understood that what he did was wrong, so he mihi'd—he confessed to it. Then my auntie, who gave him "dirty lickins," also confessed and asked for forgiveness for hitting him so hard. And then other people who said bad things about him started to let go.
Basically, it's a process of forgiveness. You ask forgiveness for the things that you did to make that situation bad.
You feel very relieved when it's over, and once you say the closing prayer, it is done. You're not supposed to talk about that stuff anymore; you're not supposed to hold grudges. It's done, and it's sort of like taking communion: You eat to show that there are no hard feelings anymore. If I can eat with you, then we're back into a relationship again.
___________________
Puanani Burgess is a mediator, poet, community organizer and Zen priest.
Go to Original – transcend.org/tms
Tags:
Civil society
,
Civilization
,
Conflict Resolution
,
Conflict Transformation
,
Hawaii
,
Hawaiian Culture
,
Ho'oponopono
,
Justice
,
Mediation
,
Polynesian Culture
,
Restorative Justice
,
Social justice
DISCLAIMER: The statements, views and opinions expressed in pieces republished here are solely those of the authors and do not necessarily represent those of TMS. In accordance with title 17 U.S.C. section 107, this material is distributed without profit to those who have expressed a prior interest in receiving the included information for research and educational purposes. TMS has no affiliation whatsoever with the originator of this article nor is TMS endorsed or sponsored by the originator. "GO TO ORIGINAL" links are provided as a convenience to our readers and allow for verification of authenticity. However, as originating pages are often updated by their originating host sites, the versions posted may not match the versions our readers view when clicking the "GO TO ORIGINAL" links. This site contains copyrighted material the use of which has not always been specifically authorized by the copyright owner. We are making such material available in our efforts to advance understanding of environmental, political, human rights, economic, democracy, scientific, and social justice issues, etc. We believe this constitutes a 'fair use' of any such copyrighted material as provided for in section 107 of the US Copyright Law. In accordance with Title 17 U.S.C. Section 107, the material on this site is distributed without profit to those who have expressed a prior interest in receiving the included information for research and educational purposes. For more information go to: http://www.law.cornell.edu/uscode/17/107.shtml. If you wish to use copyrighted material from this site for purposes of your own that go beyond 'fair use', you must obtain permission from the copyright owner.