Formerly Incarcerated Women Launch Chicago Worker Cooperative
COOPS-COOPERATION-SHARING, 3 Aug 2020
Karen Kahn | Employee Ownership News - TRANSCEND Media Service
ChiFresh Kitchen prepares meals to help address food insecurity during the pandemic.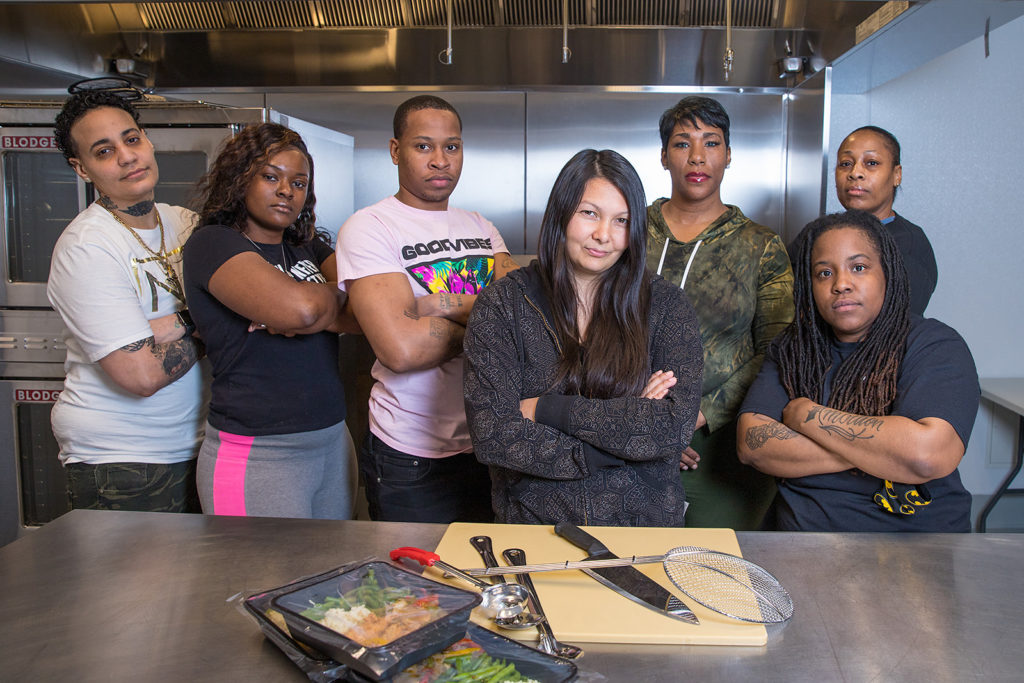 6 Jul 2020 – It's not often that a business launches weeks before its planned opening. But in the case of ChiFresh Kitchen, a worker cooperative owned and operated by four formerly incarcerated women and one man, the COVID-19 pandemic turned out to be a blessing. Says worker-owner Kimberly Britt, the pandemic has been "a tragedy for so many, but it helped us get our foot in the door, to be where we are today."
Healthy Prepared Meals for Food Insecure Chicago Residents
ChiFresh Kitchen, which began operations in mid-May, is on schedule to prepare 1200 meals a week by the first week in July. Its first large contract is with Urban Growers Collective, which has a grant to address food insecurity on Chicago's South and West sides. ChiFresh uses ingredients from the Urban Growers network of black-owned farms to prepare healthy meals for community organizations supporting vulnerable residents.
Despite never having run a commercial kitchen, the members have been working out all the details, from menus to preparation and plating to delivery. "It's been going well," says member Sarah Stadtfeld. "We know and trust each other. And we're learning from each other. The food is good, and we get the meals out on time, hot and fresh."
On the day I spoke with three ChiFresh members, and advisor Camille Kerr, jerk turkey burgers were on the menu. Chef-consultant Nyah Griffin is helping the team develop their commercial kitchen skills. "The hardest part," says Stadtfeld, "has been working through details related to timing, scheduling cooking, and making sure everything is ready to be transported on time."
Jobs for Formerly Incarcerated Women of Color
Kerr began thinking about a cooperative that would employ formerly incarcerated women a year and a half ago, when she got together with Joan Fadayiro, who co-founded Chicago's Cooperation for Liberation Study and Working Group. Kerr had a long-standing interest in criminal justice reform, and Fadayiro saw cooperatives as a path to autonomy and liberation for people of color. Kerr says, "We thought, how can we use these tools to address prison reform? And we came up with this vision."
"It has been a life-changing event. I was told I would not have opportunities upon release. But now I'm a business owner."

–Kimberly Britt, worker-owner at ChiFresh Kitchen
The vision was clear: a cooperative owned and operated by formerly incarcerated women that would provide workers with wages of at least $15 per hour. Kerr runs Upside Down Consulting through which she supports worker-owned businesses around the country. Her work, she says, is about "turning our power- and greed-centered economy upside down by creating businesses that value generosity and caring and center the most vulnerable."
Among the most vulnerable are formerly incarcerated women of color, who face significant barriers in finding employment when they leave prison. Nearly half (44 percent) of formerly incarcerated Black women are unemployed, compared with 18 percent of formerly incarcerated white men.
Bringing different values to a business doesn't mean eschewing business fundamentals. Kerr knew a successful business launch would require business and marketing expertise as well as deep connections to the community. Two more experts were engaged: Amiel Harper, a business consultant, and Angela Yaa Jones, a Chicago community organizer and researcher who focuses on cooperatives.
Watch this short video segment on CHIFresh, from Chicago's local NBC affiliate.
To determine what type of business could scale to perhaps 100 worker-owners and provide quality employment, the women poured over NAICS codes, which identify every type of business there is.
In an interview with Next City, Kerr said, "We were looking for what are the industries where people can create a lot of good jobs, with businesses that people can own, something where people can serve their community. We didn't want to put too many criteria to have no options left."
Finally, the group settled on three options: a laundry business, a logistics and cold storage business, or a food business. In consultation with an advisory group of formerly incarcerated women, they determined that the food business was most appealing. They decided on prepared foods, rather than a restaurant, because so many restaurants fail in their first year.
A Life Changing Experience
In December 2019, before COVID-19 had entered the world's consciousness, Jones put out an invitation to formerly incarcerated women in the community to come hear about the opportunity to form a cooperative business. The invitation reached Kimberly Britt, who reached out to a few friends, and the four women, along with Daniel McWilliams, turned up to hear more.
Britt says, when she heard about this opportunity, she was incredibly excited. She invited friends whom she thought would be interested, and in fact, the initial five who attended the meeting launched the business together. "It has been a life-changing event," says Britt. "I was told I would not have opportunities upon release. But now I'm a business owner." As the logistics and delivery person, Britt says, "I enjoy seeing the clients when we bring a meal. They are excited to see what the food is, and I love seeing how much they enjoy it. It's refreshing. I am excited to see what the future will be."
McWilliams also describes ChiFresh Kitchen as a life-changing experience. He has been really moved by coming to understand that "there are people who want us to be successful." And he enjoys making a difference, "helping out the community by getting them food." He says, "I really appreciate the experience of working with people I can relate to." The whole experience, he says, has shown him his "true potential"–something he didn't see before he went to jail.
Stadtfeld, who had found employment in a restaurant business after being released from prison, wasn't really sure if the cooperative would be the right thing for her. She felt a certain amount of loyalty to her current employer, but she was working three different jobs. She stuck with the meetings, and as ChiFresh went from idea to reality, she couldn't pass up the opportunity to own her own business.
All the members are hoping to grow the business so that they can help others like themselves. Says, Britt, "I am looking forward to helping other formerly incarcerated with secure employment. I had a hard time on my release; it was hard to find someone who would hire me."
A Promising Future Despite Dark Times
ChiFresh operates out of The Hatchery, a commercial kitchen and food-business incubator. Originally, the plan was to launch in June or July, with philanthropic support and contracts from institutions such as nursing homes, schools, and community organizations. But COVID-19 changed the landscape dramatically, making it clear that, if they moved quickly, the new business could fill an urgent community need.
Nearly half (44 percent) of formerly incarcerated Black women are unemployed.
"It turned out to be a good time to launch," said Kerr, "because people are thinking more about the problems of our industrial food system and addressing food insecurity. Why do we rely on big business rather than local food systems? Our communities don't have access to a lot of fresh food, so one of the goals of ChiFresh Kitchen is to create nutrient-dense meals that improve the health of the community."
Kerr helped fill a capital gap as the ChiFresh team pivoted from planning and development to launching their business. She had a small windfall from selling a home in Oakland, CA, and invested those funds so the co-op could buy equipment, including a delivery van. With a recent philanthropic investment from Capital Impact Partners and a GoFundMe campaign, ChiFresh is exploring buying real estate with Blue Tin Production, a Chicago-based worker-owned clothing manufacturer.
Chicago's cooperative ecosystem was given a boost last year, with the passage of a Limited Worker Cooperative Association (LWCA) statute. ChiFresh Kitchen was one of five new worker cooperatives to incorporate under the new law in mid-March, when the statute went into effect. The law exempts limited cooperative associations from the state's securities regulations, giving cooperatives the ability to raise investment capital directly from the community.
Having passed the LWCA statute, the cooperative community is now focused on pressing the state and city to invest directly in worker cooperative development as has been the case in New York City; Berkeley, CA; and Madison, WI. Says Kerr, "Establishing Black-owned economic institutions is critical to building economic security and power in Black communities. Structuring as a worker cooperative makes sure that wealth is built broadly and that people have autonomy in the workplace. We need to be building right now because this is a time when change is possible."
______________________________________

Karen Kahn is a communications consultant and the editor of Employee Ownership News.
Go to Original – fiftybyfifty.org
Tags:
Cooperation
,
Cooperatives
,
Investment
,
Women
,
Work
DISCLAIMER: The statements, views and opinions expressed in pieces republished here are solely those of the authors and do not necessarily represent those of TMS. In accordance with title 17 U.S.C. section 107, this material is distributed without profit to those who have expressed a prior interest in receiving the included information for research and educational purposes. TMS has no affiliation whatsoever with the originator of this article nor is TMS endorsed or sponsored by the originator. "GO TO ORIGINAL" links are provided as a convenience to our readers and allow for verification of authenticity. However, as originating pages are often updated by their originating host sites, the versions posted may not match the versions our readers view when clicking the "GO TO ORIGINAL" links. This site contains copyrighted material the use of which has not always been specifically authorized by the copyright owner. We are making such material available in our efforts to advance understanding of environmental, political, human rights, economic, democracy, scientific, and social justice issues, etc. We believe this constitutes a 'fair use' of any such copyrighted material as provided for in section 107 of the US Copyright Law. In accordance with Title 17 U.S.C. Section 107, the material on this site is distributed without profit to those who have expressed a prior interest in receiving the included information for research and educational purposes. For more information go to: http://www.law.cornell.edu/uscode/17/107.shtml. If you wish to use copyrighted material from this site for purposes of your own that go beyond 'fair use', you must obtain permission from the copyright owner.