Update on the Treatment of Covid-19
COVID19 - CORONAVIRUS, 10 Aug 2020
Swiss Policy Research - TRANSCEND Media Service
Please note: This is a recommendation to authorities and physicians. Patients are asked to consult a doctor.
4 Aug 2020 – SPR has updated its Covid-19 early treatment protocol and has added bromhexine. Bromhexine is a simple over-the-counter mucolytic cough medication that inhibits cellular TMPRSS2 protease and thus blocks SARS-CoV-2 cell entry via ACE2 cell receptors.
Several groups have already proposed bromhexine as an early or prophylactic treatment for Covid-19. An Iranian group recently reported a decrease in intensive care treatments of 82%, a decrease in intubations of 89%, and a decrease in deaths of 100% in a trial with 78 patients.
For further information on bromhexine see the reference section on the protocol page.
In view of a possible renewed increase in infection rates, early or prophylactic treatment of people at high risk or high exposure (including health care workers) should be of paramount importance to reduce hospitalizations and deaths.
********
Immunological and serological studies show that most people develop no symptoms or only mild symptoms when infected with the new coronavirus, while some people may experience a more pronounced or critical course of the disease.
Based on the available scientific evidence and current clinical experience, the SPR Collaboration recommends that physicians and authorities consider the following Covid-19 treatment protocol for the early treatment of people at high risk or high exposure (see references below).
Treatment protocol
Zinc (50mg to 100mg per day)º
Hydroxychloroquine (400mg per day)*º
Quercetin (500mg to 1000mg per day)º
Bromhexine (50mg to 100mg per day)º
Azithromycin (up to 500mg per day)*
Heparin (usual dosage)*
*) Prescription only (in most countries)
º) Also prophylactically (for high-risk persons)
Note: Quercetin may be used in addition to or as a replacement of hydroxychloroquine (HCQ). Contraindications for HCQ (e.g. favism or heart problems) and azithromycin must be observed.
Treatment successes
Zinc/HCQ/AZ: US physicians reported an 84% decrease in hospitalization rates, a 50% decrease in mortality rates among already hospitalized patients (if treated early), and an improvement in the condition of patients within 8 to 12 hours. Italian doctors reported a decrease in deaths of 66%.
Bromhexine: Iranian doctors reported in a study with 78 patients a decrease in intensive care treatments of 82%, a decrease in intubations of 89%, and a decrease in deaths of 100%. Chinese doctors reported a 50% reduction in intubations.
Mechanisms of action
Zinc inhibits RNA polymerase activity of coronaviruses and thus blocks virus replication. Hydroxychloroquine and quercetin support the cellular absorption of zinc and have additional anti-viral properties. Bromhexine inhibits the expression of the cellular TMPRSS2 protease and thus the entry of the virus into the cell. Azithromycin prevents bacterial superinfections. Heparin prevents infection-related thromboses and embolisms in patients at risk. (See scientific references below).
See also: Illustration of the mechanisms of action of HCQ, quercetin and bromhexine
Additional notes
The early treatment of patients as soon as the first typical symptoms appear and even without a PCR test is essential to prevent progression of the disease. Zinc, HCQ, quercetin and bromhexin may also be used prophylactically for people at high risk or high exposure (e.g. for health care workers).
In contrast, isolating infected high-risk patients at home and without early treatment until they develop serious respiratory problems, as often happened during lockdowns, may be detrimental.
The alleged or actual negative results with hydroxychloroquine in some studies were based on delayed use (intensive care patients), excessive doses (up to 2400mg per day), manipulated data sets (the Surgisphere scandal), or ignored contraindications (e.g., favism or heart disease).
Early treatment based on the above protocol is intended to avoid hospitalization. If hospitalization nevertheless becomes necessary, experienced ICU doctors recommend avoiding invasive ventilation (intubation) whenever possible and using oxygen therapy (HFNC) instead.
It is conceivable that the above treatment protocol, which is simple, safe and inexpensive, could render more complex medications, vaccinations, and other measures largely obsolete.
Background
The efficacy of HCQ against SARS coronaviruses was established in 2005 in the wake of the SARS-1 epidemic. The efficacy of zinc in blocking RNA replication of coronaviruses was discovered in 2010 by world-leading SARS virologist Ralph Baric. The efficacy of HCQ in supporting the cellular uptake of zinc was discovered in 2014 as part of cancer research. The efficacy of the flavonoid quercetin in supporting the cellular uptake of zinc was also discovered in 2014. The efficacy of bromhexine in blocking cell entry of coronaviruses was established in 2017.
References
General
Zinc
Hydroxychloroquine
Quercetin
Bromhexine
Heparin
See also
__________________________________________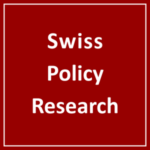 Swiss Policy Research, founded in 2016, is an independent, nonpartisan and nonprofit research group investigating geopolitical propaganda in Swiss and international media. SPR is composed of independent academics that for personal and professional reasons prefer to protect their identities, and receives no external funding; there are no financial sponsors or backers. Our articles have been published or shared by numerous independent media outlets and journalists, among them Julian Assange, and have been translated into more than two dozen languages.
Tags:
Airborne contagion
,
Brain
,
COVID-19
,
China
,
Community
,
Compassion
,
Coronavirus
,
Cuba
,
Economy
,
Empathy
,
Environment
,
Health
,
Lockdown
,
Pandemic
,
Public Health
,
Research
,
Science
,
Science and Medicine
,
Semen
,
Sharing
,
Sperm
,
Swiss Policy Research
,
Trade
,
United Nations
,
WHO
,
World
DISCLAIMER: The statements, views and opinions expressed in pieces republished here are solely those of the authors and do not necessarily represent those of TMS. In accordance with title 17 U.S.C. section 107, this material is distributed without profit to those who have expressed a prior interest in receiving the included information for research and educational purposes. TMS has no affiliation whatsoever with the originator of this article nor is TMS endorsed or sponsored by the originator. "GO TO ORIGINAL" links are provided as a convenience to our readers and allow for verification of authenticity. However, as originating pages are often updated by their originating host sites, the versions posted may not match the versions our readers view when clicking the "GO TO ORIGINAL" links. This site contains copyrighted material the use of which has not always been specifically authorized by the copyright owner. We are making such material available in our efforts to advance understanding of environmental, political, human rights, economic, democracy, scientific, and social justice issues, etc. We believe this constitutes a 'fair use' of any such copyrighted material as provided for in section 107 of the US Copyright Law. In accordance with Title 17 U.S.C. Section 107, the material on this site is distributed without profit to those who have expressed a prior interest in receiving the included information for research and educational purposes. For more information go to: http://www.law.cornell.edu/uscode/17/107.shtml. If you wish to use copyrighted material from this site for purposes of your own that go beyond 'fair use', you must obtain permission from the copyright owner.