(Português) A Fábula da Águia e da Galinha
ORIGINAL LANGUAGES, 21 Sep 2020
Leonardo Boff – TRANSCEND Media Service
16 set 2020 – A globalização representa uma etapa nova no processo de cosmogênese e de antropogênuese. Temos que entrar nela. Não do jeito que as potências controladoras do mercado mundial querem -mercado competitivo e nada cooperativo-, apenas interessadas em nossas riquezas materiais, reduzindo-nos a meros consumidores. Nós queremos entrar soberanos e conscientes de nossa possível contribuição ecológica, multicultural e espiritual.
Percebe-se desmesurado entusiasmo do atual governo brasileiro pela globalização. O presidente fala dela sem as nuances que colocariam em devida luz nossa singularidade. Ele tem capacidade para ser uma voz própria e não o eco da voz dos outros.
Para ele e seus aliados, conto uma história que vem de um pequeno país da África Ocidental, Gana, narrada por um educador popular, James Aggrey, nos inícios deste século, quando se davam os embates pela descolonização. Oxalá os faça pensar.
Era uma vez um camponês que foi à floresta vizinha apanhar um pássaro, a fim de mantê-lo cativo em casa. Conseguiu pegar um filhote de águia. Colocou-o no galinheiro junto às galinhas. Cresceu como uma galinha.

Depois de cinco anos, esse homem recebeu em sua casa a visita de um naturalista. Enquanto passeavam pelo jardim, disse o naturalista:

"Esse pássaro aí não é uma galinha. É uma águia".

"De fato", disse o homem. "É uma águia. Mas eu a criei como galinha. Ela não é mais águia. É uma galinha como as outras."

"Não", retrucou o naturalista. "Ela é e será sempre uma águia. Pois tem um coração de águia. Este coração a fará um dia voar às alturas."

"Não", insistiu o camponês. "Ela virou galinha e jamais voará como águia."

Então decidiram fazer uma prova. O naturalista tomou a águia, ergueu-a bem alto e, desafiando-a, disse:

"Já que você de fato é uma águia, já que você pertence ao céu e não à terra, então abra suas asas e voe!"

A águia ficou sentada sobre o braço estendido do naturalista. Olhava distraidamente ao redor. Viu as galinhas lá embaixo, ciscando grãos. E pulou para junto delas.

O camponês comentou. "Eu lhe disse, ela virou uma simples galinha!"

"Não", tornou a insistir o naturalista. "Ela é uma águia. E uma águia sempre será uma águia. Vamos experimentar novamente amanhã."

No dia seguinte, o naturalista subiu com a águia no teto da casa. Sussurrou-lhe:

"Águia, já que você é uma águia, abra suas asas e voe!"

Mas, quando a águia viu lá embaixo as galinhas ciscando o chão, pulou e foi parar junto delas.

O camponês sorriu e voltou à carga: "Eu havia lhe dito, ela virou galinha!"

"Não", respondeu firmemente o naturalista. "Ela é águia e possui sempre um coração de águia. Vamos experimentar ainda uma última vez. Amanhã a farei voar."

No dia seguinte, o naturalista e o camponês levantaram bem cedo. Pegaram a águia, levaram-na para o alto de uma montanha. O sol estava nascendo e dourava os picos das montanhas.

O naturalista ergueu a águia para o alto e ordenou-lhe:

"Águia, já que você é uma águia, já que você pertence ao céu e não à terra, abra suas asas e voe!"

A águia olhou ao redor. Tremia, como se experimentasse nova vida. Mas não voou. Então, o naturalista segurou-a firmemente, bem na direção do sol, de sorte que seus olhos pudessem se encher de claridade e ganhar as dimensões do vasto horizonte.

Foi quando ela abriu suas potentes asas. Ergueu-se, soberana, sobre si mesma. E começou a voar, a voar para o alto e a voar cada vez mais para o alto. Voou. E nunca mais retornou.
Povos da África (e do Brasil)! Nós fomos criados à imagem e semelhança de Deus. Mas houve pessoas que nos fizeram pensar como galinhas. E nós ainda pensamos que somos efetivamente galinhas. Mas nós somos águias.
Por isso, irmãos e irmãs, abram as asas e voem. Voem como as águias. Jamais se contentem com os grãos que lhes jogarem aos pés para ciscar.
_________________________________________________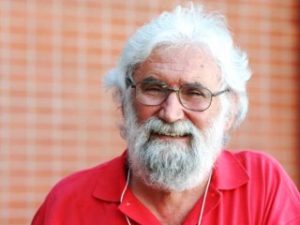 Leonardo Boff é um escritor, teólogo e filósofo brasileiro, professor emérito de ética e filosofia da religião da Universidade do Estado do Rio de Janeiro, recebedor do Prêmio Nobel Alternativo da Paz do Parlamento sueco [Right Livelihood Award]em 2001, membro da Iniciativa Internacional da Carta da Terra, e professor visitante em várias universidades estrangeiras como Basel, Heidelberg, Harvard, Lisboa e Salamanca. Expoente da Teologia da Libertação no Brasil, foi membro da Ordem dos Frades Menores, mais conhecidos como Franciscanos. É respeitado pela sua história de defesa pelas causas sociais e atualmente debate também questões ambientais. Colunista do Jornal do Brasil, escreveu os livros Francisco de Assis: Ternura e Vigor, Vozes 2000;  A Terra na palma da mão: uma nova visão do planeta e da humanidade,Vozes 2016;  Cuidar da Terra – proteger a vida: como escapar do fim do mundo, Record 2010;  A hospitalidade: Direito e dever de todos, Vozes 2005; Paixão de Cristo, Paixão do Mundo, Vozes 2001; Brasil: Concluir a refundação ou prolongar a dependência, Vozes 2018; "Destino e Desatino da Globalização" em: Do iceberg à Arca de Noé, Mar de Ideias, Rio 2010 pp. 41-63.
Go to Original – leonardoboff.org
Tags:
Africa
,
Brasil
,
International Relations
,
Latin America Caribbean
,
Paradigm change
DISCLAIMER: The statements, views and opinions expressed in pieces republished here are solely those of the authors and do not necessarily represent those of TMS. In accordance with title 17 U.S.C. section 107, this material is distributed without profit to those who have expressed a prior interest in receiving the included information for research and educational purposes. TMS has no affiliation whatsoever with the originator of this article nor is TMS endorsed or sponsored by the originator. "GO TO ORIGINAL" links are provided as a convenience to our readers and allow for verification of authenticity. However, as originating pages are often updated by their originating host sites, the versions posted may not match the versions our readers view when clicking the "GO TO ORIGINAL" links. This site contains copyrighted material the use of which has not always been specifically authorized by the copyright owner. We are making such material available in our efforts to advance understanding of environmental, political, human rights, economic, democracy, scientific, and social justice issues, etc. We believe this constitutes a 'fair use' of any such copyrighted material as provided for in section 107 of the US Copyright Law. In accordance with Title 17 U.S.C. Section 107, the material on this site is distributed without profit to those who have expressed a prior interest in receiving the included information for research and educational purposes. For more information go to: http://www.law.cornell.edu/uscode/17/107.shtml. If you wish to use copyrighted material from this site for purposes of your own that go beyond 'fair use', you must obtain permission from the copyright owner.