Paper from Trees vs. Paper from Hemp: Which Is Best for Our Future?
ANALYSIS, 12 Oct 2020
Amaweed - TRANSCEND Media Service
Paper has been one of the most important commodities since the 19th century. Since the printing press it's been fundamental for the public school systems, job standardization, communication, news and much more. We owe a lot to paper.
It's for these reasons that paper consumption has quadrupled in the last 50 years, now representing 2% of the global trade and exceeding more than 400 million tons consumed world-wide each year. More than half of this consumption occurs in China, the USA and Japan, with a further quarter in Europe. Just for comparison, the entire continent of Africa accounts for just 2% of global paper use. The global average is 55 kg per person per year, while regionally the consumption of people in North America is the highest, registering four times that with 215 kg/person, followed by Oceania and Europe both hovering at around 150kg/person.
With the advance of technology the necessity of paper for reading and writing purposes has been slowly declining, however paper used for packaging now represents more than 50% of global consumption and it has been on the rise along with the consumption of tissue products.
To produce 1 ton of paper we need on average 17 trees, which take at least 20 to 25 years to grow before they can be used for paper production. This has put an enormous strain on the forests of the world. Each year we lose around 7.2% of IFL (Intact Forest Landscapes), with the highest cause being timber harvesting which represents about 37% of that. Timber harvesting of course is the beginning of the paper-making process.
If we also consider the pollution generated by paper mills during production, meaning the energy required and the chemicals used, it becomes clear that something needs to be done to curb the impact that this industry is having on our ecosystems.
Recycling the paper that has already been produced is certainly an important step, but not all forms of paper can be recycled and even the best paper (for recycling purposes) produced from trees can only go through 3 recycling processes at most.
The truth is that we need a new raw material to produce our paper. One that would put less of a strain on our planet and the limited resources that we already exploit far beyond a sustainable limit.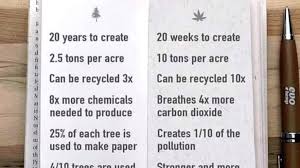 It's Time to Talk about Hemp!
For our generation hemp might seem like an alternative, but in reality it was the primary resource for paper production since it was invented in China back in 100 BC, using a mixture of hemp rags, mulberry bark and water.
Hemp paper along with the many other products derived from hemp made its way around the world over the following centuries, becoming one of the most important resources worldwide. Sadly this all changed in the 1930s when various industries lobbied together against hemp and turned it into an illegal crop.
Since then, most industries invested in infrastructure designed to produce pulp and paper from trees, but in reality hemp is a much more ideal plant for the production of paper for several reasons.
Firstly, cellulose content makes up 70% of a hemp plant, rather than 30% in the case of trees. Since the production of paper requires only the use of cellulose, the rest must be removed by using toxic chemicals. It's easy to see how having to remove only 30% of the total mass, rather than 70%, can be a big help in reducing the use of these toxic chemicals.
Lignin also needs to be removed from the pulp during the production of paper. Hemp pulp only contains between 5-24% of lignin, whilst pulp from trees contains 20-35% of it, meaning that less work and energy would be required in this part of the production process.
As we mentioned above, trees need at least 20-25 years to grow before they can be used for paper production. Hemp plants on the other hand only take a maximum of 4 months before the stalks can be used for paper production. This means that over a 20 year cycle, 1 acre of hemp plants can produce the equivalent of 4-10 acres of trees!
This would mean a huge reduction in land use by this industry, but most importantly a massive reduction in deforestation. I'm sure we don't need to remind you that deforestation is one of the primary causes of climate change and species extinction.
With this in mind, hemp paper can endure an average of 7 recycling processes, which is more than double when compared to the best paper originating from tree pulp. This would further reduce the land necessary to sustain the global demand for paper.
Lastly, to make tree paper white, mills use bleach and chloride, both of which are terrible pollutants. To make hemp paper white instead, hydrogen peroxide is used, which is often also used to actually remove pollutants from waste water. This is a massive difference in the total pollution generated by the two production processes.
Why Aren't We Moving to Hemp Paper?
The entire business model of the paper industry and its infrastructure has been set up for the use of tree pulp for almost a century now, so there are a lot of players with big investments and economic liabilities that all rely on the supply chain of paper originating from trees. The numbers mentioned at the beginning of this article are proof of this.
Like with any other major industry, it will take a while before everything shifts to accommodate a new, more sustainable business model. The bigger the ship, the longer it takes to turn it around.
The biggest hope lies in the fact that in recent years hemp and its byproducts have been legalized again in many countries, giving way to an increase in demand and supply. This in turn is making hemp more available and lowering its price, gradually making it a viable solution for more and more business sectors.
Another encouraging sign comes from some companies experimenting paper production with the waste product of the most profitable hemp businesses. Right now those are related to CBD, such as oils, medications and supplements. This means that hopefully some day, the packaging of your CBD oil will actually be made from its waste product.
Hemp is already one of the most versatile crops known to man, with literally every part of the hemp plant that can be used to produce something, but finding the way to produce paper from the waste product would probably make hemp also the most profitable crop out there.
It's Up to Us!
It's true that as we strive towards a sustainable future, the best choice between using a plastic bag or a paper bag is actually neither. But some parts of our lives require paper (and probably always will).
Whether it's for packaging or for blowing our noses, paper is still the best option, which is why it's one of the most important commodities even in the 21st century.
This means that finding a more sustainable solution for its demand is an important matter and the best part of it is that we don't need to "re-invent the wheel". We just need to re-discover it in fact!
We are all consumers of paper.
Hemp paper is still not widely available yet, so it's up to us to demand it.
Let's be conscious and conscientious in our choices.
Let's support the hemp industry, so that even when we use paper, at least it will be made from hemp!
References:
1) The state of the global paper industry 2018 – Environmental Paper Network:
https://environmentalpaper.org/wp-content/uploads/2018/04/StateOfTheGlobalPaperIndustry2018_FullReport-Final-1.pdf
2) Forest and Paper Industry – Dartmouth.edu : https://www.dartmouth.edu/~cushman/courses/engs171/Paper.pdf
3) de Meijer, E.P.M ; Hemp as a Pulp Source, publ. in Hemp Today, Ed Rosenthal, editor (1994)
4) https://en.wikipedia.org/wiki/History_of_paper
5) Hemp or Wood: Potential Substitutes, Journal of the Industrial Hemp Association, Vol. 1, No. 1. (June 1994)
6) Keeping the Trees in the Forest: Industrial Hemp as a Paper Alternative, Vote Hemp Report (2002-2003) – Monette & Leson
Tags:
Deforestation
,
Hemp
,
Maconha
,
Madeira
,
Marijuana
,
Rain Forests
,
Timber
,
Tree
,
Weed
,
Árvore
DISCLAIMER: The statements, views and opinions expressed in pieces republished here are solely those of the authors and do not necessarily represent those of TMS. In accordance with title 17 U.S.C. section 107, this material is distributed without profit to those who have expressed a prior interest in receiving the included information for research and educational purposes. TMS has no affiliation whatsoever with the originator of this article nor is TMS endorsed or sponsored by the originator. "GO TO ORIGINAL" links are provided as a convenience to our readers and allow for verification of authenticity. However, as originating pages are often updated by their originating host sites, the versions posted may not match the versions our readers view when clicking the "GO TO ORIGINAL" links. This site contains copyrighted material the use of which has not always been specifically authorized by the copyright owner. We are making such material available in our efforts to advance understanding of environmental, political, human rights, economic, democracy, scientific, and social justice issues, etc. We believe this constitutes a 'fair use' of any such copyrighted material as provided for in section 107 of the US Copyright Law. In accordance with Title 17 U.S.C. Section 107, the material on this site is distributed without profit to those who have expressed a prior interest in receiving the included information for research and educational purposes. For more information go to: http://www.law.cornell.edu/uscode/17/107.shtml. If you wish to use copyrighted material from this site for purposes of your own that go beyond 'fair use', you must obtain permission from the copyright owner.