A New Level, a Historic Step Forward
TRANSCEND MEMBERS, 7 Dec 2020
David Adams | Transition to a Culture of Peace – TRANSCEND Media Service

1 Dec 2020 – We have advanced to a new level, an historic step forward, in the struggle for a culture of peace.
For the first time there are so many virtual events for the culture of peace free and open to the public that we have begun listing them on CPNN. Now there are two faces of CPNN : the old face of articles about events that have already taken place; and a new face – events that have not yet occurred in which TMS readers can participate.
This makes possible a new step forward in the development of a global movement for the culture of peace.
In the past, activists had to travel physically to take part in meetings. This required great planning and expense. For example, the meeting in Seville that formulated the Seville Statement on Violence in 1986 took a year to plan and required fund-raising and long-range travel for the international participants. Now such a meeting can take place without great expense or travel. Of course, there is still the need for careful planning!
Another example from my experience comes to mind, the meeting sponsored in Yamoussoukro, Cote d'Ivoire in 1989 that laid the base for the Culture of Peace Program of UNESCO. In that case, the planning was done by UNESCO, under the direction of Federico Mayor and the hard work of George Kutukdjian. UNESCO was able to attract and pay for the travel of its world-wide network of contacts which made for a rich exchange of ideas, including the idea coming from Father Felipe MacGregor of Peru for a culture of peace program. Now, UNESCO and the UN are able to plan for such meetings on a global scale without the expense of past meetings. Again, of course, there is still the need for careful planning.
In the resume on CPNN of virtual meetings last month (November), we may note several important aspects that indicate the global scope of this progress.
1) The events dealt with the full range of culture of peace domains, ranging from human rights and democratic participation to sustainable development and international peace and security.
2) The events were global, coming from organizations in most regions, including the Goi Foundation in Japan, the African Union, an organization of mediators in Mexico, as well as organizations in the United States, Canada, France and Spain.
3) Several of the November virtual events were sponsored by organizations that already have a global scope, including the International Peace Bureau, the Global Campaign for Peace Education, UNFOLD ZERO, and Parliamentarians for Nuclear Non-proliferation and Disarmament, And there are upcoming events in December sponsored by the United Nations Research Institute for Social Development, Mayors for Peace European Chapter and ICAN, the International Campaign to Abolish Nuclear Weapons.
In addition to virtual meetings open to the public, virtual meetings may be restricted to the membership of organizations. This is necessary if the meeting is to take votes committing the organization to action. Such an example occurred this month in the annual meeting of the Global Alliance for Ministries and Infrastructures of Peace (GAMIP). Having been invited to address the meeting, I was able to propose that GAMIP work on the idea of a Mayors Security Council such as I have previously suggested in this blog.
In addition to the above two options, there are now more virtual meetings that require payment in order to participate. In my opinion this is not a good direction. It limits the range of participation to those with money and those with easy access to the currency required. And it excludes many whose participation is vitally needed at this moment of history.
We need both open and closed virtual meetings in order to advance. Open meetings can enlarge participation and encourage visitors to join the organizations involved. Closed meetings can make decisions and take action. I don't think it's a good idea to charge money for admission.
Of course, the closed virtual meetings have already been taking place for several years now What is new is the other side, the open meetings to enlarge participation.
As was the case in Seville and Yamoussoukro, we need to develop methods of careful planning for virtual meetings. It is obvious in the case of closed, decision-making meetings that we need a detailed agenda, adept chairing and clearly-formed propositions to be voted on. But we need good planning for the open meetings as well, if they are to succeed to educate new participants and to convince them to join in our organizations.
At CPNN we hope to advance all aspects of this progress.
In my futuristic and utopian vision for the culture of peace written in 2009, I imagined a meeting of cities from around the world coming by plane to Porto Alegre in Brazil and issuing a declaration that would lay the base for a radical reform of the United Nations. The imagined declaration begins:
When in the course of history it becomes evident that the old order has failed and it becomes possible through the development and sharing of a new vision that power be transferred from the nation-state with its culture of war to a new order based on the culture of peace, it is the right and duty of those who have been elected to represent the people on the local and regional level to take up the higher responsibility of world governance.
Now it is possible to imagine such a meeting of cities and such a declaration that does not require the participants to travel.
Yes, another world is becoming possible!
_________________________________________________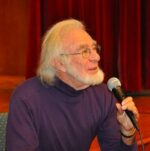 Dr. David Adams is a member of the TRANSCEND Network for Peace Development Environment and coordinator of the Culture of Peace News Network. He retired in 2001 from UNESCO where he was the Director of the Unit for the UN International Year for the Culture of Peace.  Previously, at Yale and Wesleyan Universities, he was a specialist on the brain mechanisms of aggressive behavior, the history of the culture of war, and the psychology of peace activists, and he helped to develop and publicize the Seville Statement on Violence. Send him an email.
Go to Original – decade-culture-of-peace.org
Tags:
Culture of Peace
,
Education for Peace
,
Peace
,
Peace Building
,
Peace Journalism
DISCLAIMER: The statements, views and opinions expressed in pieces republished here are solely those of the authors and do not necessarily represent those of TMS. In accordance with title 17 U.S.C. section 107, this material is distributed without profit to those who have expressed a prior interest in receiving the included information for research and educational purposes. TMS has no affiliation whatsoever with the originator of this article nor is TMS endorsed or sponsored by the originator. "GO TO ORIGINAL" links are provided as a convenience to our readers and allow for verification of authenticity. However, as originating pages are often updated by their originating host sites, the versions posted may not match the versions our readers view when clicking the "GO TO ORIGINAL" links. This site contains copyrighted material the use of which has not always been specifically authorized by the copyright owner. We are making such material available in our efforts to advance understanding of environmental, political, human rights, economic, democracy, scientific, and social justice issues, etc. We believe this constitutes a 'fair use' of any such copyrighted material as provided for in section 107 of the US Copyright Law. In accordance with Title 17 U.S.C. Section 107, the material on this site is distributed without profit to those who have expressed a prior interest in receiving the included information for research and educational purposes. For more information go to: http://www.law.cornell.edu/uscode/17/107.shtml. If you wish to use copyrighted material from this site for purposes of your own that go beyond 'fair use', you must obtain permission from the copyright owner.