Vaccines: Successes and Controversies
COVID19 - CORONAVIRUS, 7 Dec 2020
Swiss Policy Research - TRANSCEND Media Service
December 2020

Documentaries about the biggest successes and the most controversial aspects of vaccines.
A) Vaccine successes B) Safety concerns C) HIV/AIDS controversy D) More
A. Documentaries about the success of vaccines:
A1. Hilleman: A Perilous Quest to Save the World's Children (2016)
Summary: "The greatest scientist of the 20th century, and no one knows his name. This documentary tells the inspiring story of Dr. Maurice Hilleman, a man with a singular, unwavering focus: to eliminate the diseases of children. From his poverty-stricken youth on the plains of Montana, he came to prevent pandemic flu, invent the measles-mumps-rubella (MMR) vaccine, and develop the first-ever vaccine against human cancer.
Responsible for more than half of the vaccines children receive today, he is credited with saving more than eight million lives every year. Now through exclusive interviews with Dr. Hilleman and his peers, rare archival footage, and 3-D animation, this film puts a human face to vaccine science, revealing the character that drove this bold, complex, and heroic man."
Year: 2016; Duration: 66min; Director: Donald R. Mitchell; See also: Official website
httpv://vimeo.com/393939096
A2. The Polio Story: The Vaccine That Changed the World (BBC, 2015)
Summary: "It was 1952, and polio gripped the world in fear. There was no known cause, no cure and no help in sight for parents desperate to protect their children. Across the ocean, eager to beat the potentially fatal condition, polio-afflicted President Roosevelt inspired the American public to send in their dimes to fund research. In just a few years Joseph Salk, an ambitious 33-year-old scientist working from his basement lab in Pittsburgh, would bring infantile paralysis to its knees and change the course of medical history. Bill Gates is interviewed along with a number of world-renowned experts and survivors to tell the extraordinary story of how Dr Salk and the legendary 'march of dimes' came together to help conquer polio."
Year: 2015; Duration: 45 minutes; Director: Tjardus Greidanus;
See also: How modern sanitation gave us polio (NextNature, 2014)
A3. Historical documentaries
The Silent Invader (Westinghouse, 1957, 30min) "

This film discusses how the United States is preparing for an outbreak of Asian influenza. Prominent physicians and the head of the US Public Health Service address types of influenza, the nature of the virus, mortality rates, spread patterns, vaccines, the physician's responsibility, and medical advice for people who fall ill."

Mission, Measles: The Story of a Vaccine (Merck and USPHS, 1964, 20min) "This documentary details the history of the highly contagious virus that causes measles and the development of the measles vaccine in the 1950s and early 1960s. The pharmaceutical company Merck with help from the U.S. Public Health Service produced the film."
From Jenner to Wakefield: The long shadow of the anti-vaccination movement (Gresham College, 2011, 60 minute lecture) "

In 1998 a medical furore broke out when The Lancet published an article by Andrew Wakefield questioning the benefits of the MMR vaccination which was being given unquestioningly to children throughout the UK. Coming 202 years after the first vaccination by Edward Jenner, which led to the eradication of smallpox throughout the world, this

recent incident is only the latest in a long history of questioning the benefits of vaccination."
B. Documentaries about vaccine safety concerns:
B1. The Vaccine War (PBS, 2010/2015)
Summary: "Vaccines have changed the world, largely eradicating a series of terrible diseases, from smallpox to polio to diphtheria, and likely adding decades to most of our life spans. But despite the gains — and numerous scientific studies indicating vaccine safety — a growing movement of parents remains fearful of vaccines. And in some American communities, significant numbers of parents have been rejecting vaccines altogether, raising new concerns about the return of vaccine-preventable diseases like measles and whooping cough.
In The Vaccine War, FRONTLINE lays bare the science of vaccine safety and examines the increasingly bitter debate between the public health establishment and a formidable populist coalition of parents, celebrities, politicians and activists who are armed with the latest social media tools — including Facebook, YouTube and Twitter — and are determined to resist pressure from the medical and public health establishments to vaccinate, despite established scientific consensus about vaccine safety."
Year: 2010/2015; Duration: 53min; Producer: PBS Frontline; See also: PBS website
httpv://www.youtube.com/watch?v=VPOrnU3ImxI&feature=emb_logo
B2. 1976 Swine Flu Pandemic Vaccine Injuries (CBS, 1979)
Summary: "Remember the swine flu scare of 1976? That was the year the U.S. government told us all that swine flu could turn out to be a killer that could spread across the nation, and Washington decided that every man, woman and child in the nation should get a shot to prevent a nation-wide outbreak, a pandemic. Well, 46 million of us obediently took the shot, and now 4,000 Americans are claiming damages from Uncle Sam amounting to three and a half billion dollars because of what happened when they took that shot. By far the greatest number of the claims – two thirds of them are for neurological damage, or even death, allegedly triggered by the flu shot."
Year: 1979; Duration: 15min; Producer: CBS 60 Minutes; See also: history.com; Backup: Bitchute
httpv://www.youtube.com/watch?v=fhiyML3zwkk&feature=emb_logo
B3. The Swine Flu Profiteers (ARTE, 2009)
Summary: "The current [2009] wave of influenza is scaring people around the world. The virus of subtype A/H1N1 – better known as swine flu – is spreading rapidly. In June, the World Health Organization (WHO) intensified its warning of a pandemic and declared the highest alert level. Since then, the health authorities in all countries have been trying to control the spread.
Hundreds of millions of euros are being made available for medicines and vaccines. Tax money has probably never been spent so quickly and unchecked as in the fight against the new flu virus. Has a mass hysteria gripped us or is the new flu really a deadly threat? In either case, there are tangible interests at stake. More and more scientists are criticizing the actions of the authorities."
Year: 2009; Duration: 60min; Producer: ARTE; Language: German/English; Backup: Youtube
httpv://vimeo.com/403175258
B4. Vaxxed I: From Cover Up To Catastrophe (2016)
Summary: "An investigation into how the CDC, the government agency charged with protecting the health of American citizens, destroyed data on a 2004 study that showed a link between the MMR vaccine and autism. This alarming deception has contributed to the skyrocketing increase of autism, potentially the most catastrophic epidemic of our lifetime."
Year: 2016; Duration: 90min; Producers: Andrew Wakefield, Del Bigtree; See also: Official website
Critique: A critical review of the documentary and its claims on Wikipedia

Other languages: German edition
B5. Vaxxed II: The People's Truth (2019)
Summary: "An exploration into a possible link between various vaccinations and illness, injury, and death."
Year: 2019; Duration: 90min; Director: Brian Burrowes; See also: Official website

Critique: A critical review of the documentary and its claims by The Guardian

C. Documentaries about the HIV/AIDS controversy:
C1. House of Numbers: Anatomy of an Epidemic (2010)
Summary: "What is HIV? What is AIDS? What is being done to cure it? The HIV/AIDS story is being rewritten, and this is the first film to present the uncensored views of many of the major players."
Year: 2010; Duration: 90m; Director: Brent Leung; See also: Official website; Backup: Bitchute

Critique: A critical review of the documentary and its claims on Wikipedia

httpv://www.youtube.com/watch?v=BsT4GrimfLQ&feature=emb_logo
C2. The Cause Of AIDS: Fact And Speculation (1992/1995)
Summary: "Originally produced by Colman Jones for the "Toronto: Living with AIDS Project" starting back in 1990, later evolving into 4 one-hour programs for the MacLean-Hunter cable TV program Undercurrents, produced by Hans Burgschmidt and Mark Surman, who encouraged Colman to prepare this summary. The series won a MacLean-Hunter Lizzie Award in the Current Affairs category, received an Ontario Cable Television Association (OCTA) award, and was later rebroadcast in 1994 on the Rogers TV community cable channels in Toronto and Vancouver."
Year: 1992/1995; Duration: 60 minutes; Director: Colman Jones; 
C3. The Origins of AIDS (2004)
Summary: "Did scientists inadvertently cause the AIDS epidemic? More than 20 years after the AIDS epidemic started, we still do not know its origins. Many believe that the answer is hidden in the research undertaken to find a cure to the polio epidemic. As the scientific community's ethical responsibilities are called into question, the debate over the origins of AIDS rages on."
Year: 2004; Duration: 90 minutes; Director: Peter Chappell; See also: Wikipedia article
httpv://www.youtube.com/watch?v=uywzbRLz5zc&feature=emb_logo
C4. Operation "Denver": KGB and Stasi Disinformation regarding AIDS
D. Additional documentaries and books:
TrustWHO (2018, Franck/Schlottmann, 90 minutes): "The World Health Organization (WHO) was founded with the aim of building a healthier future for everyone. It's the body we rely on to resolve all public health crises, but can it be trusted? This powerful investigative doc uncovers an alarming picture of corruption and opacity as filmmaker Lilian Franck asks whether the organisation can be trusted to keep the public healthy."
Vaccines: truth, lies and controversy (Peter C. Gøtzsche, 2020) "There is substantial misinformation about vaccines on the Internet, particularly from those who reject all vaccines, but also from official sources, which are expected to be neutral and objective. The book is based on the best available evidence, and Professor Gøtzsche explains when and why we should not have confidence in the science and official recommendations."
Deadly Medicines and Organised Crime: How Big Pharma Has Corrupted Healthcare (Peter C. Gøtzsche, 2013) "In his latest ground-breaking book, Peter C Gotzsche exposes the pharmaceutical industries and their charade of fraudulent behaviour, both in research and marketing where the morally repugnant disregard for human lives is the norm. He convincingly draws close comparisons with the tobacco conglomerates, revealing the extraordinary truth behind efforts to confuse and distract the public and their politicians."
__________________________________________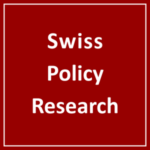 Swiss Policy Research, founded in 2016, is an independent, nonpartisan and nonprofit research group investigating geopolitical propaganda in Swiss and international media. SPR is composed of independent academics that for personal and professional reasons prefer to protect their identities, and receives no external funding; there are no financial sponsors or backers. Our articles have been published or shared by numerous independent media outlets and journalists, among them Julian Assange, and have been translated into more than two dozen languages.
Tags:
Airborne contagion
,
COVID-19
,
China
,
Community
,
Compassion
,
Coronavirus
,
Cuba
,
Economy
,
Empathy
,
Environment
,
Health
,
Lockdown
,
Orthomolecular Medicine
,
PCR Tests
,
Pandemic
,
Public Health
,
Research
,
Science
,
Science and Medicine
,
Swiss Policy Research
,
United Nations
,
WHO
DISCLAIMER: The statements, views and opinions expressed in pieces republished here are solely those of the authors and do not necessarily represent those of TMS. In accordance with title 17 U.S.C. section 107, this material is distributed without profit to those who have expressed a prior interest in receiving the included information for research and educational purposes. TMS has no affiliation whatsoever with the originator of this article nor is TMS endorsed or sponsored by the originator. "GO TO ORIGINAL" links are provided as a convenience to our readers and allow for verification of authenticity. However, as originating pages are often updated by their originating host sites, the versions posted may not match the versions our readers view when clicking the "GO TO ORIGINAL" links. This site contains copyrighted material the use of which has not always been specifically authorized by the copyright owner. We are making such material available in our efforts to advance understanding of environmental, political, human rights, economic, democracy, scientific, and social justice issues, etc. We believe this constitutes a 'fair use' of any such copyrighted material as provided for in section 107 of the US Copyright Law. In accordance with Title 17 U.S.C. Section 107, the material on this site is distributed without profit to those who have expressed a prior interest in receiving the included information for research and educational purposes. For more information go to: http://www.law.cornell.edu/uscode/17/107.shtml. If you wish to use copyrighted material from this site for purposes of your own that go beyond 'fair use', you must obtain permission from the copyright owner.