The Spirituality of Science and the Wonder of the Wilderness
INSPIRATIONAL, 3 May 2021
Maria Popova | Brain Pickings – TRANSCEND Media Service
Ornithologist and Wildlife Ecologist J. Drew Lanham on Nature as Worship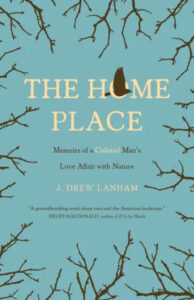 "As I wander into the predawn dark of an autumn wood, I feel the presence of things beyond flesh, bone, and blood. My being expands to fit the limitlessness of the wild world."
"Our origins are of the earth. And so there is in us a deeply seated response to the natural universe, which is part of our humanity," Rachel Carson wrote as she reflected on science and our spiritual bond with nature a decade before she interleaved her training as a scientist and her poetic reverence of nature, nowhere deeper than in her tender love of birds, to compose Silent Spring — the epoch-making book that catalyzed the modern environmental movement and inspired the creation of Earth Day.
Two generations later, ornithologist and wildlife ecologist J. Drew Lanham — another scientist with a poet's soul and the courage to fully inhabit both worlds — explores the abiding relationship between knowledge and mystery, between scientific truth and human meaning, throughout The Home Place: Memoirs of a Colored Man's Love Affair with Nature (public library).
Lanham — a self-described "man in love with nature," "a seeker and a noticer," "a wildling, born of forests and fields" who worships every bird he sees — was raised in large part by his grandmother, a woman of ample wisdom and ample superstition, whose ravishing love of nature inspired Lanham's own and whose sometimes comical, sometimes concerning antiscientific beliefs inspirited him to get closer to the truth of things through science. His love of nature never left him but, in a testament to Richard Feynman's timeless Ode to a Flower, was only magnified by the lucidity of his scientific training.
In consonance with poet Diane Ackerman's lovely notion of living as an "Earth ecstatic" where others might subscribe to a particular religion, Lanham writes:
Evolution, gravity, change, and the dynamic transformation of field into forest move me. A warbler migrating over hundreds of miles of land and ocean to sing in the same tree once again is as miraculous to me as any dividing sea.
A century after quantum theory originator and Nobel laureate Max Planck argued that "science cannot solve the ultimate mystery of nature [because] we ourselves are part of nature and therefore part of the mystery that we are trying to solve" — a sentiment Carl Sagan would later echo in his own singular poetics — Lanham adds:
For all those years of running from anything resembling religion and all the scientific training that tells me to doubt anything outside of the prescribed confidence limits, I find myself defined these days more by what I cannot see than by what I can. As I wander into the predawn dark of an autumn wood, I feel the presence of things beyond flesh, bone, and blood. My being expands to fit the limitlessness of the wild world. My senses flush to full and my heartbeat quickens with the knowledge that I am not alone.
One of the wonders of being human is that as much as we may be creatures among creatures, never alone in the web of life, there lives within each of us a parallel wilderness of presences and possible identities comprising the ecology of being we call personhood. Walt Whitman — a poet with a scientist's soul — knew this when he described himself as a "kosmos" containing a multitude of identities and inheritances, creaturely, cosmic, and cultural. Lanham knows this in taxonomizing the Linnaean poetics of his own personhood:
My being finds its foundation in open places.

I'm a man of color — African American by politically correct convention — mostly black by virtue of ancestors who trod ground in central and west Africa before being brought to foreign shores. In me there's additionally an inkling of Irish, a bit of Brit, a smidgen of Scandinavian, and some American Indian, Asian, and Neanderthal tossed in, too. But that's only a part of the whole: There is also the red of miry clay, plowed up and planted to pass a legacy forward. There is the brown of spring floods rushing over a Savannah River shoal. There is the gold of ripening tobacco drying in the heat of summer's last breath. There are endless rows of cotton's cloudy white. My plumage is a kaleidoscopic rainbow of an eternal hope and the deepest blue of despair and darkness. All of these hues are me; I am, in the deepest sense, colored.

I am as much a scientist as I am a black man; my skin defines me no more than my heart does.
This integrated view of his interior ecology informs his integrated view of human society and our relationship with nature:
To save wildlife and wild places the traction has to come not from the regurgitation of bad-news data but from the poets, prophets, preachers, professors, and presidents who have always dared to inspire. Heart and mind cannot be exclusive of one another in the fight to save anything.
Complement with Thoreau on nature as prayer, his modern-day counterpart Sy Montgomery on what a lifetime of working with nonhuman animals taught her about the living holiness of nature, and astrophysicist Marcelo Gleiser on how to live with mystery in the age of knowledge, then savor this marvelous illustrating rewilding of the human spirit.
_______________________________________

Brain Pickings is the brain child of Maria Popova, an interestingness hunter-gatherer and curious mind at large obsessed with combinatorial creativity who also writes for Wired UK and The Atlantic, among others, and is an MIT Futures of Entertainment Fellow. She has gotten occasional help from a handful of guest contributors. Email: brainpicker@brainpickings.org
Go to Original – brainpickings.org
Tags:
Inspirational
,
Nature
DISCLAIMER: The statements, views and opinions expressed in pieces republished here are solely those of the authors and do not necessarily represent those of TMS. In accordance with title 17 U.S.C. section 107, this material is distributed without profit to those who have expressed a prior interest in receiving the included information for research and educational purposes. TMS has no affiliation whatsoever with the originator of this article nor is TMS endorsed or sponsored by the originator. "GO TO ORIGINAL" links are provided as a convenience to our readers and allow for verification of authenticity. However, as originating pages are often updated by their originating host sites, the versions posted may not match the versions our readers view when clicking the "GO TO ORIGINAL" links. This site contains copyrighted material the use of which has not always been specifically authorized by the copyright owner. We are making such material available in our efforts to advance understanding of environmental, political, human rights, economic, democracy, scientific, and social justice issues, etc. We believe this constitutes a 'fair use' of any such copyrighted material as provided for in section 107 of the US Copyright Law. In accordance with Title 17 U.S.C. Section 107, the material on this site is distributed without profit to those who have expressed a prior interest in receiving the included information for research and educational purposes. For more information go to: http://www.law.cornell.edu/uscode/17/107.shtml. If you wish to use copyrighted material from this site for purposes of your own that go beyond 'fair use', you must obtain permission from the copyright owner.