(Français) Une Vision Utopique pour Jérusalem
ORIGINAL LANGUAGES, 7 Jun 2021
David Adams | Transition to a Culture of Peace – TRANSCEND Media Service
1 juin 2021- Il nous reste cinq ans avant les événements que j'imaginais dans ma nouvelle, "j'ai vu la terre promise." Plus que jamais, je pense qu'il s'agit d'un tournant essentiel dans la voie que nous devons suivre pour passer de la culture de la guerre à une culture de la paix.

1 janvier 2027
Je ne me souviens pas de la dernière fois où je suis resté debout toute la nuit pour quelque chose. Mais c'est ce que nous avons fait hier soir dans la salle de réunion de l'Université pour la paix. Et il y avait des millions d'autres comme nous qui ont fait de même dans leur église et leur salle de réunion et dans leur maison. L'émission était en direct de Jérusalem où le décalage horaire est de 7 heures.
Jérusalem est maintenant une ville de paix ! La cérémonie a été incroyable !
Tout le monde était là. Le pape, les plus hauts rabbins de la foi juive, les chefs de tous les ordres islamiques, les coptes, les orthodoxes russes, les grecs orthodoxes, des dizaines de chefs protestants différents, les baha'is, même les chrétiens géorgiens, tous dans leurs robes et costumes colorés. Même les bouddhistes et autres religions orientales et les chamans indigènes ont eu leur temps de parole. Jamais auparavant dans l'Histoire il n'y a eu un tel rassemblement de toutes les religions. Je n'ai même pas vu un seul policier ou soldat, au moins pas sur l'écran de projection Internet.
Pour moi, le moment le plus étonnant a été l'apparition de Desmond Tutu, maintenant âgé de 96 ans! C'est lui qui a déclaré pour la première fois que les Palestiniens étaient victimes de l'apartheid et que, comme les Sud-Africains, ils finiraient par gagner leur liberté. Au fil des ans, il est venu pour symboliser, peut-être plus que quiconque, la lutte non violente pour une solution au Moyen-Orient, et maintenant la nouvelle Jérusalem est son symbole brillant ! Il parla brièvement, mais l'étincelle était toujours dans son œil lorsqu'il offrit une prière de remerciement. Nos yeux se sont remplis de larmes à travers le monde
Sont venus ensuite les danses et les chants. Comme s'ils se retenaient depuis des années et explosaient maintenant dans des éclats de rythmes et de couleurs!
J'étais fier du rôle du Conseil du tourisme de la culture de la paix, qui travaille depuis des décennies dans les coulisses pour élaborer l'accord, sachant que Jérusalem fait partie de notre patrimoine commun de l'humanité. Quelle que soit la religion, ce sera la plus grande de toutes les attractions touristiques, maintenant que la ville est partagée en toute tranquillité. Et je suis fier des nouvelles Nations Unies, sans lesquelles cela n'aurait jamais été possible!
Hier soir, c'était la première fois que les médias commerciales accordaient la priorité à la culture de la paix. J'avais pensé que toute la publicité sur Internet au cours des dernières années les aurait forcé à en parler plus tôt. Mais il a fallu les accords de Jérusalem et les cérémonies de la nuit dernière pour enfin obtenir toute leur attention.
* * * *
Cette vision est-elle réaliste? C'est utopique, mais c'est possible, comme l'indique le titre de mes livres traduits en espagnol, "Cultura de paz: una utopía posible". D'une part, dans les cinq prochaines années, nous pouvons attendre le crash de l'empire américain, dont Israël a été l'un des avant-postes les plus importants, soutenu chaque année par des milliards de dollars américains, des armes américaines et des veto américains au Conseil de sécurité de l'ONU.
Mais le plus important, la récente guerre israélienne contre les Palestiniens a uni le peuple palestinien et accru son soutien dans le monde entier, comme indiqué dans le bulletin de CPNN de ce mois-ci. Tout comme l'apartheid sud-africain a été vaincu par une combinaison de luttes à l'intérieur du pays et de soutien de la communauté internationale, l'apartheid israélien peut également être vaincu. Espérons que les Palestiniens auront leur équivalent de Nelson Mandela pour ouvrir la voie à la paix !
______________________________________________________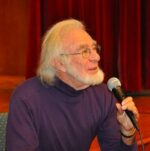 Dr. David Adams est membre du TRANSCEND Network for Peace Development Environment et coordinateur du Culture of Peace News Network. Il a pris sa retraite en 2001 de l'UNESCO où il était directeur de l'Unité pour l'Année internationale des Nations Unies pour la culture de la paix. Auparavant, aux universités de Yale et de Wesley, il était un spécialiste des mécanismes cérébraux du comportement agressif, de l'histoire de la culture de la guerre et de la psychologie des militants de la paix. Envoyez lui un email.
Go to Original – decade-culture-of-peace.org
Tags:
Jerusalem
,
Literature
,
Palestine/Israel
DISCLAIMER: The statements, views and opinions expressed in pieces republished here are solely those of the authors and do not necessarily represent those of TMS. In accordance with title 17 U.S.C. section 107, this material is distributed without profit to those who have expressed a prior interest in receiving the included information for research and educational purposes. TMS has no affiliation whatsoever with the originator of this article nor is TMS endorsed or sponsored by the originator. "GO TO ORIGINAL" links are provided as a convenience to our readers and allow for verification of authenticity. However, as originating pages are often updated by their originating host sites, the versions posted may not match the versions our readers view when clicking the "GO TO ORIGINAL" links. This site contains copyrighted material the use of which has not always been specifically authorized by the copyright owner. We are making such material available in our efforts to advance understanding of environmental, political, human rights, economic, democracy, scientific, and social justice issues, etc. We believe this constitutes a 'fair use' of any such copyrighted material as provided for in section 107 of the US Copyright Law. In accordance with Title 17 U.S.C. Section 107, the material on this site is distributed without profit to those who have expressed a prior interest in receiving the included information for research and educational purposes. For more information go to: http://www.law.cornell.edu/uscode/17/107.shtml. If you wish to use copyrighted material from this site for purposes of your own that go beyond 'fair use', you must obtain permission from the copyright owner.