Death of Mohammed Yusuf Khan, India Made Him into an Icon: Dilip Kumar
BRICS, 12 Jul 2021
Prof Hoosen Vawda – TRANSCEND Media Service
The Odyssey of a Peshwarian into a Global Cinematic Giant
7 Jul 2021 – It was a cold wintry day in Peshawar, where the temperatures in December are between 5oC and 18oC with averages around 12oC [1], when a baby was born on 11th December 1922 and named as Mohammad Yusuf Khan.  The parents were a Muslim couple, Ayesha Begum and Lala Ghulam Sarwar Khan. He was one of 12 children, at Khan homestead, in the Qissa Khawani Bazaar area of Peshawar, ruled under British Raj, at the time, ruling the entire subcontinent of India between 1858 and. 1947.  His Pathan[2] parents hailed from Peshawar[3], in the Khyber Pakhtunkhwa province in what became Pakistan after Partition[4], and he visited his ancestral home only in the late 1980s.[5]
Lala Ghulam Sarwar Khan, the father,[6] was a landlord and fruit merchant, who owned orchards in Peshawar and Deolali near Nashik. The child grew up and was schooled at Barnes School, Deolali[7], where he learnt English. Mohamed Yusuf Khan's upbringing was in the same religiously mixed neighbourhood, as a famous Indian film actor, Raj Kapoor, his childhood friend, and later his colleague in the film industry[8].   This young man was transformed into the equally famous, highly respected and emulated, cinematic legend, Dilip Kumar.  He was the most sought-after male lead in big budget Hindi movies, in the Mumbai based Indian film industry, spanning an acting career over six decades, to peacefully pass on, at the PD Hinduja Hospital in Mumbai[9], on Wednesday, 07th July 2021 at 0730 hours[10], India Time, as the attending Dr. Jalil Parkar announced, after a prolonged illness. He was 98. A tweet from Dilip Kumar's account, signed by family friend Faisal Farooqui, confirmed his death. "With a heavy heart and profound grief, I announce the passing away of our beloved Dilip Saab, few minutes ago," said the tweet.[11]
Prior to his demise, Dilip Kumar was hospitalised twice last month after he complained of breathlessness. His death comes after he lost two brothers last year to COVID-19.[12]  The death generated messages of sympathies and condolences from far afield, as well as from the Indian Prime Minister Narendra Modi[13] who stated in a tweet that also offered his condolences to Kumar's family and admirers and who granted him a state funeral when he was interred in the Juhu Cemetery according to Muslim rites with his body draped in the national flag of India. "Dilip Kumar will be remembered as a cinematic legend. He was blessed with unparalleled brilliance, due to which audiences across generations were enthralled. His passing away is a loss to our cultural world," said the Prime Minister[14]   Dilip Kumar was held in such esteem that Bollywood superstar, Amitabh Bachchan[15] tweeted. 'An institution has gone,' 'Whenever the history of Indian Cinema will be written, it shall always be "before Dilip Kumar, and after Dilip Kumar…"[16]
Dilip Kumar's career spanned over six decades with over 60 films. His first major box-office hits were Jugnu, or 'Firefly,' in 1947[17] in which he starred alongside actress, Noor Jehan[18], who migrated to the newly formed state of Pakistan after Partition and the 1948 film Shaheed,[19] or 'Martyr.'
He played a variety of characters, a romantic hero in Andaz[20], a swashbuckler in Aan[21], the first, colour Indian film, shot in 16mm Gevacolour and then released in United Kingdom and the States in Technicolor, a dramatic, frustrated, drunkard lover in Devdas[22], a comic role in 1952 Azaad[23], a 16th century Muslim prince in the 1960, ultra-mega budget, historical epic, K. Asif's[24]  Mughal-e-Azam[25] which follows the sad story of a love affair between Mughal Prince Salim, who went on to become Emperor Jahangir and Anarkali, a court dancer. Salim's father, Emperor Akbar, "God on Earth" disapproves of the relationship, which leads to a war between father and son.  Mughal-e-Azam had the widest release of any Indian film up to that time. Patrons often queued all day for tickets. Released on 5 August 1960, it broke box office records in India and became the highest-grossing Indian film of all time, a distinction it held for 15 years. The accolades awarded to the film include one National Film Award and three Filmfare Awards at the 8th Filmfare Awards. Mughal-e-Azam was the first black-and-white, with a classical song being filmed in original full colour, in the iconic, mirrored Sheesh Mahal[26], created by K. Asif, as a film set, though not historically accurate, at great expense and expertise, specially to filmise a particular song on Madhubala.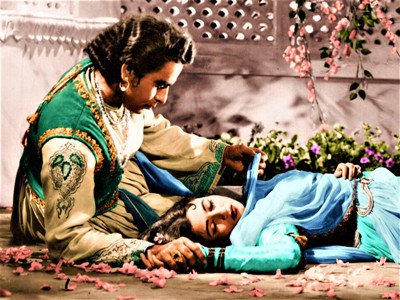 It was the first Hindi film to be digitally colourised, fully and the first in any language to be given a theatrical re-release. The colourised version[27], released on 12 November 2004, was also a commercial success, especially attended by the younger generation, with great accolades for a film which was produced in 1960.  Mughal-e-Azam is widely considered to be a milestone of its genre, earning praise from critics for its grandeur and attention to detail. Film scholars have welcomed its portrayal of enduring themes but question the historical accuracy, which was somewhat compromised for dramatic impact and box office motivation.[28] In fact, no film to date has come close to the screenplay and picturisation of this cult-classic, in the authors opinion, considering the lack of computer technology in 1960. The film was five years, in production.
Dilip Kumar even portrayed a robber in the social movie Ganga Jamuna[29]. Director Mehboob Khan's blockbuster Aan in 1952 was among a string of light-hearted roles he took at the suggestion of his psychiatrist to shed his 'Tragedy King" image[30]. This title was bestowed upon him, considering the numerous serious roles, he enacted and his character, as a male lead, invariably died at the end of the average length of an Indian film, of a minimum 180 minutes running time, compared with Hollywood movies, with very few exceptions. He was also known as one of Indian film (it was not called Bollywood in the 1950's, 60's and 70's[31],) industry's earliest, "Method actor" for his expressive performances, identifying a character's emotions, most intensely, on screen. He made the characters, he portrayed, literally come alive.
He starred in many social drama films like Footpath[32], Naya Daur[33] ('New Era'), Musafir[34] ('Traveler') and Paigham[35] ('Message') in 1950s. Indian media reports say he declined the role of Sherif Ali in David Lean[36]´s Lawrence of Arabia[37] in 1962. The role went to Egyptian actor Omar Sharif.[38] He took a break in the late '70s but returned with a character role in the successful Kranti[39], or 'Revolution' in 1981. He continued playing key roles in films such as Shakti[40], Karma[41] and Saudagar[42]. His last film was Qila ('Fort') in 1998[43]. In 1961, he produced and starred in Ganga Jamuna in which he and his brother Nasir Khan[44] played the title roles.
However, his embryonic beginning was far from glorious. In the latter half of 1940, while still in his teens and following an altercation with his father, Mohammad Yusuf Khan left home for Pune[45] in Maharashtra[46]. With the help of a Parsi[47] café-owner and an elderly Anglo-Indian[48] couple, Kumar met a canteen contractor and without depending on his family antecedents, he secured a position, on the merit of his knowledge of excellent written and spoken English. He set up a sandwich stall at the army club and when the contract ended, he headed home to Bombay, having saved Rs. 5000.
In early 1943, anxious to start a venture to help his father with household finances, he met Dr. Masani[49] at Churchgate Railway Station in Bombay as it was called[50][51], who asked him to accompany him to Bombay Talkies, in Malad[52], a suburb located in North Mumbai.  There he met actress Devika Rani, owner of Bombay Talkies[53], who asked him to sign up with the company on a salary of Rs. 1250 per month. He also met actor Ashok Kumar[54], who influenced his acting style by telling him to act "natural," as well as Indian film producer, Sashadhar Mukherjee[55]. Both these people became close to Dilip Kumar over the years. Initially, Dilip Kumar assisted in the story-writing and scripting department because of his proficiency in Urdu language. Devika Rani[56] requested him to change his name to Dilip Kumar. For much speculated reasons and motivations, Mohammed Yusuf Khan changed his name as he debuted in the Hindi-language film industry centered in what was then Bombay, with Jwar Bhata[57], or 'Sea Tides,' in 1944.  In his autobiography, "Dilip Kumar: The Substance and the Shadow", he wrote that the name was a suggestion from Devika Rani, who was one of the producers on Jwar Bhata.[58]
In 1994, Dilip Kumar came a long way from his birth in Peshawar. For his cinematic achievements, he was presented the Dadasaheb Phalke Award[59], the highest honor for contributions to Indian cinema. He also made a foray into Indian political arena and served in the Rajya Sabha[60], the upper house of the Indian Parliament, after being nominated for a six-year term.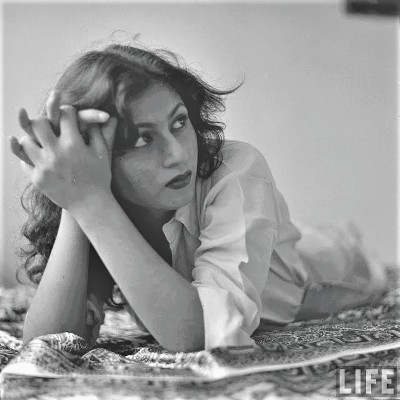 His top female co-stars included Nargis[61], Nimmi[62], Meena Kumari[63], popularly known as the "Tragedy Queen", Kamini Kaushal[64], Vyjanthimala, the "Classical Bharatanatyam Dance Queen from South India"[65], who would burst out into this classical South Indian Dance form at the slightest opportunity in a movie in which she starred. Finally, Dilip also starred with the inimitable, beautiful, alluringly famous, Madhubala. Dilip and Madhubala had a strong on-screen chemistry, as they were lovers in real life and their personal lives became as sad as their cinematic lives portrayed in film, Mughal-e-Azam.  No article on Dilip Kumar will be complete without the name of Madhubala being mentioned. Dilip Kumar was involved in a serious relationship with Madhubala that lasted seven years and culminated in an engagement.  It was reported[66], in the Shama Indian Magazine,[67] published in Urdu, that Dilip Kumar even finalised their wedding, at the time, but he did not show up at his own "nikah"[68], the Islamic matrimonial ceremony as prescribed. This was, even though Madhubala was also a Muslim but changed her name to a Hindu one to be accepted by the Indian film moguls and the massive numbers of Hindu cinema goers. Shama magazine was a reputable household name and has been described as a "movement of Urdu which gave birth to a new tradition".
Dilip and Madhubala, the lovers for over seven years, split in acrimony amid Dilip's feud with her father, whom Kumar called a 'dictator' while testifying against him in court.  The legal saga involving Dilip Kumar and Madhubala began, when the legendary director B.R. Chopra[69], embarked on a new film project starring the duo, called Naya Daur (New Era). During filming, the Naya Daur production was involved in a highly controversial and widely publicised court case. Initially, the actress Madhubala was cast as the female lead. An advance payment was given to her and shooting began and continued smoothly for 15 days. B.R. Chopra, the director, wanted the unit to travel to Bhopal for an extended outdoor shooting. However, Ataullah Khan, the father of Madhubala, objected to this and claimed that the entire Bhopal[70] schedule was a ruse to give Dilip Kumar the opportunity to romance his daughter as Dilip and Madhubala were in a relationship at the time. Finally, Chopra sued Madhubala for the cash advance she received from him for a film she now had no intention of completing. He replaced her with the South Indian actress Vyjayanthimala[71], who acted with Dilip Kumar in Devdas. Madhubala obediently supported her father despite her commitment to Dilip Kumar. Kumar testified against Madhubala and Ataullah Khan in favour of B.R. Chopra in open court. The case was lost by Madhubala and her father amid much negative publicity. During the case, the film was released in 1957 and declared a success. Chopra dropped the case and saved Madhubala from the humiliation of a possible prison sentence.[72]  However, the long-established lovers, became mortal enemies, forever.
Madhubala, the Indian film industry's most beautiful actress died on February 23rd, 1969 at the young age of 36.[73]  Her premature death has likened Madhubala to iconic Hollywood greats like Marilyn Monroe, Judy Garland, Carol Lombard and even the Indian film industry's own Meena Kumari.  All these lovely goddesses, women of the silver screen, who died prematurely and often tragically, before the world was ready to accept their deaths. Madhubala's unique allure and profound sex appeal index, was known worldwide. The lady had been featured in many American magazines, including LIFE magazine as depicted in the picture taken by James Burke in 1951.[74] Madhubala was the Queen of Indian film industry and occupied a special position in the hearts of millions, worldwide.  She was the classical "object of desire", as the legendary Helen of Troy[75], also known as Helen of Sparta in Greek historical, mythology. Helen, like Madhubala, was said to have been the most beautiful woman in the world in ancient history and was believed to have been the daughter of God Zeus, the immortal and Queen Leda of Sparta.[76]
In 1966, Dilip Kumar married Saira Banu[77], who was 22 years younger than him, and the couple acted in Gopi[78], Sagina Mahato[79], a Bengali[80] film and Bairaag[81], in which Dilip Kumar played a triple role, which won him a Best Actor Filmfare Award[82] in 1976. They had no children. While he was married to Saira Banu, in 1981, Dilip Kumar took a second wife, a socialite divorcee, Asma Rehman[83]. This polygamous union, in matrimony, was justified in accordance with Islamic rites, allowing a Muslim man, Dilip Kumar in this case, to have four wives, at a time.[84]
"I am not prepared to be just one of his two wives," Saira Banu said after learning of the second marriage, in a tabloid newspaper and it was difficult for Dilip Kumar to console his first wife.  Saira Banu, later said "Earlier there were rumors and suspicions, but since he swore to me on the Quran that they were not true I was duty-bound to believe him."[85] However, the marriage to the Delhi socialite, Asma Rehman broke up in 1983, after just two years and Dilip Kumar later called their relationship "A grave mistake I made under pressure."
He remained married to Banu until his death, and she looked after him through his progressive, illness,  Saira Banu, a renowned actress in her own right, was a devout spouse having physically and emotionally cared for him after having given up her illustrious career in the movie industry, to dedicated her emotional and physical self to the support of her husband, the iconic Dilip Kumar,  This was evident right throughout his neurological illness, probably Alzheimer's[86] or Parkinson's Disease, as noted by his expression less facies at public appearances, later in life.  Saira Banu was present at when the body was transferred, as well as after his death, when the Dilip Kumar family home was visited by "family" from the movie industry, such as actors Dharmendra[87], Sharukh Khan[88] and other Bollywood personalities. to pay their last respects.
The bottom line is that while Mohammed Yousuf Khan lived his life as Dilip Kumar in post partition India, which itself was an era of great turmoil, death, destruction and hatred between Hindus and Muslim, principally created by the British Government of Indian subcontinent, after granting independence, he used the sentiments expressed by the then dominant religious Hindus in the Mumbai Indian Film industry reaching greatest heights in his cinematic achievements, worldwide.  Some critics say that he changed his name for fame[89], compromising on his religion of Islam, in the process. However, previously, in an interview with Mahendra Kaul[90] in 1970, Dilip Kumar had said the real reason he changed his name was due to 'pitayi ka darr' (fear of thrashing) from his father. Dilip Kumar mentioned that his father never liked his acting career and called it 'nautanki'.
As his body was lowered to rest, wrapped in a white shroud, in the six feet deep grave at the Juhu Qabrastan[91] in Mumbai[92], the odyssey of a great legend came to an end. However, Dilip Kumar left a legacy of superb acting, chracterisation of whichever role he enacted, but sadly, Mohammed Yusuf Khan left behind no progeny to carry forward either of his two, worldly surnames, Khan and Kumar.
References:
[1] https://www.timeanddate.com/weather/pakistan/peshawar/climate
[2] https://www.encyclopedia.com/social-sciences-and-law/anthropology-and-archaeology/people/pathans
[3] https://en.wikipedia.org/wiki/Peshawar
[4] https://en.wikipedia.org/wiki/Partition_of_India#:~:text=India%20%20%20%20Year%20%20%20,%20%20320%2C000%20%204%20more%20rows%20
[5] https://www.thenews.com.pk/latest/860813-inside-dilip-kumars-ancestral-home-in-peshawar
[6] https://www.tollywoodcelebrities.com/2018/07/dilip-kumar-family-wife-son-daughter.html
[7] https://www.icbse.com/schools/barnes-school-deolali-camp-nkky4d
[8] https://www.india.com/entertainment/when-dilip-kumar-met-dying-raj-kapoor-in-hospital-aaj-bhi-der-se-aaya-maaf-kar-de-4046212/#:~:text=Dilip%20Kumar%20died%20at%2098%20at%20PD%20Hinduja,year%20and%20from%20the%20same%20place%20%E2%80%93%20Peshawar.
[9] https://www.hindujahospital.com/for-patients/specialities.aspx
[10] https://edition.cnn.com/style/article/dilip-kumar-death-bollywood-intl-hnk/index.html
[11] http://lite.cnn.com/en/article/h_c2d070aeb32607963ef00641980d64ad
[12] https://www.dailymail.co.uk/tvshowbiz/article-9763491/Dilip-Kumar-Bollywoods-great-Tragedy-King-dies-98.html
[13] https://en.wikipedia.org/wiki/Narendra_Modi
[14] https://www.india.com/entertainment/bollywood-news-dilip-kumar-dies-at-98-pm-narendra-modi-remembers-the-cinematic-legend-on-twitter-4793939/#:~:text=Calling%20his%20demise%20a%20great%20loss%20to%20the,Condolences%20to%20his%20family%2C%20friends%2C%20and%20innumerable%20admirers.
[15] https://en.wikipedia.org/wiki/Amitabh_Bachchan
[16] https://timesofindia.indiatimes.com/entertainment/hindi/bollywood/news/amitabh-bachchan-mourns-dilip-kumars-demise-whenever-the-history-of-indian-cinema-will-be-written-it-shall-always-be-before-dilip-kumar-and-after-dilip-kumar/articleshow/84194034.cms#:~:text=%22An%20institution%20has%20gone%2C%22%20said%20Bollywood%20megastar%20Amitabh,to%20the%20late%20star%20and%20honour%20his%20memory.
[17] https://en.wikipedia.org/wiki/Jugnu_(1947_film)
[18] https://superstarsbio.com/bios/noor-jehan/
[19] https://www.youtube.com/watch?v=RebrTKChlRA
[20] https://en.wikipedia.org/wiki/Andaz_(1949_film)
[21] https://en.wikipedia.org/wiki/Aan#:~:text=Aan%20%28Hindi%3A%20%E0%A4%86%E0%A4%A8%2C%20Urdu%3A%20%D8%A2%D9%86%2C%20translation%3A%20Pride%29%2C%20released,16mm%20Gevacolour%20and%20was%20blown%20up%20in%20Technicolor.
[22] https://www.youtube.com/watch?v=5vTH16nAXhY
[23] https://www.imdb.com/title/tt0131852/
[24] https://www.veethi.com/india-people/k._asif-profile-3805-14.htm
[25] https://en.wikipedia.org/wiki/Mughal-e-Azam
[26] https://en.wikipedia.org/wiki/Sheesh_Mahal_(Lahore_Fort)
[27] https://journals.sagepub.com/doi/abs/10.1177/0974927613503233
[28] https://www.boxofficemojo.com/release/rl3865413121/weekend/\
[29] https://www.imdb.com/title/tt0054910/
[30] https://fresh-news-now.com/2021/07/07/dilip-kumar-bollywoods-great-tragedy-king-dies-at-98/
[31] https://movies.stackexchange.com/questions/72568/how-did-the-word-bollywood-originate#:~:text=%22The%20term%20Bollywood%20is%20an%20invention%20of%20the,Perhaps%2C%20this%20term%20became%20popular%20at%20that%20time.
[32] https://www.youtube.com/watch?v=EeZGnj1k2pY
[33] https://www.imdb.com/title/tt0050758/
[34] https://en.wikipedia.org/wiki/Musafir_(1957_film)
[35] https://www.youtube.com/watch?v=98yATx1AaFg
[36] https://en.wikipedia.org/wiki/David_Lean
[37] https://www.imdb.com/title/tt0056172/
[38] https://www.bing.com/search?q=Dilip+Kumar+offered+role+Indian+media+reports+say+he+declined+the+role+of+Sherif+Ali+in+David+Lean%C2%B4s+Lawrence+of+Arabia+in+1962.+The+role+went+to+Egyptian+actor+Omar+Sharif&qs=n&form=QBRE&msbsrank=0_0__0&sp=-1&pq=dilip+kumar+offered+&sc=0-20&sk=&cvid=7C197A5F66A54732AA4EDAE293B00EBB
[39] https://en.wikipedia.org/wiki/Kranti#:~:text=Kranti%20%28transl.%20Revolution%29%20is%20a%201981%20Indian%20Hindi,with%20the%20story%20and%20screenplay%20written%20by%20Salim%E2%80%93Javed.
[40] https://en.wikipedia.org/wiki/Shakti_(1982_film)
[41] https://www.imdb.com/title/tt0091328/
[42] https://en.wikipedia.org/wiki/Saudagar_(1991_film)#:~:text=Saudagar%20%28transl.%20Merchant%29%20is%20a%201991%20Indian%20Hindi,actors%20came%20together%20after%20the%201959%20film%20Paigham.
[43] https://en.wikipedia.org/wiki/Qila_(film)#:~:text=Qila%20%28Hindi%3A%20%E0%A4%95%E0%A4%BC%E0%A4%BF%E0%A4%B2%E0%A4%BE%2C%20Urdu%3A%20%D9%82%D9%84%D8%B9%DB%81%2C%20translation%3A%20Fort%29%20is,actor%20Dilip%20Kumar%20before%20his%20death%20in%202021.
[44] https://en.wikipedia.org/wiki/Nasir_Khan_%28actor%29
[45] https://en.wikipedia.org/wiki/Pune
[46] http://en.wikipedia.org/wiki/Maharashtra
[47] https://en.wikipedia.org/wiki/Parsi
[48] https://en.wikipedia.org/wiki/Anglo-Indian#:~:text=The%20term%20Anglo-Indian%20can%20refer%20to%20at%20least,is%20now%20mainly%20historical%2C%20but%20confusions%20can%20arise.
[49] https://www.cinestaan.com/articles/2017/mar/30/5014/when-devika-rani-christened-dilip-kumar-ndash-birth-anniversary-special
[50] https://en.wikipedia.org/wiki/Churchgate_railway_station
[51] https://www.socialvillage.in/resources/23787-origin-name-mumbai-different-names#:~:text=When%20Britishers%20started%20gaining%20control%20of%20India%2C%20they,and%20Madhya%20Pradesh%20came%20in%20the%20Bombay%20Province.
[52] https://en.wikipedia.org/wiki/Malad
[53] https://en.wikipedia.org/wiki/Bombay_Talkies
[54] https://en.wikipedia.org/wiki/Ashok_Kumar
[55] https://en.wikipedia.org/wiki/Sashadhar_Mukherjee
[56] https://en.wikipedia.org/wiki/Devika_Rani
[57] https://www.imdb.com/title/tt0151168/
[58] https://timesofindia.indiatimes.com/entertainment/hindi/bollywood/news/a-night-in-jail-alleged-romance-with-asma-rehman-interesting-stories-from-dilip-kumars-autobiography/photostory/84237611.cms
[59] https://en.wikipedia.org/wiki/Dadasaheb_Phalke_Award
[60] https://en.wikipedia.org/wiki/Rajya_Sabha
[61] https://en.wikipedia.org/wiki/Nargis#:~:text=Nargis%20Dutt%20%28born%20Fatima%20Rashid%3B%201%20June%201929,actress%20and%20politician%20who%20worked%20in%20Hindi%20cinema.
[62] https://en.wikipedia.org/wiki/Nimmi#:~:text=Nawab%20Bano%20%2818%20February%201933%20%E2%80%93%2025%20March,actresses%20of%20the%20%22golden%20era%22%20of%20Hindi%20cinema.
[63] https://en.wikipedia.org/wiki/Meena_Kumari
[64] https://en.wikipedia.org/wiki/Kamini_Kaushal
[65] https://www.bing.com/videos/search?q=Bharatanatyam+Dance+from+South+India&qpvt=Bharatanatyam+Dance+from+South+India&FORM=VDRE
[66] Personal reading of such a report in Shama magazine in the 1960's by the author.
[67] https://en.wikipedia.org/wiki/Shama_(Magazine)
[68] https://www.learnreligions.com/definition-of-nikah-2004439
[69] https://en.wikipedia.org/wiki/Baldev_Raj_Chopra
[70] https://en.wikipedia.org/wiki/Bhopal
[71] https://en.wikipedia.org/wiki/Vyjayanthimala
[72] https://en.wikipedia.org/wiki/Naya_Daur_%281957_film%29
[73] https://www.jhakaasmovies.com/did-you-know/how-did-madhubala-die.html
[74] https://mrandmrs55.com/2013/02/05/what-killed-madhubala-a-close-look-at-the-death-of-a-bollywood-icon/
[75] https://en.wikipedia.org/wiki/Helen_of_Troy
[76] https://www.answers.com/Q/Who_is_the_daughter_of_Zeus_and_Leda
[77] https://en.wikipedia.org/wiki/Saira_Banu
[78] https://www.imdb.com/title/tt0141135/
[79] https://en.wikipedia.org/wiki/Sagina_Mahato
[80] https://en.wikipedia.org/wiki/Bengali_people
[81] https://en.wikipedia.org/wiki/Bairaag#:~:text=Bairaag%20is%20a%201976%20Hindi%20language%20masala%20film.,for%20Best%20Actor%20for%20playing%20a%20triple%20role.
[82] https://en.wikipedia.org/wiki/Filmfare_Awards
[83] https://www.pocketnewsalert.com/2017/11/asma-rehman-age-wiki-biography-dilip-kumar-wife-death-date-of-birth-children-family.html#:~:text=Asma%20Rehman%20is%20the%20ex-wife%20of%20veteran%20bollywood,Real%20Name%3F%20Her%20real%20name%20is%20Asma%20rehman
[84] https://www.youtube.com/watch?v=N1z5P_2c94c
[85] https://www.dailymail.co.uk/tvshowbiz/article-9763491/Dilip-Kumar-Bollywoods-great-Tragedy-King-dies-98.html
[86] https://en.wikipedia.org/wiki/Alzheimer%27s_disease
[87] https://en.wikipedia.org/wiki/Dharmendra
[88] https://en.wikipedia.org/wiki/Shah_Rukh_Khan
[89] https://www.deccanherald.com/entertainment/entertainment-news/rip-dilip-kumar-heres-why-the-legendary-actor-changed-his-name-1005788.html#:~:text=Previously%2C%20in%20an%20interview%20with%20Mahendra%20Kaul%20in,liked%20his%20acting%20career%20and%20called%20it%20%E2%80%98nautanki%E2%80%99.
[90] https://en.wikipedia.org/wiki/Mahendra_Kaul
[91] http://www.emuslim.co.za/taleemulhaq/visiting-the-graveyard-qabrastan/
[92] https://indianexpress.com/article/entertainment/emotional-scenes-outside-cemetery-in-juhu-as-admirers-pay-last-tribute-dilip-kumar-7394047/
______________________________________________

Professor G. Hoosen M. Vawda (Bsc; MBChB; PhD.Wits):
Director: Glastonbury Medical Research Centre; Community Health and Indigent Programme Services; Body Donor Foundation SA.
Principal Investigator: Multinational Clinical Trials
Consultant: Medical and General Research Ethics; Internal Medicine and Clinical Psychiatry:UKZN, Nelson R. Mandela School of Medicine
Executive Member: Inter Religious Council KZN SA
Public Liaison: Medical Misadventures
Activism: Justice for All
Email: vawda@ukzn.ac.za
Tags:
Art
,
India
This article originally appeared on Transcend Media Service (TMS) on 12 Jul 2021.
Anticopyright: Editorials and articles originated on TMS may be freely reprinted, disseminated, translated and used as background material, provided an acknowledgement and link to the source, TMS: Death of Mohammed Yusuf Khan, India Made Him into an Icon: Dilip Kumar, is included. Thank you.
If you enjoyed this article, please donate to TMS to join the growing list of TMS Supporters.


This work is licensed under a CC BY-NC 4.0 License.