The Perilous Odyssey of the Whistleblower
WHISTLEBLOWING - SURVEILLANCE, 13 Sep 2021
Prof Hoosen Vawda – TRANSCEND Media Service
Easy Life or Painful Death, the Choice Has to Be Made – A Warning to Future Whistleblowers
9 Sep 2021 – By definition, a whistleblower[1] is a person, usually an employee, or an insider within any company, who exposes information or activity, of an irregular nature, within a private, public, or government organisation which is deemed illegal, illicit, unsafe, fraud, or abuse of taxpayers' funds. Those who become whistleblowers can choose to bring information or allegations to surface either internally or externally. Over 83% of whistleblowers report internally to a supervisor, human resources, compliance, or a neutral third party within the company, with the thought that the company will address and correct the issues. Externally, a whistleblower can bring allegations to light by contacting a third party outside of the organization such as the media, government, or law enforcement.[2] The most common type of retaliation reported is being abruptly terminated.
However, there are several other activities that are considered retaliatory, such as sudden extreme increase in workloads, having hours cut drastically, making task completion impossible or otherwise bullying measures.[3]  Consequently, in view of this, a number of laws exist to protect whistleblowers. Some third-party groups even offer protection to whistleblowers, but that protection can only go so far. Two other classifications of whistleblowing are private and public. The classifications relate to the type of organizations the whistleblower works in: private sector, or public sector. Depending on many factors, both can have varying results. About 20% of whistleblowers are successful in stopping the illegal behaviors, usually through the legal system, with the help of a whistleblower attorney. For the whistleblower's claims to be credible and successful, the whistleblower must have compelling evidence to support their claims that the government or regulating body can use or investigate to "prove" such claims and hold corrupt companies and/or government agencies accountable. A whistleblower case would never continue on legally, or ever be reported via the news, without substantial and compelling evidence.
Deeper questions and theories of whistleblowing and why people choose to do so can be studied through an ethical approach. Deeper questions and theories of whistleblowing and why people choose to do so can be studied through an ethical approach. Whistleblowing is a topic of several myths and inaccurate definitions. Leading arguments in the ideological camp, maintain that whistleblowing is the most basic of ethical traits and simply telling the truth to stop illegal harmful activities, or fraud against the government/taxpayers.[4] In the opposite camp, many corporations and corporate or government leaders see whistleblowing as being disloyal for breaching confidentiality, especially in industries that handle sensitive client or patient information.[5] Legal counteractive measures exist to protect whistleblowers, but that protection is subject to many stipulations. Hundreds of laws grant protection to whistleblowers, but stipulations can easily cloud that protection and leave whistleblowers vulnerable to retaliation, sometimes even threats and physical harm. However, the decision and action has become far more complicated with recent advancements in technology and communication.[6]
Many whistleblowers have stated that they were motivated to take action to put an end to unethical practices, after witnessing injustices in their businesses or organisations.[7] A 2009 study found that whistleblowers are often motivated to take action when they notice a sharp decline in ethical practices, as opposed to a gradual worsening.[8] There are generally two metrics by which whistleblowers determine if a practice is unethical. The first metric involves a violation of the organisation's bylaws or written ethical policies. These violations allow individuals to concretize and rationalise blowing the whistle.[9] On the other hand, "value-driven" whistleblowers are influenced by their personal codes of ethics. In these cases, whistleblowers have been criticised for being driven by personal biases.[10]
The often-raised question as to what is the motivation of a whistle blower, leading the person to expose the irregularities in any organization? It has been analysed that, in addition to ethics, it is observed that social and organisational pressure are further motivating factors. A 2012 study identified that individuals are more likely to blow the whistle when several others know about the wrongdoing, because they would otherwise fear consequences for keeping silent.[11] In cases when one person is causing an injustice, the individual who notices the injustice may file a formal report, rather than confronting the wrongdoer, because confrontation would be more emotionally and psychologically stressful.[12] Furthermore, individuals may be motivated to report unethical behavior when they believe their organizations will support them.[13] Professionals in management roles may feel responsibility to blow the whistle to uphold the values and rules of their organizations.[14]
Globally, the case of Mr Edward Joseph Snowden is highlighted as famous or infamous whistle blower in modern history, depending on if one is with "The Empire" or simply against "The Empire". Mr Snowden was a former computer intelligence consultant who leaked highly classified information from the National Security Agency in 2013 when he was an employee and subcontractor for the Central Intelligence Agency of United States. His disclosures revealed numerous global surveillance programs, many run by the National Security Agency and the Five Eyes Intelligence Alliance with the cooperation of telecommunication companies and European governments.  This "spilling the bean" prompted a cultural discussion about national security and individual privacy.
Initially, in 2013, Snowden was hired by an NSA contractor, Booz Allen Hamilton, after previous employment with Dell and the CIA.[15] Snowden gradually became disillusioned with the programs with which he was involved, and that he tried to raise his ethical concerns through internal channels but was ignored. On May 20, 2013, Snowden flew to Hong Kong after leaving his job at an NSA facility in Hawaii, and in early June he revealed thousands of classified NSA documents to journalists Glenn Greenwald, Laura Poitras, Barton Gellman, and Ewen MacAskill. Snowden came to international attention after stories based on the material appeared in The Guardian, The Washington Post, and other publications.
On June 21, 2013, the United States, Department of Justice unsealed charges against Snowden of two counts of violating the Espionage Act of 1917 and theft of government property,[16] following which the Department of State revoked his passport.[17] Two days later, he flew into Moscow's Sheremetyevo International Airport, where Russian authorities observed the cancelled passport, and he was restricted to the airport terminal for over one month. Russia later granted Snowden the right of asylum with an initial visa for residence for one year, which was subsequently repeatedly extended. In October 2020, he was granted permanent residency in Russia.[18]
Mr Snowden has been nefariously called a traitor,[19] glorified as a hero,[20] a whistleblower,[21] a dissident,[22] and even a patriot.[23] U.S. officials condemned his actions as having done "grave damage" to the U.S. intelligence capabilities.[24] Snowden has defended his leaks as an effort "to inform the public as to that which is done in their name and that which is done against them."[25] His disclosures have fueled debates over mass surveillance, government secrecy, and the balance between national security and information privacy.
In early 2016, Snowden became the president of the Freedom of the Press Foundation, a San Francisco-based nonprofit organization that aims to protect journalists from hacking and government surveillance.[26] In 2017, he married Lindsay Mills. On September 17, 2019, his memoir Permanent Record was published.[27] On September 2, 2020, a U.S. federal court ruled in United States v. Moalin[28], that the U.S. intelligence's mass surveillance program exposed by Snowden was illegal and possibly unconstitutional.[29] Since then Snowden has been the subject of numerous books, television series and big screen movies. In 2016, "Snowden" was produced as a biographical thriller film directed by Oliver Stone. Today, as a consultant, Snowden is also living happily under the "Sword of Damocles", because he could easily be the subject of a "hit" by 'The Empire" when it strikes back.
However, in South Africa whistleblowers are not so fortunate and privileged, and Whistleblowing is a perilous undertaking, principally due to a corrupt government, who has paid informers on "Whistleblower phone lines and the Whistleblower protection programmes are a tokenism.  The result is that South Africa Whistleblowers odyssey to inculcate moral regeneration is abruptly cut short by "The Empire" issuing orders for termination of the individuals concerned.  Extra judicial killings have become the norm in the post-apartheid, democratic South Africa.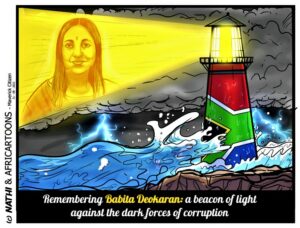 The recent assassination of a Chief Financial Accountant, a senior official, in the Gauteng Health Department, Mrs Babita Deokaran is a case in point. Even in death, Babita cannot be silenced. This act may have tried to silence one voice but it has awoken a million voices of South Africans against corruption, said the family of slain Gauteng Health official.[30] Mrs Babita Deokaran, 53, a witness in the Personal Protection Equipment scandal, during the Covid Pandemic in South Africa, came under a hail of bullets outside her home in Winchester Hills, Johannesburg, on Monday, 23rd  August 2021. She was shot and killed shortly after dropping off her teenage daughter at school. "The Empire" Hit victim was assisting the South Africa Special Investigative Unit, with investigations into a PPE tender scandal that had rocked the Gauteng Health Department, in South Africa.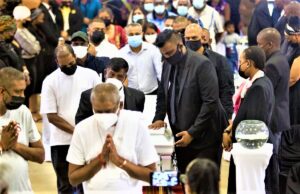 She was among several witnesses the Special Investigating Unit had in its probe into the R332-million PPE deal. Seven suspects, linked to Mrs Deokaran's murder, were arrested, based on investigations, not by the protection programme personnel, but by the dedicated vigilance of the neighbours of the deceased, who even managed to photograph the assassin's vehicle, leading to his arrest by the police, as reported.  Interestingly, it is alleged that the killer was a South African Defence Force member, who is amongst those arrested.  It is also reported that the hitmen were each paid a sum of ZAR400,000, ZAR2.8 million in total, to terminate Mrs Deokaran, as a whistleblower[31].  However, there is no news as to who exactly issued the order for the assassination, nor who the paymaster is?  Presumably the police are still investigating, as they often do, for years, without results.
The Bottom Line is that the odyssey of the whistleblower, a new type of morally upright humanoid, officially described in the 21st Century, also ends in brutal counter measures by the Empire, as evidenced by those initiated against Mr Julian Assange.  In Sweden charges of sexual assault were levelled against him, later to be withdrawn.  The Ecuadorian Embassy in London had him arrested after change of regime, acting as per the Empire's instructions and at present the extradition to the States is hanging upon him like the famed sword of Damocles.[32]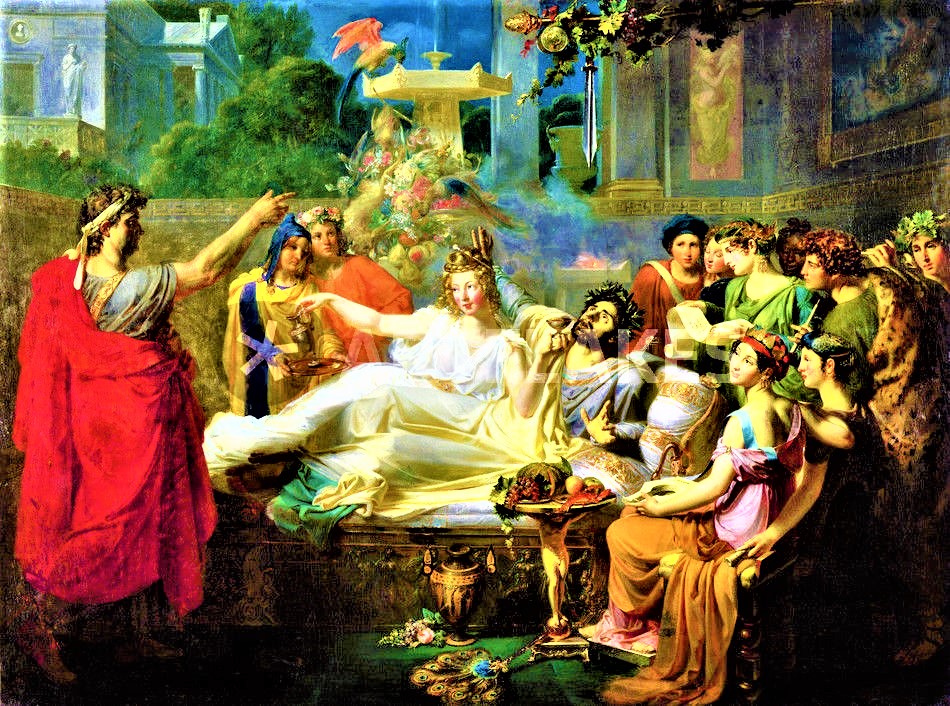 However, in South Africa, where there is total moral degeneration amongst the "Nation of Thieves"[33] as demonstrated by high level corruption, the odyssey for Mrs Babita Deokaran ended swiftly and decisively by her assassination with 12 high caliber bullets being prayed into her vehicle, as she returned home after leaving her child in school, on the fateful morning of 23rd August 2021. This is not the only case, but numerous other Whistleblowers, in South Africa have been terminated by "The Empire" "This is a warning to potential whistle blowers" in South Africa, where "The Empire" has indeed responded with a decisive, fatal blow. Is South Africa, rapidly becoming a "Mafia State"[34] due to systematic corruption of the government by major organised crime syndicates?  Only history will be the judge, and certainly this unethical conduct of those in power, cannot be attributed to the apartheid legacy[35] from the past, as is every South African malady being classified, since 1994, post liberation.[36]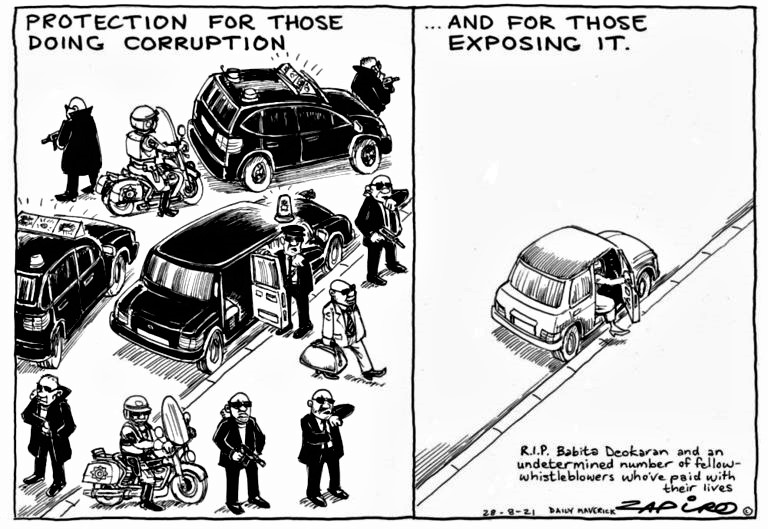 References:
[1] Company, Houghton Mifflin Harcourt Publishing. "The American Heritage Dictionary entry: whistleblower". www.ahdictionary.com.
[2] Chalouat, Iheb; Carrión-Crespo, Carlos; Licata, Margherita. "Law and practice on protecting whistle-blowers in the public and financial services sectors" (PDF). International Labour Office, Geneva.
[3] Rice, Alexander J. (2015). "Using scholarship on whistleblowing to inform peer ethics reporting". Professional Psychology: Research and Practice. 46 (4): 298–305. doi:10.1037/pro0000038
[4]Alford, C. Fred (2001). "Whistleblowers and the Narrative of Ethics". Journal of Social Philosophy. 32 (3): 402–418. doi:10.1111/0047-2786.00103
[5] Firtko, A.; Jackson, D. (2005). "Do the ends justify the means? Nursing and the dilemma of whistleblowing". The Australian Journal of Advanced Nursing : A Quarterly Publication of the Royal Australian Nursing Federation. 23 (1): 51–6. hdl:10822/979112. PMID 16496818
[6]Delmas, Candice (2015). "The Ethics of Government Whistleblowing". Social Theory and Practice. 41 (1): 77–105. doi:10.5840/soctheorpract20154114. JSTOR 24332319
[7] Rice, Alexander J. (2015). "Using scholarship on whistleblowing to inform peer ethics reporting". Professional Psychology: Research and Practice. 46 (4): 298–305. doi:10.1037/pro0000038
[8] Gino, Francesca; Bazerman, Max H. (2009). "When misconduct goes unnoticed: The acceptability of gradual erosion in others' unethical behavior". Journal of Experimental Social Psychology. 45 (4): 708–719. doi:10.1016/j.jesp.2009.03.013
[9] Trevino, Linda Klebe; Victor, Bart (1992). "Peer Reporting of Unethical Behavior: A Social Context Perspective". The Academy of Management Journal. 35 (1): 38–64. JSTOR 256472.
[10] "The meaning and origin of the expression: Whistle-blower". The Phrase Finder. Gary Martin.
[11] Robinson, Shani N.; Robertson, Jesse C.; Curtis, Mary B. (2012). "The Effects of Contextual and Wrongdoing Attributes on Organizational Employees' Whistleblowing Intentions Following Fraud". Journal of Business Ethics. 106 (2): 213–227. doi:10.1007/s10551-011-0990-y. S2CID 153653821.
[12] King, Granville; Hermodson, Amy (2000). "Peer reporting of coworker wrongdoing: A qualitative analysis of observer attitudes in the decision to report versus not report unethical behavior". Journal of Applied Communication Research. 28 (4): 309–329. doi:10.1080/00909880009365579. S2CID 145715363.
[13] Gundlach, Michael J.; Douglas, Scott C.; Martinko, Mark J. (2003). "The Decision to Blow the Whistle: A Social Information Processing Framework". The Academy of Management Review. 28 (1): 107–123. doi:10.5465/amr.2003.8925239. JSTOR 30040692.
[14] Loyens, Kim (2013). "Why police officers and labour inspectors (do not) blow the whistle". Policing: An International Journal of Police Strategies & Management. 36: 27–50. doi:10.1108/13639511311302461. hdl:1874/309978
[15] Burrough, Bryan; Ellison, Sarah; Andrews, Suzanna (April 23, 2014). "The Snowden Saga: A Shadowland of Secrets and Light". Vanity Fair.
[16] Finn, Peter; Horwitz, Sari (June 21, 2013). "U.S. charges Snowden with espionage". The Washington Post.
[17] Brennan, Margaret (June 21, 2013). "Kerry warns Russia on Snowden: "Respect the relationship"". CBS News.
[18] Mary Ilyushina. "Edward Snowden gets permanent residency in Russia – lawyer". CNN.
[19] Etpatko, Larisa. "Former Defense Secretary Gates calls NSA leaker Snowden a 'traitor'". NewsHour.
[20] Oliver Stone defends Edward Snowden over NSA revelations. The Guardian. (July 5, 2013).
[21] "As Edward Snowden Receives Asylum in Russia, Poll Shows Americans Sympathetic to NSA 'Whistle-Blower' – Washington Whispers". usnews.com. August 1, 2013.
[22] Bamford, James. "Most Wanted Man in the World". Wired.
[23] Goodman, Amy. ""Edward Snowden is a Patriot": Ex-NSA CIA, FBI and Justice Whistleblowers Meet Leaker in Moscow". Democracy Now.
[24] Blake, Aaron (June 9, 2013). "Clapper: Leaks are 'literally gut-wrenching,' leaker being sought". The Washington Post.
[25] Greenwald, Glenn; MacAskill, Ewen; Poitras, Laura (June 9, 2013). "Edward Snowden: the whistleblower behind the NSA surveillance revelations". The Guardian. London.
[26] Greenberg, Andy (February 2017). "Edward Snowden's New Job: Protecting Reporters From Spies". Wired.
[27] McAskill, Ewan (September 13, 2019). "I was very much a person the most powerful government in the world wanted to go away". The Guardian.
[28] https://en.wikipedia.org/wiki/United_States_v._Moalin
[29] "U.S. court: Mass surveillance program exposed by Snowden was illegal". Reuters. Archived from the original on November 1, 2020.
[30] https://www.iol.co.za/sunday-tribune/news/mastermind-in-babita-deokaran-murder-must-be-brought-to-book-99e3cc85-00f3-450e-9daf-e0597adc9ded
[31] https://www.citizen.co.za/news/south-africa/crime/2599296/r400k-paid-to-each-of-babita-deokarans-alleged-killers/
[32] https://www.history.com/news/what-was-the-sword-of-damocles
[33] https://www.news24.com/news24/SouthAfrica/Local/Maritzburg-Fever/nation-of-thieves-20210217
[34] https://en.wikipedia.org/wiki/Mafia_state
[35] https://sahistory.org.za/sites/default/files/DC/rejan88.9/rejan88.9.pdf#:~:text=THE%20LEGACY%20OF%20APARTHEID%20bringing%20people%20together%2C%20opening,ways%20of%20understanding%20one%20another%20and%20working%20together.
[36] https://journals.co.za/doi/abs/10.4102/hts.v72i1.3501
______________________________________________

Professor G. Hoosen M. Vawda (Bsc; MBChB; PhD.Wits):
Director: Glastonbury Medical Research Centre; Community Health and Indigent Programme Services; Body Donor Foundation SA.
Principal Investigator: Multinational Clinical Trials
Consultant: Medical and General Research Ethics; Internal Medicine and Clinical Psychiatry:UKZN, Nelson R. Mandela School of Medicine
Executive Member: Inter Religious Council KZN SA
Public Liaison: Medical Misadventures
Activism: Justice for All
Email: vawda@ukzn.ac.za
Tags:
Investigative Journalism
,
Journalism
,
Media
,
Whistleblowing
This article originally appeared on Transcend Media Service (TMS) on 13 Sep 2021.
Anticopyright: Editorials and articles originated on TMS may be freely reprinted, disseminated, translated and used as background material, provided an acknowledgement and link to the source, TMS: The Perilous Odyssey of the Whistleblower, is included. Thank you.
If you enjoyed this article, please donate to TMS to join the growing list of TMS Supporters.


This work is licensed under a CC BY-NC 4.0 License.