(Italiano) Thich Nhat Hahn [Thay]: La morte per l'impermanenza, la vita per la pace
ORIGINAL LANGUAGES, 31 Jan 2022
Cinzia Picchioni | Centro Studi Sereno Regis - TRANSCEND Media Service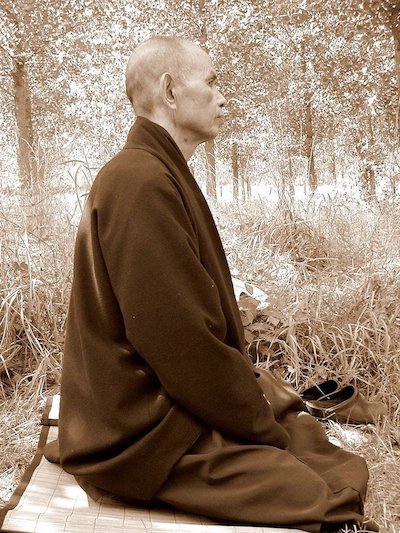 23 Gennaio 2022 – È talmente famoso che mi «vergogno» un po' a scrivere qualcosa, qualsiasi cosa, in occasione della morte di Thich Nhat Hahn, Thay come era affettuosamente chiamato. Ma d'altra parte, con qualche notizia in più, potrebbe nascere l'interesse ad approfondire la vicenda umana, l'insegnamento, l'impegno per la pace di questo piccolo-grande uomo che ha smesso di camminare sulla Terra nella notte, alle 00.00, del 22.1.22, al Tempio T? Hi?u a Hu?, Vietnam.
Il Vietnam era la sua terra d'origine, dove era nato l'11ottobre 1926 e dove per fortuna ha potuto  tornare per trascorrervi gli ultimi tempi della sua vita terrena. Nel 1969 fu costretto all'esilio, quando rese pubbliche le sue posizioni contro la guerra del Vietnam. In esilio diede vita alla Delegazione di Pace Buddhista, che patecipò alle trattative di pace di Parigi. Dopo che gli accordi furono firmati, il governo comunista gli rifiutò il permesso di rientrare nel suo Paese. Thay si stabilì allora in Francia, vicino Bordeaux, dove fondò il famoso e tuttora attivo Plum Village, una comunità di monaci e laici dove per tutto l'anno vengono organizzati ritiri, corsi, convegni, settimane di consapevolezza (anche per italiani).
La campanella
Al Plum Village, ma anche ai ritiri organizzati sulla scia della tradizione del famoso monaco, ogni tanto suona una campanella, molte volte durante il giorno. Serve per fermarsi, interrompendo qualsiasi cosa si stia facendo, respirare in consapevolezza, riappropriarsi del momento presente.
Così è stato particolarmente toccante ed evocativo suonare la campanella per un intero minuto, al presidio contro le armi atomiche, sabato scorso, a mezzogiorno, di fronte al Municipio di Torino. Thay era morto da qualche ora… ed era lì, nella compresenza capitiniana e nell'impermanenza «insegnata» da lui per tutta la vita.
L'impermanenza
L'impermanenza è stato forse l'insegnamento più importante di Thich Nhat Hahn. Eterno, perché non basta una vita anche solo per pensarci! E Thay, con la sua morte, ha dato la lezione più importante a tutti quanti noi. Anche il suo modo di affrontare la malattia che negli ultimi anni lo ha afflitto è stata una continua lezione. Soprattutto con il silenzio a cui era costretto alla fine. Ci sono dei filmati meravigliosi su questo. Anche per questo ringraziamo e ci riferiamo all'Associazione Essere Pace (www.esserepace.org) che in questi giorni, per molti giorni, propone di seguire le cerimonie di commiato che si svolgeranno in Vietnam.
L'Associazione propone anche una delle pratiche più note, diffuse dalla tradizione di Thich Nhat Hahn, per «essere là» anche se siamo altrove: «Ovunque ti trovi nel mondo, dedica un po' di tempo (idealmente almeno 20 minuti) a praticare la meditazione camminata. A ogni passo, possiamo respirare con Thay, camminare con Thay e connetterci alla natura di non nascita e di non morte di Thay e alla nostra. A ogni passo, possiamo sentire che i passi consapevoli di Thay trovano continuazione nei nostri passi consapevoli».
L'omaggio della Biblioteca del Centro Studi Sereno Regis
Da anni la Biblioteca del Centro Studi Sereno Regis raccoglie – e si possono avere in prestito – tutti i testi del maestro vietnamita. E molte volte il sito e la "newsletter" hanno pubblicato recensioni e altro sull'infinita mole di scritti su e di Thich Nhat Hahn. Durante il momento più centrale della pandemia abbiamo pubblicato la video-recensione di uno dei libri più adatti a quel periodo, Paura.
L'omaggio di ciascuno/a di noi
Per rendere omaggio alla figura di Thay possiamo leggere i suoi lavori, meditare sui suoi fulminanti  messaggi calligrafati, conoscere meglio questa importante figura che per tutta la vita ha continuato a diffondere la pace; come anche noi, nel nostro piccolo, tentiamo quotidianamente di fare.
Può essere un aiuto sapere come faceva Thay…
Thich Nhat Hanh. La biografia | Recensione di Cinzia Picchioni

Dopo aver visto bisogna agire | Cinzia Picchioni

Thich Nhat Hanh, Paura – Recensione di Cinzia Picchioni

Libri di, e su, Thich Nhat Hanh presenti nella nostra biblioteca:
Bibliografia-Thich-Nhat-HanhDownload
Tags:
Activism
,
Biography
,
Buddhism
,
Culture of Peace
,
History
,
Inspirational
,
Obituary
,
Peace
,
Spirituality
,
Thich Nhat Hanh
,
USA
,
Vietnam War
DISCLAIMER: The statements, views and opinions expressed in pieces republished here are solely those of the authors and do not necessarily represent those of TMS. In accordance with title 17 U.S.C. section 107, this material is distributed without profit to those who have expressed a prior interest in receiving the included information for research and educational purposes. TMS has no affiliation whatsoever with the originator of this article nor is TMS endorsed or sponsored by the originator. "GO TO ORIGINAL" links are provided as a convenience to our readers and allow for verification of authenticity. However, as originating pages are often updated by their originating host sites, the versions posted may not match the versions our readers view when clicking the "GO TO ORIGINAL" links. This site contains copyrighted material the use of which has not always been specifically authorized by the copyright owner. We are making such material available in our efforts to advance understanding of environmental, political, human rights, economic, democracy, scientific, and social justice issues, etc. We believe this constitutes a 'fair use' of any such copyrighted material as provided for in section 107 of the US Copyright Law. In accordance with Title 17 U.S.C. Section 107, the material on this site is distributed without profit to those who have expressed a prior interest in receiving the included information for research and educational purposes. For more information go to: http://www.law.cornell.edu/uscode/17/107.shtml. If you wish to use copyrighted material from this site for purposes of your own that go beyond 'fair use', you must obtain permission from the copyright owner.