Did the U.S. and NATO Promise Not to Threaten Russia by Moving the Military Forces of NATO to Its Borders?
TRANSCEND MEMBERS, 28 Feb 2022
David Adams | Transition to a Culture of Peace – TRANSCEND Media Service

22 Feb 2022 – We continue to be threatened by the culture of war, which, as usual in recent history, is monopolized by the nation states.
Russia has massed military forces around the borders of Ukraine in the ancient tradition of the culture of war. Russia links this to insistence that Ukraine should not be brought into the military alliance of NATO.
Peace activists from all of the countries concerned, US, Russia, Ukraine, UK, France and Germany have denounced the military preparations by Russia, Ukraine and NATO and have supported the claim of Russia that the West promised not to move NATO to its frontiers in Eastern Europe at the end of the Cold War.
Is this claim true or not?
The mainstream media says it is not true. But you can't believe the mainstream mass media on this question, because it is being controllled by United States and its allies, using control of information as the modern weapon of the culture of war.
So we must search elsewhere for the truth.
Here are key excerpts from the website of the National Security Archives.
"Declassified documents show security assurances against NATO expansion to Soviet leaders from Baker, Bush, Genscher, Kohl, Gates, Mitterrand, Thatcher, Hurd, Major, and Woerner."
"The first concrete assurances by Western leaders on NATO began on January 31, 1990, when West German Foreign Minister Hans-Dietrich Genscher . . . . [ said] with a major public speech  at Tutzing, in Bavaria . . . ."that the changes in Eastern Europe and the German unification process must not lead to an 'impairment of Soviet security interests.' Therefore, NATO should rule out an 'expansion of its territory towards the east, i.e. moving it closer to the Soviet borders."
"Having met with Genscher on his way into discussions with the Soviets, [US Secretary-of-state] Baker repeated exactly the Genscher formulation in his meeting with Foreign Minister Eduard Shevardnadze on February 9, 1990, (see Document 4); and even more importantly, face to face with Gorbachev. Not once, but three times, Baker tried out the "not one inch eastward" formula with Gorbachev in the February 9, 1990, meeting. He agreed with Gorbachev's statement in response to the assurances that "NATO expansion is unacceptable." Baker assured Gorbachev that "neither the President nor I intend to extract any unilateral advantages from the processes that are taking place," and that the Americans understood that "not only for the Soviet Union but for other European countries as well it is important to have guarantees that if the United States keeps its presence in Germany within the framework of NATO, not an inch of NATO's present military jurisdiction will spread in an eastern direction."
And here are excerpts from a second article from the website of the National Security Archives.
"Declassified documents from U.S. and Russian archives show that U.S. officials led Russian President Boris Yeltsin to believe in 1993 that the Partnership for Peace was [an] alternative to NATO expansion . . . . [ although they were] simultaneously planning for expansion after Yeltsin's re-election bid in 1996 and telling the Russians repeatedly that the future European security system would include, not exclude, Russia."
The declassified U.S. account of one key conversation on October 22, 1993, (Document 8) shows Secretary of State Warren Christopher assuring Yeltsin in Moscow that the Partnership for Peace was about including Russia together with all European countries, not creating a new membership list of just some European countries for NATO; and Yeltsin responding, "this is genius!"
"Christopher later claimed in his memoir that Yeltsin misunderstood – perhaps from being drunk – the real message that the Partnership for Peace would in fact "lead to gradual expansion of NATO"; but the actual American-written cable reporting the conversation supports subsequent Russian complaints about being misled."
There are suggestions that the result of all this will be an increase in the culture of war and the risk of a World War III that could destroy all human civilization. Russia may decide to threaten the United States with nearby military bases like those that have been installed or threatened by the West against Russia. In this regard it has recently upgraded its military alliances with Cuba, Venezuela and Nicaragua.
It was the Cuban missile crisis of 1962 when I was 23 years old that first convinced me that I devote my life to working for peace. Its been almost 60 years since then, and I am once again convinced that we must do something to stop this madness.
_________________________________________________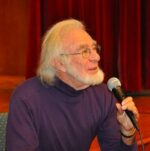 Dr. David Adams is a member of the TRANSCEND Network for Peace Development Environment and coordinator of the Culture of Peace News Network. He retired in 2001 from UNESCO where he was the Director of the Unit for the UN International Year for the Culture of Peace.  Previously, at Yale and Wesleyan Universities, he was a specialist on the brain mechanisms of aggressive behavior, the history of the culture of war, and the psychology of peace activists, and he helped to develop and publicize the Seville Statement on Violence. Send him an email.
Go to Original – decade-culture-of-peace.org
Tags:
Culture of Violence
,
Culture of War
,
Nation-State
,
War Economy
,
Warfare
DISCLAIMER: The statements, views and opinions expressed in pieces republished here are solely those of the authors and do not necessarily represent those of TMS. In accordance with title 17 U.S.C. section 107, this material is distributed without profit to those who have expressed a prior interest in receiving the included information for research and educational purposes. TMS has no affiliation whatsoever with the originator of this article nor is TMS endorsed or sponsored by the originator. "GO TO ORIGINAL" links are provided as a convenience to our readers and allow for verification of authenticity. However, as originating pages are often updated by their originating host sites, the versions posted may not match the versions our readers view when clicking the "GO TO ORIGINAL" links. This site contains copyrighted material the use of which has not always been specifically authorized by the copyright owner. We are making such material available in our efforts to advance understanding of environmental, political, human rights, economic, democracy, scientific, and social justice issues, etc. We believe this constitutes a 'fair use' of any such copyrighted material as provided for in section 107 of the US Copyright Law. In accordance with Title 17 U.S.C. Section 107, the material on this site is distributed without profit to those who have expressed a prior interest in receiving the included information for research and educational purposes. For more information go to: http://www.law.cornell.edu/uscode/17/107.shtml. If you wish to use copyrighted material from this site for purposes of your own that go beyond 'fair use', you must obtain permission from the copyright owner.