Ukraine, It Was All Written in the Rand Corp Plan
ANGLO AMERICA, 14 Mar 2022
Manlio Dinucci | Global Research - TRANSCEND Media Service
How to Destroy Russia. 2019 Rand Corporation Report: "Overextending and Unbalancing Russia"
Today, the dangers of military escalation are beyond description.
What is now happening in Ukraine has serious geopolitical implications. It could lead us into a World War III scenario.
It is important that a peace process be initiated with a view to preventing escalation. 
Global Research condemns Russia's invasion of Ukraine.
A Bilateral Peace Agreement is required.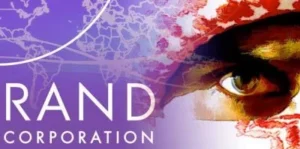 10 Mar 2022 – The strategic plan of the United States against Russia was elaborated three years ago by the Rand Corporation (the manifesto, Rand Corp: how to bring down Russia, May 21, 2019). The Rand Corporation, headquartered in Washington, DC, is "a global research organization developing solutions to policy challenges": it has an army of 1,800 researchers and other specialists recruited from 50 countries, speaking 75 languages, spread across offices and other locations in North America, Europe, Australia, and the Persian Gulf. Rand's U.S. personnel live and work in more than 25 countries.
It is this model which was the inspiration for the new plan, Overextending and Unbalancing Russia, published by Rand [1].
The Rand Corporation, which describes itself as a "nonprofit, nonpartisan organization," is officially funded by the Pentagon, the U.S. Army and Air Force, national security agencies (CIA and others), agencies in other countries, and powerful non-governmental organizations.
The Rand Corp. prides itself on having helped devise the strategy that enabled the United States to emerge victorious from the Cold War, forcing the Soviet Union to consume its resources in a grueling military confrontation. This model has inspired the new plan elaborated in 2019: "Overextending and Unbalancing Russia", i.e. forcing the adversary to overextend itself in order to unbalance and knock it down.
These are the main lines of attack outlined in the Rand plan, on which the United States has actually moved in recent years.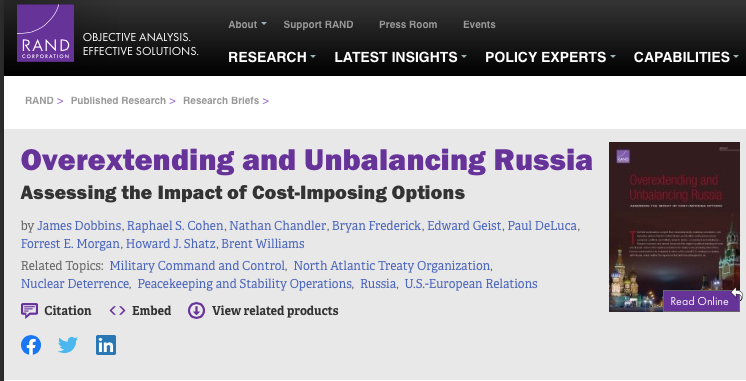 First of all – the plan establishes – Russia must be attacked on the most vulnerable side, that of its economy strongly dependent on gas and oil exports: for this purpose commercial and financial sanctions must be used and, at the same time, Europe must be made to decrease the importation of Russian natural gas, replacing it with US liquefied natural gas.
In the ideological and informational field, it is necessary to encourage internal protests and at the same time undermine the image of Russia outside.
In the military field, it is necessary to operate so that European NATO countries increase their forces in an anti-Russian function. The US can have high probability of success and high benefits with moderate risks by investing more in strategic bombers and long-range attack missiles directed against Russia. Deploying new intermediate-range nuclear missiles in Europe aimed at Russia assures them a high probability of success, but also carries high risks.
By calibrating each option to obtain the desired effect – Rand concludes – Russia will end up paying the highest price in the confrontation with the US, but the latter and their allies will have to invest large resources to divert them from other purposes.
As part of that strategy – the Rand Corporation's 2019 plan predicted – "providing lethal aid to Ukraine would exploit Russia's greatest point of external vulnerability, but any increase in U.S.-provided weapons and military advice to Ukraine would have to be carefully calibrated to increase costs to Russia without provoking a much larger conflict in which Russia, because of proximity, would have significant advantages."
It is precisely here – at what the Rand Corporation called "Russia's greatest external vulnerability point," exploitable by arming Ukraine in a manner "calibrated to increase costs to Russia without provoking a much larger conflict" – that the rupture occurred. Caught in the political, economic and military stranglehold that the US and NATO increasingly tightened, ignoring Moscow's repeated warnings and proposals for negotiation, Russia reacted with the military operation that destroyed more than 2,000 military facilities in Ukraine that were actually built and controlled not by Kiev's rulers but by US-NATO commands.
The article that three years ago reported the Rand Corporation's plan ended with these words: "The options in the plan are really only variants of the same war strategy, the price of which in terms of sacrifices and risks is paid by all of us". We European people are paying it now, and we will pay it more and more dearly, if we continue to be expendable pawns in the US-NATO strategy.
______________________________________________

Manlio Dinucci is a research associate of the Centre for Research on Globalization, a geographer, and geopolitical scientist. In the 1980s, he directed the magazine Lotta per la Pace (born from "Appeal against the installation of nuclear missiles in Italy") and was Executive Director for Italy of the International Physicians for the Prevention of Nuclear War, winner of the 1985 Nobel Peace Prize. His latest books are L'arte della guerra/Annali della strategia USA/NATO 1990-2016, Zambon 2016; and Guerra Nucleare Il Giorno Prima, Zambon Editore; 2017.
This article was originally published in Italian on Il Manifesto.
Copyright © Manlio Dinucci, Global Research, 2022
Go to Originals:
Tags:
Anglo America
,
Hegemony
,
Imperialism
,
Rand Corporation
,
Russia
,
USA
,
Ukraine
DISCLAIMER: The statements, views and opinions expressed in pieces republished here are solely those of the authors and do not necessarily represent those of TMS. In accordance with title 17 U.S.C. section 107, this material is distributed without profit to those who have expressed a prior interest in receiving the included information for research and educational purposes. TMS has no affiliation whatsoever with the originator of this article nor is TMS endorsed or sponsored by the originator. "GO TO ORIGINAL" links are provided as a convenience to our readers and allow for verification of authenticity. However, as originating pages are often updated by their originating host sites, the versions posted may not match the versions our readers view when clicking the "GO TO ORIGINAL" links. This site contains copyrighted material the use of which has not always been specifically authorized by the copyright owner. We are making such material available in our efforts to advance understanding of environmental, political, human rights, economic, democracy, scientific, and social justice issues, etc. We believe this constitutes a 'fair use' of any such copyrighted material as provided for in section 107 of the US Copyright Law. In accordance with Title 17 U.S.C. Section 107, the material on this site is distributed without profit to those who have expressed a prior interest in receiving the included information for research and educational purposes. For more information go to: http://www.law.cornell.edu/uscode/17/107.shtml. If you wish to use copyrighted material from this site for purposes of your own that go beyond 'fair use', you must obtain permission from the copyright owner.