The Purpose of Life
SPIRITUALITY, 25 Apr 2022
Stephen Knapp (Sri Nandanandana dasa) – TRANSCEND Media Service
So now that we find ourselves in this human form, and in this material world, what are we really supposed to do with it? Everybody at some point in their life wonders why God created this world and how they got here, and what they are meant to do.
The world is obviously meant for those who have a taste for bodily existence in which they can try to enjoy the pleasure of the senses. So the material creation is manifested for the sense enjoyment of the conditioned soul. It is the playground for those who want this form of existence. What this means is that the infinitesimal living being has the limited free will to think of himself as he likes. That is also one purpose of the illusory energy that the tiny spirit soul has the independence to pretend to be something other than what he really is. Then he projects his beliefs and his self image out into the world around him. Thus, it is as if he becomes a world unto himself. And this is the world of maya, illusion. One cannot trace out the history of when some of the living beings first wanted to enjoy material nature, but the cause is there. So to fulfill that desire, out of compassion the Lord provided the material creation.
However, we often find that the pleasure of the mind and senses only goes so far; it is limited, temporary, and does not really satisfy the soul, which is the real identity of the living being. So, with compassion, the Supreme Lord also creates the material manifestation in a way that can give the living beings a chance to work out their material desires and understand their real spiritual position. By following the proper instructions that the Supreme provides, the living being can be delivered from the repeated cycle of birth, death, and the suffering in materialistic life by regaining his original spiritual consciousness and eternal position. So whenever you don't know what you are supposed to do in life, or whenever you do not remember who you are, you simply read the instructions that have been provided by the Supreme Being. Don't think the Lord created this world without giving us the means to get out of our confusion, or get out of this world altogether.
So the basis of the material creation is to give the living beings the chance either to follow their material and bodily desires and cultivate more gratification of the temporary senses, or progress toward ultimate liberation through spiritual progress. Everyone has the independence to make that choice. No one is forced to do one or the other. However, short-lived sense gratification can be achieved even in the animal species. Therefore, the topmost use of human life is to engage in the advancement of Self-realization. This is also explained in Srimad-Bhagavatam (11.9.29), which says that after many lifetimes one finally achieves a human birth. Although a human lifetime is temporary and can be short, usually only 60, 70, or maybe 100 years, it affords one the opportunity to reach the highest perfection in spiritual life. One lifetime is all it takes to make the necessary spiritual advancement to enter the higher realm. This is the way a sober person should act in order to prevent falling back into the cycle of repeated births and deaths by chasing after his sensual desires.
Once we again engage in genuine spiritual practices, which are the natural activities of the pure living being, our normal state of being can be reawakened in which we are fully satisfied in spiritual bliss. It is simply a matter of making the connection and linking ourselves to the Supreme again. This state of being is attained when one reaches the pure activities of the soul, which is devotional service to the Supreme Being. However, when we are covered over by the physical body with a materialistic consciousness, our desires become polluted with lust, anger, greed, and foolishness. We think that making the mind and body happy is the ultimate goal of life. We think if we supply ourselves with all of the demands of the mind and body, then how much happier can we be? Thus, the soul inside is forgotten, and we are unable to experience the supremely blissful state found in regaining our spiritual consciousness. Then, we go through life somehow feeling empty and unfulfilled and having no clue as to why, even if we have everything we think we want. Therefore, engaging in the practices that allow us to regain our spiritual consciousness is the ultimate goal of human life.
Naturally, everyone wants to be happy. This is because happiness is the genuine state of the living being. We want to be happy because the spirit soul is sat-cit-ananda: eternal, and full of knowledge and bliss. So that is what everyone naturally wants to feel. Even while covered by a material form, one will automatically try to reach this normal state of consciousness through varieties of enjoyment, even if they are misdirected in the aim of life. However, in order to accept living in the material world and various levels of material or bodily enjoyment, the living entity must forget his real identity and natural state of spiritual bliss. If we could fully remember our spiritual happiness, all forms of pleasure of the body would immediately become insignificant. They would have no practical meaning. Therefore, one of the first conditions of the materialistically inclined living being is that he forgets his real identity. Such a person does not realize that matter is an inferior energy and is incompatible for his true happiness. He may think that working hard to take care of this body and all of its demands is the normal state of affairs. However, he forgets that spirit is a finer state of existence and full of bliss, and the strata in which exists the real consciousness of the living entity. It is his natural state of being. Therefore, whether one realizes it or not, this is the level of happiness for which everyone is always hankering, which exists in the spiritual atmosphere.
One of the first things to understand about the difference between matter and spirit is that the material world is not false, it is real but temporary. This is the same with the material body. It is not false but is subject to change and is temporary, and in that sense not real because it may be here today but gone tomorrow. Being subject to change also means that whatever happiness one derives from the material energy is fluctuating, meaning that it is interrupted, usually by different forms of misery. What is real and eternal is the spirit soul within the body. It is changeless and belongs to the spiritual world. Identifying with the material energy is a matter of misidentification. So the first point in realizing your spiritual identity is to understand that you are not this body, you are a pure spiritual being who belongs to the eternal, blissful, spiritual atmosphere. Therefore, for a living being to accept the cosmic manifestation as his real home, or the inferior material energy as his field of happiness, is illusory.
Therefore, people should take to discussing and learning about the eternal spiritual world and the Vaikuntha planets. Unfortunate people do not engage in such topics but take to conversations of the material world. Thus, they become more forgetful of their spiritual nature. This only perpetuates the continued cycle of birth and death amidst many lifetimes in the material realm.
So the purpose of life in the material realm is:
To work out our material desires, or rise above them.
To experience all aspects of material existence, which is done automatically as we travel through the many forms and species of life.
Once we reach the human form, to balance our karma and the lessons we need to learn to reach a point where we ask who we are and why we are here.
To begin seeking the answers to these questions by reading the instructions provided by the Maker of all that is.
To reach a point in which we see that every aspect of life, whether it's our challenges or reversals, misfortunes or successes, joys or sorrows, are all avenues of discovering who we are and which contribute to our wisdom, understanding, and our purpose for being here and helping others.
That is the task–to realign our consciousness to see the unity between us all and regain our intimate love for God. When your life becomes meaningful by serving others and God, then you are also serving your Self. That is when you really become spiritual, when you see God in all others and all others as a manifestation or reflection of God. Then you will automatically know how to be a better person, how to be a better mother, father, husband, wife, or friend. There will not be any confusion about what you need to do. You will just need to do it.
You will know that the universe (life) has a purpose for you. And when you truly realize this, you will know that you can trust that God will take care of you to accomplish that purpose, whatever it may be, whether you know what it is or not. And be open to discover what it is. Ask for guidance. Let go and let God show the way. Let go of your ego and be open to learn and receive the lessons that God has in store for you. And it's OK if you feel a little scared. It's been said that if you do not feel a little scared, a little challenged, you are not progressing. You are not moving forward. But you have to remember that the more you move forward on the spiritual path, the closer you are getting to God, to putting on the robes of immortality.
And don't think that God is going to reject you. He is waiting for you. It's been said that for every step we take toward God, He takes ten steps towards us. So we just have to keep going. And don't worry about feeling unqualified, or undeserving, and all that. Why complain about how dirty you may be if you are already standing in the shower? Just stay in the shower of the spiritual path and you will become clean. You may have to use a little soap, however, in the form of more prayers, spiritual activities, chanting your mantras, etc. Yet, when the tiny soul connects with the Supreme Soul, it is the most blissful experience. Then you will experience complete fearlessness.
In this way, if a living being can come to spiritual knowledge about the true purpose of this universe and material life, then by the Lord's mercy he may attain to the spiritual process of devotional service, which is the natural inclination of the soul. Thus, you become saved from the world of maya, illusion. Then you can become free from all lamentation and material desires. It is your attachment to temporary things that cause you to become upset, angry, sorrowful, or out of balance. If you let go, that is when you can regain your link with God. That is when you are free. Freedom in this sense means freedom from bodily concepts that limit your potential and spiritual possibilities. It means freedom from the attachment to the material conception of life and temporary possessions that keep you bound to that consciousness. Once you enter into that freedom, that is where the unbounded love and unlimited bliss that we all look for can be found.
As a result of understanding this spiritual knowledge and our real identity through the process of sadhana, or the practice of religion and yoga, one's dormant love for God reawakens. When such a person awakes to his real identity, he can taste the association with the Supreme Being, and he loses all interest in material existence. Thereafter, his material life and the repetition of birth and death come to an end. There is no higher purpose than that.
__________________________________________________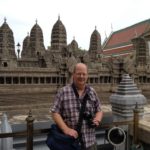 Stephen Knapp (Sri Nandanandana dasa) has dedicated himself to spreading the deepest and most practical levels of spiritual knowledge about the soul–our real identity. Though this world may give us numerous challenges, when we rise above the basic materialistic view and its limited search for solutions, our evolutionary development on all levels greatly accelerates. By recognizing that we are all spiritual beings who are, basically, attempting to achieve the same essentials for our existence–namely love, acceptance, harmony, peace, and happiness, not to mention the ordinary needs of food, water, clothing and shelter–we can reach a new level of cooperation with each other. Stephen has written many books on this and related subjects and studied with A. C. Bhaktivedanta Swami Prabhupada becoming initiated into the spiritual line of Brahma-Madhava-Gaudiya sampradaya. He is also president of the Vedic Friends Association. srinandan@aol.com
Go to Original – stephen-knapp.com
Tags:
Bhagavad-gita
,
Bhagavatam
,
Hinduism
,
Knowledge
,
Krishna
,
Mystery
,
Philosophy
,
Science and Spirituality
,
Spirituality
,
Theology
,
Vedanta
,
Vedas
DISCLAIMER: The statements, views and opinions expressed in pieces republished here are solely those of the authors and do not necessarily represent those of TMS. In accordance with title 17 U.S.C. section 107, this material is distributed without profit to those who have expressed a prior interest in receiving the included information for research and educational purposes. TMS has no affiliation whatsoever with the originator of this article nor is TMS endorsed or sponsored by the originator. "GO TO ORIGINAL" links are provided as a convenience to our readers and allow for verification of authenticity. However, as originating pages are often updated by their originating host sites, the versions posted may not match the versions our readers view when clicking the "GO TO ORIGINAL" links. This site contains copyrighted material the use of which has not always been specifically authorized by the copyright owner. We are making such material available in our efforts to advance understanding of environmental, political, human rights, economic, democracy, scientific, and social justice issues, etc. We believe this constitutes a 'fair use' of any such copyrighted material as provided for in section 107 of the US Copyright Law. In accordance with Title 17 U.S.C. Section 107, the material on this site is distributed without profit to those who have expressed a prior interest in receiving the included information for research and educational purposes. For more information go to: http://www.law.cornell.edu/uscode/17/107.shtml. If you wish to use copyrighted material from this site for purposes of your own that go beyond 'fair use', you must obtain permission from the copyright owner.