'Boycott' Is a Powerful Film That Needs to Be Seen
PALESTINE - ISRAEL, 16 May 2022
Michael Arria | Mondoweiss – TRANSCEND Media Service
An important new documentary tells the story of anti-BDS laws and the people who have stood up to them.
BOYCOTT
directed by Julia Bacha
70 min. Just Vision Films 2021
22 Apr 2022 – Boycott begins at the state capitol in Arkansas, where evangelical State Senator Bart Hester explains why he introduced legislation outlawing boycotts of Israel.
"I sponsored the anti-boycott bill because I felt like it's the right thing to do," says Hester. "I feel like Jewish people are God's chosen people and I felt an obligation to do anything within my control or power to support them or protect them." Later in the film Rabbi Barry Block, leader of the the largest synagogue in Little Rock, tells documentarian Julia Bacha that he strongly opposes any boycott of Israeli products but is appalled that the state is forcing people to sign loyalty oaths to the country. When asked about Block's opposition to the bill, Hester says he didn't bothering consulting with any local Jewish leaders because he doesn't agree with them.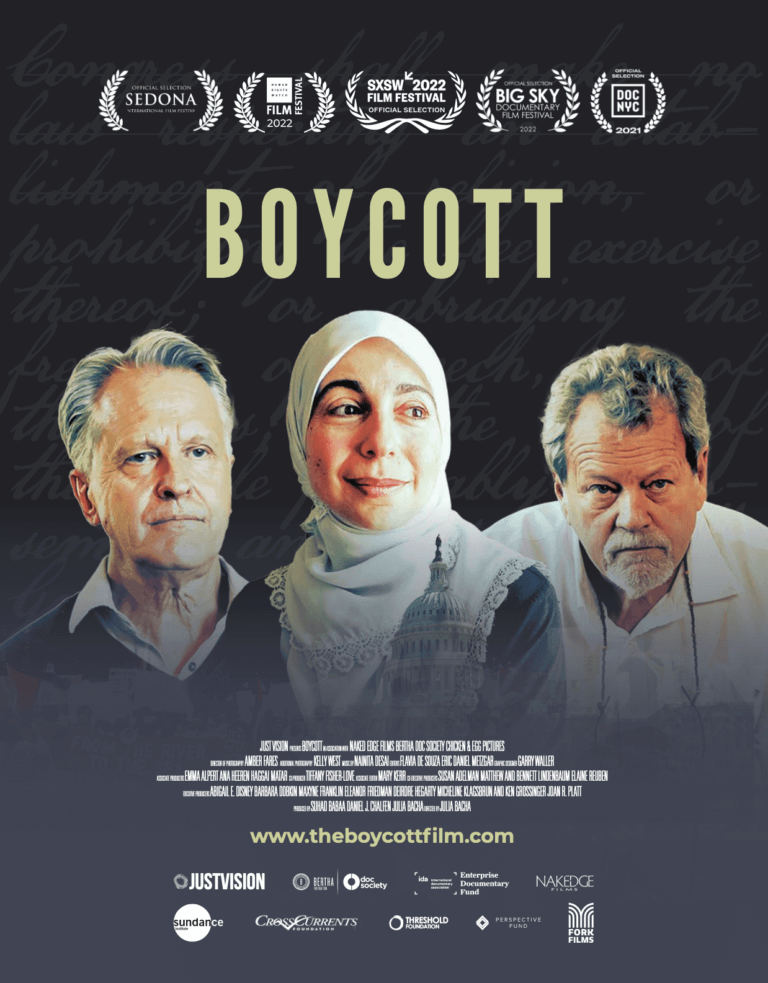 This disconnect hangs over Julia Bacha's powerful new film, where she follows three legal efforts to challenge state anti-Boycott, Divestment and Sanctions (BDS) laws. Bahia Amawi is a Palestinian speech pathologist in Texas who gets fired after refusing to sign a contract with an Israel loyalty oath. Mik Jordahl is a lawyer in Arizona asked to sign a similar pledge. Alan Leveritt is the publisher of the Arkansas Times and his paper is told they will be prohibited from receiving advertising payments from the state university unless they promise not to boycott.
In 2005, 170 Palestinian civil society organizations called on the international community to boycott, divest, and sanction Israel over its human rights abuses. The movement's demands have always been clear: an end to the illegal occupation, dismantling of the "Apartheid Wall", equality for Palestinian citizens of Israel, and honoring the rights of Palestinian refugees to return to their homes. According to Palestine Legal, 233 bills targeting Palestinian advocacy have been introduced across the United States in recent years and 32 states have passed laws targeting the BDS movement. These free speech restrictions generally receive overwhelming bipartisan support from lawmakers and little local resistance, as communities are often unaware of them.
The motivation for these bills can't be reduced to a single source. There's the United States longstanding "special relationship" with Israel, the influence of the evangelical movement (broken down in another compelling film, 2020's 'Til Kingdom Come), and the impact of pro-Israel lobbying groups. Bacha doesn't cover these components in much depth, but chooses to focus on how anti-BDS bills have been folded into our preexisting right-wing machinery. American Legislative Exchange Council (ALEC), the conservative nonprofit where lobbyists develop model legislation for politicians like Hester. It doesn't matter if a state has no discernible connection to Israel, or whether its population actually wants its legislators developing bills on behalf of a foreign country, now that there's a blueprint. Lawmakers simply push the same text across the country. Rinse and repeat. The anti-BDS template is already being used to target other nonviolent movements, like the effort to boycott and divest from fossil fuels.
The details of legislative efforts can be pretty dry stuff to read about, but the triumph of Boycott is that it puts human faces to the struggle. Each person is motivated to sue their state for different reasons and their stories are interesting in their own specific ways, but you also get watch each one go through their daily lives. These aren't seasoned activists or powerful political players, they're everyday people with the courage of their convictions. "I have a lot of family members that still reside in the occupied territory," says Bahia Amawi. "I know what I've seen firsthand, the injustice and inequality that goes on there..I could not stay quiet and just go on with my life while I know that this law is going to make it okay to continue this kind of oppression against the Palestinians."
In another scene Greg Leding, an Arkansas Democratic State Senator, admits that he knows very little about BDS despite voting in favor of legislation. "I regret not knowing more about the issue when I voted and now," he tells the filmmaker. "After hearing from my constituents, I probably would have voted against it."
Leding's admission drives home the enduring message of the movie: people can have impact on the world around them. It's no surprise that Israel's fiercest defenders are committed to making such a thing more difficult.
Learn more about the film and upcoming screenings at theboycottfilm.org.
Go to Original – mondoweiss.net
Tags:
BDS Boycott Divestment Sanctions
,
Gaza
,
Israeli Apartheid
,
Israeli occupation
,
Middle East
,
Nakba
,
Palestine
,
Palestine/Israel
,
State Terrorism
,
West Bank
,
Zionism
Join the BDS-BOYCOTT, DIVESTMENT, SANCTIONS campaign to protest the Israeli barbaric siege of Gaza, illegal occupation of the Palestine nation's territory, the apartheid wall, its inhuman and degrading treatment of the Palestinian people, and the more than 7,000 Palestinian men, women, elderly and children arbitrarily locked up in Israeli prisons.
DON'T BUY PRODUCTS WHOSE BARCODE STARTS WITH 729, which indicates that it is produced in Israel. DO YOUR PART! MAKE A DIFFERENCE!
7 2 9: BOYCOTT FOR JUSTICE!
DISCLAIMER: The statements, views and opinions expressed in pieces republished here are solely those of the authors and do not necessarily represent those of TMS. In accordance with title 17 U.S.C. section 107, this material is distributed without profit to those who have expressed a prior interest in receiving the included information for research and educational purposes. TMS has no affiliation whatsoever with the originator of this article nor is TMS endorsed or sponsored by the originator. "GO TO ORIGINAL" links are provided as a convenience to our readers and allow for verification of authenticity. However, as originating pages are often updated by their originating host sites, the versions posted may not match the versions our readers view when clicking the "GO TO ORIGINAL" links. This site contains copyrighted material the use of which has not always been specifically authorized by the copyright owner. We are making such material available in our efforts to advance understanding of environmental, political, human rights, economic, democracy, scientific, and social justice issues, etc. We believe this constitutes a 'fair use' of any such copyrighted material as provided for in section 107 of the US Copyright Law. In accordance with Title 17 U.S.C. Section 107, the material on this site is distributed without profit to those who have expressed a prior interest in receiving the included information for research and educational purposes. For more information go to: http://www.law.cornell.edu/uscode/17/107.shtml. If you wish to use copyrighted material from this site for purposes of your own that go beyond 'fair use', you must obtain permission from the copyright owner.