A Winter Walk with Thoreau: The Transcendentalist Way of Finding Inner Warmth in the Cold Season
INSPIRATIONAL, 6 Feb 2023
Maria Popova | The Marginalian – TRANSCEND Media Service
"Take long walks in stormy weather or through deep snows in the fields and woods, if you would keep your spirits up. Deal with brute nature. Be cold and hungry and weary."
"Human beings make metaphors as naturally as bees make honey," Adam Gopnik wrote in his wondrous love letter to winter, and no one has honeyed the spirit with more splendid metaphors wrung from winter than Henry David Thoreau (July 12, 1817–May 6, 1862).
Long before he contemplated winter cabbage as a lesson in optimism, Thoreau explored winter's rapturous yet overlooked rewards in a stunning, meandering meditation titled "A Winter Walk," included in his indispensable Excursions (free ebook | public library).
Writing in the winter of 1843, shortly after Margaret Fuller's mentorship made him a writer, the twenty-five-year-old Thoreau awakens to a snow-covered wonderland and marvels at the splendor — a singularly earthly splendor — of a world reborn:
The wind has gently murmured through the blinds, or puffed with feathery softness against the windows, and occasionally sighed like a summer zephyr lifting the leaves along, the livelong night. The meadow-mouse has slept in his snug gallery in the sod, the owl has sat in a hollow tree in the depth of the swamp, the rabbit, the squirrel, and the fox have all been housed. The watch-dog has lain quiet on the hearth, and the cattle have stood silent in their stalls. The earth itself has slept, as it were its first, not its last sleep, save when some street-sign or wood-house door has faintly creaked upon its hinge, cheering forlorn nature at her midnight work, — the only sound awake twixt Venus and Mars, — advertising us of a remote inward warmth, a divine cheer and fellowship, where gods are met together, but where it is very bleak for men to stand. But while the earth has slumbered, all the air has been alive with feathery flakes descending, as if some northern Ceres reigned, showering her silvery grain over all the fields.

We sleep, and at length awake to the still reality of a winter morning. The snow lies warm as cotton or down upon the window-sill; the broadened sash and frosted panes admit a dim and private light, which enhances the snug cheer within.
This quieting of the outside world, this kindling of the inner hearth, is indeed winter's greatest reward for Thoreau. A century before Albert Camus wrested from the seasons his immortal metaphor for the human spirit — "In the depths of winter, I finally learned that within me there lay an invincible summer." — Thoreau writes:
There is a slumbering subterranean fire in nature which never goes out, and which no cold can chill…. What fire could ever equal the sunshine of a winter's day, when the meadow mice come out by the wallsides, and the chicadee lisps in the defiles of the wood? The warmth comes directly from the sun, and is not radiated from the earth, as in summer; and when we feel his beams on our backs as we are treading some snowy dell, we are grateful as for a special kindness, and bless the sun which has followed us into that by-place.

This subterranean fire has its altar in each man's breast, for in the coldest day, and on the bleakest hill, the traveller cherishes a warmer fire within the folds of his cloak than is kindled on any hearth. A healthy man, indeed, is the complement of the seasons, and in winter, summer is in his heart. There is the south. Thither have all birds and insects migrated, and around the warm springs in his breast are gathered the robin and the lark.
Thoreau believed that "every walk is a sort of crusade." As he walks through the meadows blanketed in white, up the hills draped with snow-bowed branches, through a world enveloped in delicious quietude and covered in a "pure elastic heaven," he returns to the invaluable inward focus which winter alone invites — a quiet conquest of one's interior world. A century before Rilke painted winter as the season for tending to one's inner garden, Thoreau writes:
In this lonely glen, with its brook draining the slopes, its creased ice and crystals of all hues, where the spruces and hemlocks stand up on either side, and the rush and sere wild oats in the rivulet itself, our lives are more serene and worthy to contemplate.

[…]

In winter we lead a more inward life. Our hearts are warm and cheery, like cottages under drifts, whose windows and doors are half concealed, but from whose chimneys the smoke cheerfully ascends.
He revisits the subject in a series of diary entires from The Journal of Henry David Thoreau, 1837–1861 (public library) — the trove of wisdom that gave us Thoreau on writing, the sacredness of public libraries, and the creative benefits of keeping a diary. On Christmas Day of 1856, he issues an exhortation central to his philosophy and his daily practice:
Take long walks in stormy weather or through deep snows in the fields and woods, if you would keep your spirits up. Deal with brute nature. Be cold and hungry and weary.
Four days later, Thoreau amplifies the fervor of his point:
We must go out and re-ally ourselves to Nature every day. We must make root, send out some little fibre at least, even every winter day. I am sensible that I am imbibing health when I open my mouth to the wind. Staying in the house breeds a sort of insanity always. Every house is in this sense a hospital. A night and a forenoon is as much confinement to those wards as I can stand. I am aware that I recover some sanity which I had lost almost the instant that I come [outdoors].
The following week, as New England lurches into one of the harshest winters ever recorded, Thoreau reflects on how withdrawing from "the wearying and unprofitable world of affairs" and into the sanity-restoring world of the winter wilderness cleanses him of society's impurities and trifles:
The things I have been doing have but a fleeting and accidental importance, however much men are immersed in them, and yield very little valuable fruit. I would fain have been wading through the woods and fields and conversing with the sane snow. I thus from time to time break off my connection with eternal truths and go with the shallow stream of human affairs, grinding at the mill of the Philistines; but when my task is done, with never-failing confidence I devote myself to the infinite again.

[…]

There is nothing so sanative, so poetic, as a walk in the woods and fields even now, when I meet none abroad for pleasure. In the street and in society I am almost invariably cheap and dissipated, my life is unspeakably mean. No amount of gold or respectability would in the least redeem it, — dining with the Governor or a member of Congress!! But alone in distant woods or fields, I come to myself, I once more feel myself grandly related, and that cold and solitude are friends of mine. I suppose that this value, in my case, is equivalent to what others get by churchgoing and prayer. I thus dispose of the superfluous and see things as they are, grand and beautiful.

[…]

I wish to forget, a considerable part of every day, all mean, narrow, trivial men (and this requires usually to forego and forget all personal relations so long), and therefore I come out to these solitudes, where the problem of existence is simplified.
Complement this particular portion of the timelessly rewarding Journal of Henry David Thoreau with Annie Dillard on how winter awakens us to life, then revisit Thoreau on the greatest gift of growing old, the difference between an artisan, an artist, and a genius, the only worthwhile definition of success, and how to use civil disobedience to advance justice.
_______________________________________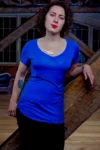 My name is Maria Popova — a reader, a wonderer, and a lover of reality who makes sense of the world and herself through the essential inner dialogue that is the act of writing. The Marginalian (which bore the unbearable name Brain Pickings for its first 15 years) is my one-woman labor of love, exploring what it means to live a decent, inspired, substantive life of purpose and gladness. Founded in 2006 as a weekly email to seven friends, eventually brought online and now included in the Library of Congress permanent web archive, it is a record of my own becoming as a person — intellectually, creatively, spiritually, poetically — drawn from my extended marginalia on the search for meaning across literature, science, art, philosophy, and the various other tendrils of human thought and feeling. A private inquiry irradiated by the ultimate question, the great quickening of wonderment that binds us all: What is all this? (More…)
Go to Original – themarginalian.org
Tags:
Earth
,
Emotions
,
Henry David Thoreau
,
Inspirational
,
Nature
,
Philosophy
,
Wisdom
DISCLAIMER: The statements, views and opinions expressed in pieces republished here are solely those of the authors and do not necessarily represent those of TMS. In accordance with title 17 U.S.C. section 107, this material is distributed without profit to those who have expressed a prior interest in receiving the included information for research and educational purposes. TMS has no affiliation whatsoever with the originator of this article nor is TMS endorsed or sponsored by the originator. "GO TO ORIGINAL" links are provided as a convenience to our readers and allow for verification of authenticity. However, as originating pages are often updated by their originating host sites, the versions posted may not match the versions our readers view when clicking the "GO TO ORIGINAL" links. This site contains copyrighted material the use of which has not always been specifically authorized by the copyright owner. We are making such material available in our efforts to advance understanding of environmental, political, human rights, economic, democracy, scientific, and social justice issues, etc. We believe this constitutes a 'fair use' of any such copyrighted material as provided for in section 107 of the US Copyright Law. In accordance with Title 17 U.S.C. Section 107, the material on this site is distributed without profit to those who have expressed a prior interest in receiving the included information for research and educational purposes. For more information go to: http://www.law.cornell.edu/uscode/17/107.shtml. If you wish to use copyrighted material from this site for purposes of your own that go beyond 'fair use', you must obtain permission from the copyright owner.