(Português) A Importância Fundamental da Vida do Espírito
ORIGINAL LANGUAGES, 27 Mar 2023
Leonardo Boff – TRANSCEND Media Service
24 Mar 2023 – O conhecido e sempre apreciado piloto e escritor Antoine de Saint-Exupéry, autor do Pequeno Príncipe, num texto póstumo, escrito em 1943, Carta ao General "X"  antes que seu avião se precipitasse no Mediterrâneo, afirma com grande ênfase: "Não há senão um problema, somente um: redescobrir que há uma vida do espírito que é ainda mais alta que a vida da inteligência, a única que pode satisfazer o ser humano"(Macondo Libri 2015, p. 31).
Num outro texto, escrito em 1936, quando era correspondente  do "Paris Soir", durante a guerra da Espanha, leva como título "É preciso dar um sentido à vida". Aí retoma o tema da vida do espírito.  Afirma:"o ser humano não se realiza senão junto com outros seres humanos, no amor e na amizade; no entanto, os seres humanos não se unem apenas se aproximando uns dos outros, mas se fundindo na mesma divindade. Num mundo feito deserto, temos  sede de encontrar companheiros com os quais con-dividimos o pão"(Macondo Libri p.20). No final da "Carta do General "X" conclui: "Como temos necessidade de um Deus"(op.cit. p.36).
Efetivamente, só a vida do espírito confere plenitude ao ser humano. Ela representa um belo sinônimo para espiritualidade, não raro identificada ou confundida com religiosidade. A vida do espírito é um dado originário de nossa dimensão profunda, um dado antropológico como a inteligência e a vontade, a libido,  algo que pertence à nossa essência. Ela está na base do nascimento de todas as religiões e caminhos espirituais.
Sabemos cuidar da vida do corpo. Hoje vigora uma verdadeira cultura com tantas academias de ginástica. Os psicanalistas de várias tendências nos ajudam a cuidar da vida da psiqué, dos nossos anjos e demônios interiores para levarmos uma vida com relativo equilíbrio, sem neuroses  e depressões.
Mas na nossa cultura, praticamente, esquecemos de cultivar a vida do espírito. As religiões que deveriam, por sua natureza, cumprir esta missão, a maioria delas, pregam antes suas doutrinas, dogmas e ritos já endurecidos do que oferecem uma uniciação à vida do espírito. Esta é nossa dimensão radical, onde se albergam as grandes perguntas, se aninham os sonhos mais ousados e se elaboram as utopias mais generosas.
A vida do espírito se alimenta de bens  intangíveis como é o amor, a amizade, a convivência amiga com os outros, a compaixão, o cuidado e a abertura ao infinito. Sem a vida do espírito divagamos por aí, sem um sentido que nos oriente e que torna a vida apetecida e agradecida.
Uma ética da Terra, de reconhecimento de sua dignidade, de respeito face à sua complexa e riquíssima diversidad, não se sustenta sozinha por muito tempo sem esse supplément d'ame que é a vida do espírito. Facilmente a ética decai em moralismo ou em apelos espirituais, sem falar ao coração das pessoas.
A vida do espírito, vale dizer, a espiritualidade nos faz sentir parte da Mãe Terra a quem devemos  amar e cuidar. Pois essa é a nossa missão que o universo e Deus nos confiaram.
Pelo fato de não estarmos cumprindo a missão que nos foi dada no ato  da criação do ser humano de "guardar e cuidar do Jardim do Éden"(Gn 2,15) vale dizer, da Mãe Terra, é que chegamos hoje ao limite extremo que, por guerras nucleares e terminais, pela mudança drástica do regime climático e outros fatores que desequilibram  o planeta, podermos ir ao encontro de grandes catástrofes ecológico-socias. Não é impossível de até nos auto-destruir, frustrando  o desígnio do Criador.
Confiamos  e esperamos na mínima racionalidade que nos resta, imbuída da inteligência emocial e cordial  que nos forçarão a mudar de rumo e inagurar uma biocivilização na qual a amizade entre todos e os laços de amor nos poderão salvar. Em fim, a vida do espírito terá realizado a sua missãso salvadora.
_________________________________________________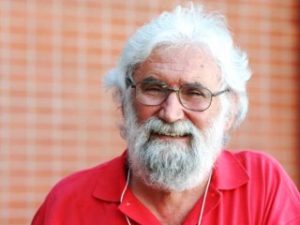 Leonardo Boff é um escritor, teólogo e filósofo brasileiro, professor emérito de ética e filosofia da religião da Universidade do Estado do Rio de Janeiro, recebedor do Prêmio Nobel Alternativo da Paz do Parlamento sueco [Right Livelihood Award]em 2001, membro da Iniciativa Internacional da Carta da Terra, e professor visitante em várias universidades estrangeiras como Basel, Heidelberg, Harvard, Lisboa e Salamanca. Expoente da Teologia da Libertação no Brasil, foi membro da Ordem dos Frades Menores, mais conhecidos como Franciscanos. É respeitado pela sua história de defesa pelas causas sociais e atualmente debate também questões ambientais. Colunista do Jornal do Brasil, escreveu os livros Francisco de Assis: Ternura e Vigor, Vozes 2000;  A Terra na palma da mão: uma nova visão do planeta e da humanidade,Vozes 2016;  Cuidar da Terra – proteger a vida: como escapar do fim do mundo, Record 2010;  A hospitalidade: Direito e dever de todos, Vozes 2005; Paixão de Cristo, Paixão do Mundo, Vozes 2001; Brasil: Concluir a refundação ou prolongar a dependência, Vozes 2018; "Destino e Desatino da Globalização" em: Do iceberg à Arca de Noé, Mar de Ideias, Rio 2010 pp. 41-63.
Go to Original – leonardoboff.org
Tags:
Antoine de Saint-Exupéry
,
Inspirational
,
Life
,
Spirituality
,
The Little Prince
,
Wisdom
DISCLAIMER: The statements, views and opinions expressed in pieces republished here are solely those of the authors and do not necessarily represent those of TMS. In accordance with title 17 U.S.C. section 107, this material is distributed without profit to those who have expressed a prior interest in receiving the included information for research and educational purposes. TMS has no affiliation whatsoever with the originator of this article nor is TMS endorsed or sponsored by the originator. "GO TO ORIGINAL" links are provided as a convenience to our readers and allow for verification of authenticity. However, as originating pages are often updated by their originating host sites, the versions posted may not match the versions our readers view when clicking the "GO TO ORIGINAL" links. This site contains copyrighted material the use of which has not always been specifically authorized by the copyright owner. We are making such material available in our efforts to advance understanding of environmental, political, human rights, economic, democracy, scientific, and social justice issues, etc. We believe this constitutes a 'fair use' of any such copyrighted material as provided for in section 107 of the US Copyright Law. In accordance with Title 17 U.S.C. Section 107, the material on this site is distributed without profit to those who have expressed a prior interest in receiving the included information for research and educational purposes. For more information go to: http://www.law.cornell.edu/uscode/17/107.shtml. If you wish to use copyrighted material from this site for purposes of your own that go beyond 'fair use', you must obtain permission from the copyright owner.