"Long Covid": The Truth at Long Last
DEBATES ON COVID - VACCINES, 10 Apr 2023
Swiss Policy Research - TRANSCEND Media Service
A new Norwegian study exposes propagandists on both sides of the debate.
5 Apr 2023 – Already in the summer of 2020, after the first covid wave, it became obvious that some people recovered poorly from a SARS-CoV-2 infection. Typical symptoms included prolonged lack or alteration of taste or smell; breathing problems, chest pain, and asthma-like conditions; and post-viral fatigue, memory problems, or rapid exhaustion. Such symptoms affected even some young and previously healthy people who had experienced only mild acute covid without hospitalization.
Ever since, many journalists and activists have exaggerated and sensationalized the issue, many health authorities have tried to use "long covid" as justification for further restrictions, while many skeptics, in response, have claimed "long covid" was just a hoax and didn't exist at all.
But a new Norwegian "long covid" study once again exposes amateurs and propagandists on both sides of this debate. The study examined young people aged 12 to 25 with and without covid infection (about 400 and 100 people, respectively), at baseline (10 days after infection) and after six months, during the spring of 2021 (when the alpha variant was dominant).
To determine cases of "long covid", the study relied on the WHO definition of "post covid", which includes dozens of rather non-specific symptoms and assigns a "long covid" diagnosis to anyone who experiences any symptom for more than three months. In the past, this definition was great to produce scary headlines such as "50% of covid patients suffer from long covid". But as soon as a study added a covid-negative control group, the percentage of "long covid patients" was about the same in both groups and "long covid" looked like an imaginary or psychological condition.
At first glance, this is what the new Norwegian study found as well: about 50% of young people in both the covid group and the control group met the WHO "post covid" condition, and covid itself wasn't even a risk factor for developing "long covid".
Skeptics everywhere rejoiced as another hoax had seemingly been busted. Even some serious medical analysts jumped to this conclusion. Yet the authors of the Norwegian study merely – and correctly – concluded that the WHO case definition of "long covid" wasn't useful.
Instead, supplementary table 12, hidden in the annex of the study, reveals the truth about actual "long covid" in young people (see table below). Unsurprisingly, all the clinically well-established "long covid" conditions show up even after six months (unadjusted percentages):
Altered smell (26% in covid group vs. 0% in control group), altered taste (18% vs. 0%), shortness of breath (20% vs. 12%), chest pain (12% vs. 5%), heart palpitations (14% vs. 7%), memory problems (36% vs. 29%), "brain fog" or problems making decisions (33% vs. 23%), extraordinary fatigue after physical activity (26% vs. 11%), "empty batteries after light activities" (26% vs. 18%), lack of muscle strength even after resting (21% vs. 12%), and a few more.
Even though this was a rather small study (about 500 people in total), many of these conditions reached statistical significance or almost did so. Thus, even in young people, 10% or even 20% do experience real "long covid" in some form and to some degree. The Norwegian figures indicate that the condition does improve over time, though not as much or as fast as one would hope. Thus, for young people and for public health in general, "long covid" unfortunately is a real issue.
While covid vaccinations reduced the risk of severe covid and health sequelae after severe covid (including strokes and heart attacks), there is no evidence that vaccination reduced the risk of mild covid and "long covid". Rather, covid vaccination exposed young and healthy people to additional health risks such as heart inflammation (mRNA) and thrombosis (AstraZeneca).
The bigger takeaway is that not just covid propagandists, but also many or indeed most covid skeptics largely misunderstood the coronavirus pandemic. Quite a few covid skeptics seem to believe viruses don't exist, or SARS-CoV-2 doesn't exist, or SARS-CoV-2 isn't a new virus, or they just "rebranded the flu". Many other skeptics seem to believe SARS-CoV-2 didn't cause excess mortality (about 20 million globally), or the omicron variant doesn't cause excess mortality, or covid vaccines were just a placebo or had negative effectiveness. All of these positions were misguided.
The even bigger takeaway is that on many complex topics, the two dominant positions may well be wrong, and a factual position may not just lie "in the middle", but somewhere else entirely. The SARS-CoV-2 origin question may be one such case: for three years, proponents of a "natural origin" and of "made in China" have been quarreling, but both hypotheses are very likely false.
Related: Post-Acute Covid and Long Covid (SPR, August 2020)
Table: Long covid symptoms
Long covid symptoms after six months in people aged 12 to 25.
See also
__________________________________________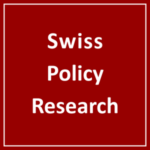 Swiss Policy Research, founded in 2016, is an independent, nonpartisan and nonprofit research group investigating geopolitical propaganda in Swiss and international media. SPR is composed of independent academics that for personal and professional reasons prefer to protect their identities, and receives no external funding; there are no financial sponsors or backers. Our articles have been published or shared by numerous independent media outlets and journalists, among them Julian Assange, and have been translated into more than two dozen languages.
Tags:
COVID-19
,
Long Covid
,
Official Lies and Narratives
,
Pandemic
,
Vaccines
,
WHO
DISCLAIMER: The statements, views and opinions expressed in pieces republished here are solely those of the authors and do not necessarily represent those of TMS. In accordance with title 17 U.S.C. section 107, this material is distributed without profit to those who have expressed a prior interest in receiving the included information for research and educational purposes. TMS has no affiliation whatsoever with the originator of this article nor is TMS endorsed or sponsored by the originator. "GO TO ORIGINAL" links are provided as a convenience to our readers and allow for verification of authenticity. However, as originating pages are often updated by their originating host sites, the versions posted may not match the versions our readers view when clicking the "GO TO ORIGINAL" links. This site contains copyrighted material the use of which has not always been specifically authorized by the copyright owner. We are making such material available in our efforts to advance understanding of environmental, political, human rights, economic, democracy, scientific, and social justice issues, etc. We believe this constitutes a 'fair use' of any such copyrighted material as provided for in section 107 of the US Copyright Law. In accordance with Title 17 U.S.C. Section 107, the material on this site is distributed without profit to those who have expressed a prior interest in receiving the included information for research and educational purposes. For more information go to: http://www.law.cornell.edu/uscode/17/107.shtml. If you wish to use copyrighted material from this site for purposes of your own that go beyond 'fair use', you must obtain permission from the copyright owner.