Eritrean President Isaias Afwerki in China
TRANSCEND MEMBERS, 29 May 2023
Ann Garrison | Black Agenda Report – TRANSCEND Media Service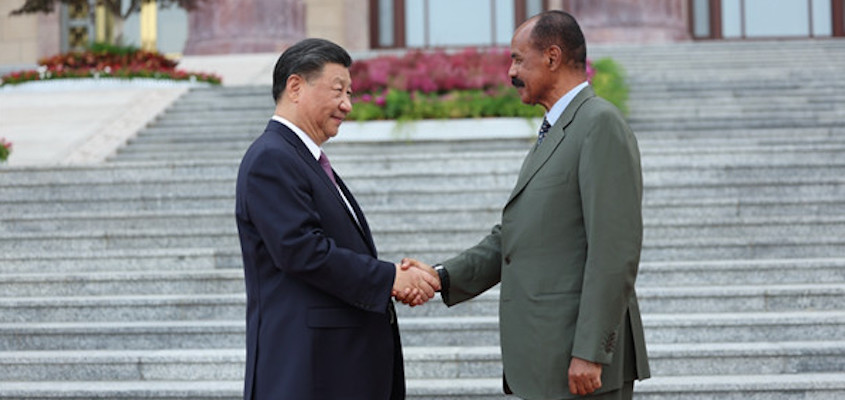 Eritrea can chart an exciting new development path through mutually respectful collaboration with China.
24 May 2023 – Any doubt that a new multipolar world has emerged in the Horn of Africa should have dissipated last week with Eritrean President Isaias Afwerki's trip to China. President Xi Jinping rolled out the red carpet for Afwerki and his delegation and celebrated the growing collaboration between the two countries. Both presidents spoke of the relationship that began in 1967, when the young Afwerki traveled to China to train to fight in the 30-year guerrilla war for Eritrea's independence from Ethiopia.
Xi said that the two countries will mark the 30th anniversary of diplomatic relations on May 24, Eritrean Independence Day, and that China views and develops bilateral relations with Eritrea from a strategic and long-term perspective.
According to Xinhua , he also said,
"In face of the current international situation, which is full of instability and uncertainty, a sound "China-Eritrea relationship not only serves the common and long-term interests of the two countries, but is also of great significance to regional peace and international fairness and justice.
"China appreciates Eritrea's long-standing adherence to an independent foreign policy, firmly supports Eritrea in exploring a development path suited to its national conditions, firmly supports Eritrea in safeguarding its sovereignty, security and development interests, and opposes external interference in Eritrea's internal affairs and the imposition of unilateral sanctions.
"China is ready to share experience with Eritrea on national governance, jointly oppose unilateralism and bullying, and safeguard the common interests of the two countries and other developing countries.
"China is ready to work with Eritrea to advance mutually beneficial cooperation and achieve common development through various frameworks and platforms, such as the Belt and Road Initiative, the Forum on China-Africa Cooperation and the Outlook on Peace and Development in the Horn of Africa.
"China supports Chinese enterprises to invest and do business in Eritrea, and stands ready to strengthen cooperation on infrastructure construction, telecommunications, agriculture, mining and fisheries, and will continue to send medical teams and senior agricultural experts to Eritrea."
Eritrea is resource rich
Eritrea is resource rich and has enormous, barely tapped potential. Its Red Sea Coast alone is a strategic prize no doubt envied by all the world. According to the US Naval Institute, twelve percent of world trade passes by its Red Sea ports, Masawa and Assab, between the Suez Canal on the Mediterranean and the Bab-el-Mandeb Strait leading into the Arabian Sea and the Indian Ocean. According to the International Energy Agency, that includes 10 percent of the oil products and 8 percent of the liquified natural gas (LNG) on the move every day.
This is the trade route that most immediately connects Europe, Africa, the Middle East, and Asia. The fish in its coastal waters are a vast resource as well.
Eritrea, like Egypt, Sudan, Ethiopia, Saudi Arabia, and Yemen, sits on the Arabian Nubian Shield , a mineral rich formation thought to be one of the next frontiers for mineral development. Mineral mapping indicates that it contains copper, tin, zinc, nickel, iron, sulfur, platinum, manganese, uranium, tantalum, niobium, phosphates, cobalt, and chromite.
No one should think that China and private Chinese corporations will not be looking to get the best deals they can, but Eritrea has stood proud throughout its independence struggle and since, resisting the neocolonial Western aggression and exploitation that has plagued most of Africa. It can be expected to insist on win-win agreements to tap its resources.
As a peaceful country that is nevertheless isolated, excoriated, and brutally sanctioned by the West, it offers China a chance to demonstrate to Africa and the world that it can be a positive force for development and cooperation across the African continent.
It is one of two African nations—the other being Zimbabwe—that has refused to collaborate with AFRICOM, the US Africa Command, and its freedom from the shackles of IMF and World Bank debt makes it uniquely ready to collaborate with both China and Russia.
Its stability is singular compared to all of its larger neighbors, Sudan, Ethiopia, and Somalia. The only similarly stable nation in the region is its tiny neighbor, Djibouti, which exists primarily by renting military bases to all the great powers that feel compelled to have a military presence in the Horn of Africa's hugely strategic waterways.
China and Eritrea have said that their collaboration will include "security," which will no doubt include Chinese military use of Eritrea's ports. Eritrea has already agreed to collaborate with Russia on security as well.
The militarization of the region is unfortunate but inevitable, given the New Cold War and the enormous geostrategic resources at stake. Russian and Chinese presence in Eritrea will provide a counter hegemonic balance to escalating US military presence in Somalia , which includes the plan to build a US base in Somalia's Berbera Port. Hopefully, all the military forces flexing their muscles in the region will preclude another devastating attack like that on Libya.
Western press acknowledged President Isaias's historic trip
The Western press, like Western officialdom, never mention Eritrea except to hate it for its independence, but major Western news outlets nevertheless felt compelled to acknowledge the historic significance of President Afwerki's trip to China.
Yahoo Finance republished the South China Post, which wrote:
"Chinese President Xi Jinping rolled out the red carpet in Beijing on Monday for his Eritrean counterpart Isaias Afewerki, saying that China opposed sanctions imposed on the Horn of Africa nation.
"Eritrea is heavily sanctioned by Western nations for alleged human rights abuses, but in a meeting with President Isaias, Xi said that China opposed external interference in Eritrea's internal affairs.
"He added that Beijing would firmly support Eritrea to safeguard its own sovereignty, security and development interests."
Reuters wrote:
"Chinese President Xi Jinping said on Monday strong China-Eritrea relations were key to bolstering peace in the Horn of Africa region and pursuing mutually beneficial development, speaking at a meeting in Beijing with his Eritrean counterpart.
"Eritrea has strategic importance for China given its location on the Red Sea, one of the world's key shipping corridors with access to both the Suez Canal and Europe to the north and the Indian Ocean to the southeast."
Voice of America wrote:
"China's Premier Li Qiang told visiting Eritrean President Isaias Afwerki on Monday their countries should 'deepen mutually beneficial win-win cooperation and continuously enrich their strategic partnership' at a meeting in Beijing.
"On the Red Sea, Eritrea could be geopolitically important for China, with its access to the Suez Canal and Europe to the north and the Arabian Gulf and Indian Ocean to the southeast, as China seeks to bolster its presence in the Horn of Africa."
Eri-TV traveled with President Afwerki and his delegation and a documentary and further news will be coming soon.
_______________________________________________

Ann Garrison is an independent journalist based in the San Francisco Bay Area. She attended Stanford University and is a member of the TRANSCEND Network for Peace Development Environment. In 2014 she received the Victoire Ingabire Umuhoza Democracy and Peace Prize for her reporting on conflict in the African Great Lakes region. She can be reached at @AnnGarrison, ann@kpfa.org, ann@anngarrison.com.
Go to Original – blackagendareport.com
Tags:
Africa
,
China
,
Cooperation
,
Eritrea
DISCLAIMER: The statements, views and opinions expressed in pieces republished here are solely those of the authors and do not necessarily represent those of TMS. In accordance with title 17 U.S.C. section 107, this material is distributed without profit to those who have expressed a prior interest in receiving the included information for research and educational purposes. TMS has no affiliation whatsoever with the originator of this article nor is TMS endorsed or sponsored by the originator. "GO TO ORIGINAL" links are provided as a convenience to our readers and allow for verification of authenticity. However, as originating pages are often updated by their originating host sites, the versions posted may not match the versions our readers view when clicking the "GO TO ORIGINAL" links. This site contains copyrighted material the use of which has not always been specifically authorized by the copyright owner. We are making such material available in our efforts to advance understanding of environmental, political, human rights, economic, democracy, scientific, and social justice issues, etc. We believe this constitutes a 'fair use' of any such copyrighted material as provided for in section 107 of the US Copyright Law. In accordance with Title 17 U.S.C. Section 107, the material on this site is distributed without profit to those who have expressed a prior interest in receiving the included information for research and educational purposes. For more information go to: http://www.law.cornell.edu/uscode/17/107.shtml. If you wish to use copyrighted material from this site for purposes of your own that go beyond 'fair use', you must obtain permission from the copyright owner.
Join the discussion!
We welcome debate and dissent, but personal — ad hominem — attacks (on authors, other users or any individual), abuse and defamatory language will not be tolerated. Nor will we tolerate attempts to deliberately disrupt discussions. We aim to maintain an inviting space to focus on intelligent interactions and debates.