Ilhan Omar Voted to Withdraw from Somalia, but She's No Anti-Imperialist
TRANSCEND MEMBERS, 15 May 2023
Ann Garrison | Black Agenda Report – TRANSCEND Media Service
10 May 2023 – Congresswoman Ilhan Omar is not the progressive she is thought to be. She follows US policy regarding her native Somalia and she has connections there which compromise her actions. True anti-imperialist politics are needed to help the people of Somalia escape from the US interference which has devastated that country.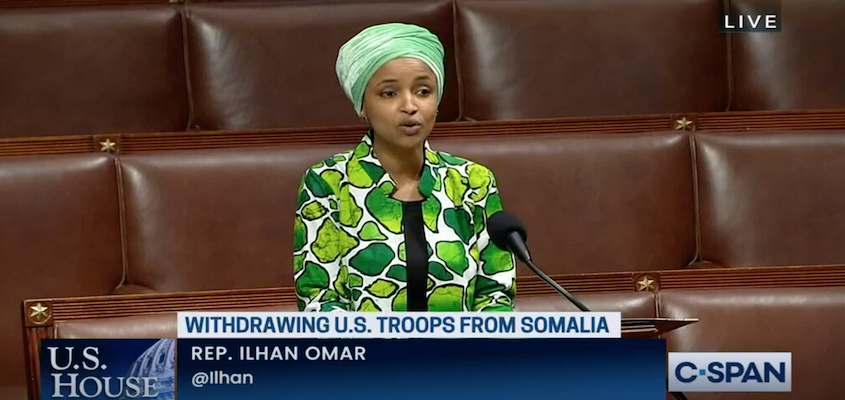 On April 27, Ilhan Omar, the Somali American Congresswoman representing Minnesota's 5th District, voted to withdraw all US troops from Somalia within a year's time, but not because she's any sort of anti-imperialist, not because they never should have been there in the first place, and not because the US is bombing the very terrorists it created by instigating a proxy war between Ethiopia and Somalia in 2006.
She simply and blandly said that a review of "our long-term strategy" in Somalia and Africa is overdue, that the resolution gave the US a year to withdraw "responsibly," and that Somalia's current president, Hassan Sheikh Mohamud, would wrap up the fight against Al Shabaab by then anyway. The latter assertion was ridiculous, given that the US commands and funds the Danab Brigade, the frontline Somali troops fighting Al Shabaab, and it's been escalating in Somalia for the past year. Hassan Sheikh Mohamud is cozy with Ilhan Omar, but he's not in charge.
Ilhan Omar, the Squad, and the Gaetz campaign to end forever wars
Florida Republican Congressman Matt Gaetz had introduced the resolution , one in a series in his campaign to end "forever wars." The first resolution called for withdrawing troops in Syria, and Gaetz suggested during the debate that the next will call for withdrawal from Niger.
The resolution went down 321 to 101, but it was just political theater anyway. It had no teeth and no one expected it to pass, but Gaetz was forcing House Reps to take a stand they might have to answer for in 2024, possibly to the tiny antiwar community but more likely to the "America First" community that Gaetz shares with Trump. Somali Americans are most highly concentrated in Ilhan Omar's Minneapolis district, and she said that many of them supported the resolution.
Here's what she arose to say during the debate, as recorded by C-SPAN, with a few paragraph breaks and spelling and grammatical corrections added:
"Mr. Speaker, I rise today in support of H. Con. Res. 30 , the Somalia war powers resolution. Mr. Speaker, I agree with the chairman, a real debate about U.S. policy in Somalia and in Africa is long overdue. It is debate that should include a serious discussion of our long-term strategy for supporting stability and self-governance. It should include clear-eyed analysis of U.S. counterterrorism policies, including air strikes and drones, and the consistent problem of civilian casualties of U.S. operations.
Congress is also overdue for a debate about the expansive use of the 2001 AUMF, which the executive branch claims includes operations in Somalia.
Mr. Speaker, the resolution before the House today does not address these significant issues. It is a narrow question of the withdrawal of a few hundred troops. Given President Hassan's renewed efforts to eradicate Al-Shabaab, the resolution does include a long enough timeline to ensure that operations that we are partnering with can be ended responsibly. While we should not mistake this poorly crafted resolution for an honest assessment of U.S. policy in Somalia, it is important that we support the question before us.
Mr. Speaker, I and many Somali Americans support this resolution, and I urge my colleagues to do the same."
Gaetz had introduced the resolution a month earlier, but only a handful of his Republican allies had co-sponsored it. During that time, many wondered how Ilhan Omar would vote, while the congresswoman, like the Progressive Caucus, remained strangely silent. The Caucus had quietly endorsed a yes vote on the resolution to withdraw from Syria, but only about half its members, including Omar, voted for it. The Caucus was silent in the runup to the Somalia resolution, and again, no more than half voted for it, but Omar and the rest of "The Squad" did.
Why didn't Ilhan Omar force the issue of Somalia escalation?
Why wasn't Ilhan Omar, a Somali American, the one to introduce this resolution, or a stronger one, and make a case for it in the press, instead of leaving that to Republican Matt Gaetz, a right-wing, immigrant-bashing, Trump-supporting China hawk? Why didn't she press the Progressive Caucus to endorse it? And why was it left to Gaetz and rabid Republican Ryan Zinke to point out that there are now roughly 900 US troops in Somalia, twice the cap the White House last suggested in 2022?
Some answers might be found in Omar's December 2022 trip to Somalia, where she was fêted as quite a celebrity, meeting with President Hassan Sheikh Mohamud, Prime Minister Hamza Abdi Barre, cabinet members, and parliamentarians. Voice of America reported that, at a dinner held in her honor and hosted by the prime minister, she congratulated the current government on its success at fighting Al Shabaab and called for further US collaboration in the fight—four months before voting on the Gaetz resolution to withdraw.
She seems to know her audience well, because the last thing Hassan Sheikh Mohamud wants is for the US to withdraw from Somalia. On May 15, Mohamud became Somalia's president , and on May 16, the New York Times reported that Joe Biden had signed an order to redeploy troops to the country.  On May 17, a Voice of America headline read "New Somali President Welcomes Return of US Troops ."
Shortly thereafter it was announced that Ahmed Hirsi, Ilhan Omar's first husband and the father of her three children, became Senior Advisor to the new president.
The previous president, Mohammed Abdullahi Mohammed, better known as Farmaajo, had been trying to negotiate the departure of all foreign troops from Somalia and build a sovereign military, so he had to go, as Ilhan Omar urged .
In 2022, despite Farmaajo and his supporters' protracted struggle for a popular one-person-one-vote election, he was defeated, in a corrupt, clan-based election , and Hassan Sheikh Mohamud returned to power. The IMF, where the US has veto power, had forced the election by threatening to cut off funding, needed to pay soldiers' wages and essential services, if it wasn't held.
It's political science 101 that a country's true sovereign controls its apparatus of force, and no Somali president has done that for a long time. US troops fund and command the Danab Brigade, the frontline Somali troops fighting Al Shabaab, the US and EU fund and train ATMIS (African Union Transition Mission in Somalia), the African Union peacekeepers, and the European Union Navy patrol Somalia's coast, where they have no motivation to stop the toxic waste dumping and fish looting committed largely by European concerns.
On the day of the vote on the Gaetz resolution, Brown University released a report titled "Making Crisis Inevitable: The Effects of U.S. Counterterrorism Training and Spending in Somalia ," in which they concluded that "The United States says its goals in Somalia are to eliminate Al-Shabaab and promote peace. This paper documents how U.S. counterterrorism policies are having the opposite effect and ensuring that the conflict continues in perpetuity."
Somali American and Black Agenda Report contributor Jamal Abdulahi concurred. "It's common knowledge among Somali nationalists," he said, "that the presence of foreign troops exacerbates and prolongs the conflict."
_______________________________________________

Ann Garrison is an independent journalist based in the San Francisco Bay Area. She attended Stanford University and is a member of the TRANSCEND Network for Peace Development Environment. In 2014 she received the Victoire Ingabire Umuhoza Democracy and Peace Prize for her reporting on conflict in the African Great Lakes region. She can be reached at @AnnGarrison, ann@kpfa.org, ann@anngarrison.com.
Go to Original – blackagendareport.com
Tags:
Africa
,
Anti-imperialism
,
Somalia
,
USA
DISCLAIMER: The statements, views and opinions expressed in pieces republished here are solely those of the authors and do not necessarily represent those of TMS. In accordance with title 17 U.S.C. section 107, this material is distributed without profit to those who have expressed a prior interest in receiving the included information for research and educational purposes. TMS has no affiliation whatsoever with the originator of this article nor is TMS endorsed or sponsored by the originator. "GO TO ORIGINAL" links are provided as a convenience to our readers and allow for verification of authenticity. However, as originating pages are often updated by their originating host sites, the versions posted may not match the versions our readers view when clicking the "GO TO ORIGINAL" links. This site contains copyrighted material the use of which has not always been specifically authorized by the copyright owner. We are making such material available in our efforts to advance understanding of environmental, political, human rights, economic, democracy, scientific, and social justice issues, etc. We believe this constitutes a 'fair use' of any such copyrighted material as provided for in section 107 of the US Copyright Law. In accordance with Title 17 U.S.C. Section 107, the material on this site is distributed without profit to those who have expressed a prior interest in receiving the included information for research and educational purposes. For more information go to: http://www.law.cornell.edu/uscode/17/107.shtml. If you wish to use copyrighted material from this site for purposes of your own that go beyond 'fair use', you must obtain permission from the copyright owner.
Join the discussion!
We welcome debate and dissent, but personal — ad hominem — attacks (on authors, other users or any individual), abuse and defamatory language will not be tolerated. Nor will we tolerate attempts to deliberately disrupt discussions. We aim to maintain an inviting space to focus on intelligent interactions and debates.