Humanitarian aid & fuel update, new Israeli airstrikes, Al Shifa Hospital crisis, Palestinian deaths in West Bank, and more.
Find previous daily casualty figures and daily news updates here. For more news, go here and here. Live broadcast news from the region is here.
Some people are led to be skeptical of the Al Jazeera news network. However, the network has won several Emmys, a Peabody and the Overseas Press Association's Edward R. Murrow award, among many other honors. The New York Times reports that "its reporting hews to international journalistic standards and provides a unique view on events in the Middle East." it's important to remember that all news sources may potentially have bias. For example, CNN uses anchors who used to work for the Israel Lobby, who have lifelong attachment to Israel, and who often exhibit pro-Israel spin and omission in their broadcasts. Similarly, Fox News is strongly influenced by Rupert Murdoch, who has a similarly strong attachment to Israel, and who may have fired Tucker Carlson, the network's most popular host, in part due to the host's opposition to war and his pattern of failing to exhibit sufficient devotion to Israel).
Latest statistics:
Palestinian death toll: 11,741* (~11,529 in Gaza** (including at least 4,707 children and 3,155 women), and at least 212 in the West Bank). *IAK does not yet include 471 Gazans killed in the Al Ahli hospital blast since the source of the projectile is being disputed; although much evidence points to Israel as the culprit, experts are still looking into the incident. Israel is blocking an international investigation.
Palestinian injuries: 31,750** (including at least 29,000 in Gaza** and 2,750 in the West Bank). **NOTE: it is impossible to offer an accurate number of injuries in Gaza due to the ongoing bombardment and communication disruption. 
It remains unknown how many Americans are among the casualties. About 1.6 million people have been displaced; 3,750 are missing (1,800 children) and presumed to be under rubble.
Israel has now killed more Palestinians in a little over a month than in all the previous 22 years combined.
Reported Israeli death toll has been reduced to ~1,200*** (The Israeli spokesman said the original figure of deaths on March 7 was an "initial estimate" – 3 killed in West Bank, 56 in Gaza), including 32 Americans, and ~5,400 injured). The names of the 1,176 identified (about 33 of them children) are here.
***NOTE: It is unknown at this time how many of the deaths and injuries in Israel may have been caused by Israeli soldiers; additionally, since Israel has a policy of universal conscription, it is unknown how many of those attending the outdoor rave a few miles from Gaza on stolen Palestinian land were Israeli soldiers.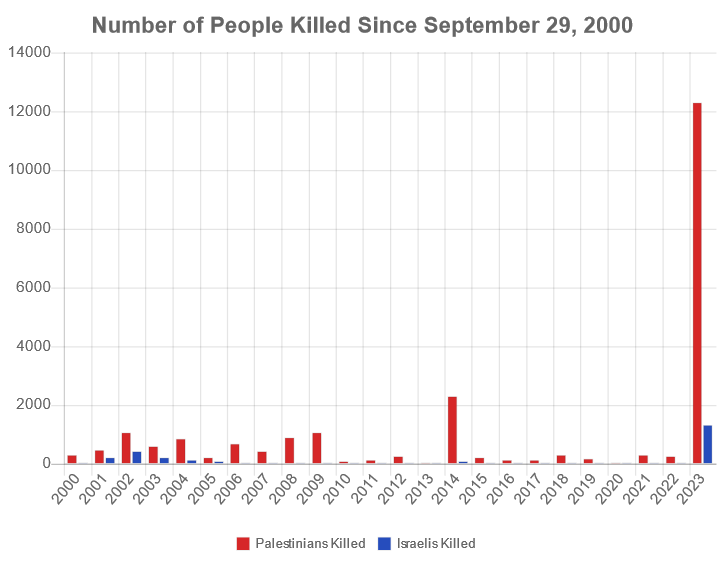 Hover over each bar for exact numbers.
Source: IsraelPalestineTimeline.org