Articles by Adam Shatz
We found 1 results.
---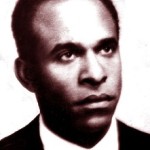 No Direction Home: The Journey of Frantz Fanon
Adam Shatz | Raritan Quarterly, Rutgers University – TRANSCEND Media Service, 6 May 2019
Winter 2019 – Reading Fanon, one sometimes has the impression that mere expository prose cannot do justice to the impulsive movement of his thought. I use the word "movement" advisedly: Fanon did not write his texts; he dictated them while pacing back and forth, either to his wife, Josie, or to his secretary, Marie-Jeanne Manuellan (who has just published a memoir about the experience). This method of composition lends his writings an electrifying musicality: restless, searching, and, as he fell prey to the leukemia that would kill him, otherworldly in its call for a new planetary order, cleansed of racism and oppression.
→ read full article
---