Articles by Ajay Ghosh
We found 4 results.
---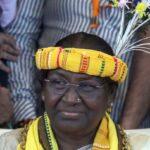 Droupadi Murmu Is the New President of India
Ajay Ghosh | UNN - TRANSCEND Media Service, 1 Aug 2022
Mrs. Droupadi Murmu, a 64-year-old tribal politician and former teacher from the Orissa state, was sworn in as the 10th successive president of the Republic of India on 22 July 2022 in New Delhi becoming the constitutional head of India.
→ read full article
---
India, Brazil, Germany and Japan Open to Forgo Veto for Now if Granted UNSC Membership
Ajay Ghosh – The Universal News Network, 20 Mar 2017
In a joint statement delivered by India's Representative to the UN on March 8, the G4 nations emphasized that an overwhelming majority of the UN member states supports the expansion of both permanent and non-permanent membership in a reformed UN Security Council.
→ read full article
---
Computer Program Beats Doctors at Spotting Brain Cancer
Ajay Ghosh – The Universal News Network, 26 Sep 2016
21 Sep 2016 – A computer program developed by a team of researchers led by an Indian American scientist has outperformed physicians in diagnosing brain cancer. The program was nearly twice as accurate as two neuroradiologists.
→ read full article
---
'They Called Me Osama' – A Documentary to Teach People about Sikh Religion
Ajay Ghosh – The Universal News Network, 27 Jun 2016
22 Jun 2016 – This new documentary film seeks to educate people about the Sikh religion and the experiences of Sikhs in America including bullying in schools, racism, and hate violence. It was made with funding from the University of Connecticut and aims at preventing abuses of Sikhs and informing about the centuries old Sikh religion.
→ read full article
---