Articles by Alex Henderson
We found 1 results.
---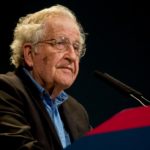 Noam Chomsky Reveals How the Old-School 'Propaganda Model' Still Works to Manufacture Consent in the Information Age
Alex Henderson – AlterNet, 1 Jul 2019
20 Jun 2019 – Noam Chomsky, now 90, has witnessed many technological changes over the years. The leftist academic started his career in the days of 78s and black-and-white films, and he is still keeping busy in an era of digital communications, Twitter, smartphones and YouTube. But the more things change, the more they stay the same — and Chomsky asserted that "the propaganda model" is still alive and well in the digital age.
→ read full article
---