Articles by Alison Kyra Carter
We found 1 results.
---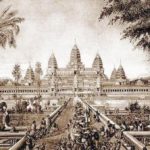 Angkor Wat Archaeological Digs Yield New Clues to Its Civilization's Decline
Alison Kyra Carter – The Conversation, 10 Jun 2019
3 Jun 2019 – Many tourists hold an outdated romanticized image of an abandoned temple emerging from the jungle. But research around Angkor Wat suggests its collapse might be better described as a transformation. Angkor Wat was never abandoned. What can be abandoned is the tired cliché of foreign explorers "discovering" lost cities in the jungle.
→ read full article
---