Articles by Ann Scott Tyson
We found 1 results.
---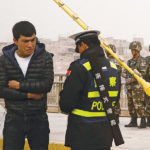 'There Are No People': China's Crackdown in the Uyghur Heartland
Ann Scott Tyson – The Christian Science Monitor, 10 Dec 2018
Ann Scott Tyson found reporting especially challenging in the western region of Xinjiang, where she went to witness the impact of China's forced 'reeducation' of its Uyghur minority. But that work produced a rare and nuanced look at the project's effect.
→ read full article
---