Articles by António Guterres
We found 4 results.
---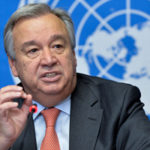 Yemen the World's Worst Humanitarian Crisis, Says UN Chief
António Guterres | The United Nations – Inter Press Service-IPS, 9 Apr 2018
4 Apr 2018 – Yemen is the world's worst humanitarian crisis. As the conflict enters its fourth year, more than 22 million people – three-quarters of the population – need humanitarian aid and protection. Some 18 million people are food insecure. And a horrifying 8.4 million of these people do not know how they will obtain their next meal. Millions of Yemenis do not have access to safe drinking water. Last year, 1 million people suffered from watery diarrhea and cholera. Half of all health facilities are shut or not working properly, meaning there is a high risk of another cholera epidemic.
→ read full article
---
Fourth Industrial Revolution & Its Dramatic Impact on Society
António Guterres, UN Secretary-General – Inter Press Service-IPS, 13 Nov 2017
Based on an address on Web Summit Day, 6 Nov 2017, Lisbon, Portugal – I am an engineer and, for the time being, I am also Secretary-General of the UN and we are all here because we believe in the force of Science, Innovation and Technology. From my perspective, what is important is to combine innovation and technology, innovation and public policy to make sure that innovation works for the good of humankind.
→ read full article
---
An Urgent Need to Transform World's Energy Systems
António Guterres – TRANSCEND Media Service, 6 Nov 2017
1 Nov 2017 – UN Secretary-General António Guterres addresses the Symposium on 'Global Energy Interconnection: Advancing the UN's Sustainable Development Goals.' – "When we discuss global interconnection in relation to energy, we are at the centre of the two key words that express our global concerns – sustainability and inclusivity."
→ read full article
---
A UN of the Future to Effectively Serve All Member States
UN Secretary-General António Guterres – Other News, 5 Jun 2017
In a letter to Permanent Representatives of 193 member states, the Secretary-General details his plan for a revitalization of the UN system.
→ read full article
---