Articles by Azad Essa
We found 5 results.
---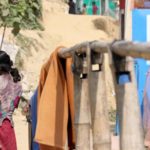 Rohingya Activists Demand Action against Myanmar at NYC Summit
Azad Essa – Al Jazeera, 18 Feb 2019
9 Feb 2019 – – The question of justice has dominated discussions at a New York conference on the persecution suffered by the Rohingya Muslim minority in Myanmar. A two-day international conference urges collective and decisive action.
→ read full article
---
Homophobia: Africa's New Apartheid
Azad Essa – Al Jazeera, 3 Feb 2014
Both African and western governments are using gay rights as a political tool.
→ read full article
---
'The Worst Crisis I Have Ever Seen'
Azad Essa – Al Jazeera, 12 Sep 2011
The head of a South African aid group discusses famine in East Africa, working in Mogadishu and engaging al-Shabab. As concerns grow over the mishandling of food aid and corruption by third-party contractors inside the country, there remains little understanding of the conditions inside the capital. Despite this, a small number of aid groups have refused to delegate their work there to third-party organisations.
→ read full article
---
Cote d'Ivoire: The Forgotten War?
Azad Essa – Al Jazeera, 4 Apr 2011
It reads like a poorly conceived Hollywood film: A national election in some West African nation goes horribly wrong when the sitting president refuses to vacate his position despite losing at the polls. A bloody standoff between forces loyal to the two politicians ensues, catching hundreds in the crossfire and forcing thousands to flee. The incumbent is supported by the army, the internationally recognised new president by a troop of former rebels.
→ read full article
---
South Africa School Rethinks Israel Ties
Azad Essa – Al Jazeera, 4 Oct 2010
University of Johannesburg threatens to sever ties with Israeli Ben-Gurion University if certain conditions are not met.
→ read full article
---