Articles by Ben Jolliffe
We found 2 results.
---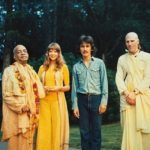 The Answer Is in the End: George Harrison, a Prophet for Our Time
Ben Jolliffe | Resurgence Magazine – TRANSCEND Media Service, 25 Nov 2019
George Harrison died on 29 November 2001 at the age of fifty-eight. After meeting A.C. Bhaktivedanta Swami Prabhupada, founder of the International Society for Krishna Consciousness, of which he became an active participant, Harrison turned his devotion to Lord Krishna in 1969.
→ read full article
---
THE ANSWER'S IN THE END: GEORGE HARRISON-A PROPHET FOR OUR TIME
Ben Jolliffe – Resurgence magazine, 25 Nov 2009
George Harrison died on 30th November 2001 at the age of fifty-eight. THE POP STAR and the prophet are rare bedfellows – but with the simple wisdom of his lyrics and the melodic sweetness of his slide guitar, George Harrison brought them together in a marriage of great inspiration. Rock 'n' roll's most famous heroes […]
→ read full article
---