Articles by Bernie Sanders
We found 2 results.
---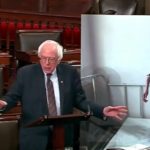 Bernie Sanders: We Must Stop Helping Saudi Arabia in Yemen
Bernie Sanders – The New York Times, 5 Nov 2018
24 Oct 2018 – "I very much hope that Congress will act, that we will finally take seriously our congressional duty, end our support for the carnage in Yemen, and send the message that human lives are worth more than profits for arms manufacturers."
→ read full article
---
The Trans-Pacific Trade (TPP) Agreement Must Be Defeated
US Sen. Bernie Sanders - Reader Supported News, 5 Jan 2015
The TPP is a disastrous trade agreement designed to protect the interests of the largest multi-national corporations at the expense of workers, consumers, the environment and the foundations of American democracy. It will also negatively impact some of the poorest people in the world.
→ read full article
---