Articles by Bill C. Davis
We found 1 results.
---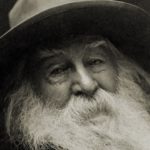 Time Bombs: A Meditation on Walt Whitman's 200th Birthday
Bill C. Davis – Common Dreams, 10 Jun 2019
31 May 2019 – Today is Walt Whitman's 200th birthday. A friend observed it's better he's not seeing what's happened to his country. He was a wound dresser during the civil war so he knew what men tend to do to each other. I suppose a war of sorts is in progress here – the enemy gets chosen not by geographical location but by a roulette wheel of sudden psychotic combatants. Background checks? First question. Are you a human being? Yes. Sorry—no gun for you.
→ read full article
---