Articles by Bob Rae
We found 1 results.
---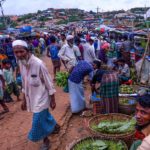 Do Not Turn Away from the Horrors That the Rohingya Face
Bob Rae - The Globe and Mail, 5 Aug 2019
2 Aug 2019 – Two years ago this August, the world was shocked by brutal, tragic images coming out of Myanmar–a deep humanitarian crisis: systematic violence, rape, burning of villages and the killing of some 10,000 Rohingya who make up the largest percentage of Muslims in Myanmar. More than 700,000 were forced to abandon their homes and villages, joining an earlier exodus of refugees to Bangladesh – and those refugees are still there, in a crowded muddy camp in a town on Bangladesh's southeast coast known as Cox's Bazar.
→ read full article
---