Articles by Bruno Sgarzini
We found 1 results.
---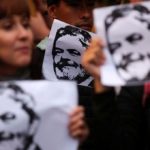 Lula's Conviction Turns Brazil into Model of Regional Control
Bruno Sgarzini – teleSUR, 9 Apr 2018
6 Apr 2018 – It is becoming less of a secret that operation Car Wash was brought about under the auspices of the U.S. State and Justice Departments via links with Sergio Moro, the Attorney General's office and the federal police in charge of the investigation. Its most self-evident result has been to isolate the main political threat to the United States, namely the coalition of politicians – supported by the Workers' Party – who favored strengthening Brazil's multinational companies as global competitors. The following categorical example sums this up.
→ read full article
---