Articles by Camila Vergara
We found 1 results.
---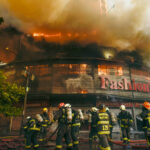 The Meaning of Chile's Explosion
Camila Vergara – Jacobin Magazine, 4 Nov 2019
29 Oct 2019 – The ongoing popular upheaval in Chile is the product of thirty years of neoliberal oligarchy and half-hearted democratization. To uproot the existing power structure, the country needs a new constitution.
→ read full article
---