Articles by Carol Rosenberg
We found 2 results.
---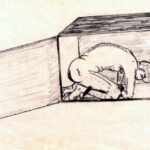 What the C.I.A.'s Torture Program Looked Like to the Tortured
Carol Rosenberg – The New York Times, 9 Dec 2019
4 Dec 2019 – Drawings done in captivity by the first prisoner known to undergo "enhanced interrogation" in Guantanamo portray his account of what happened to him in vivid and disturbing ways.
→ read full article
---
Force Feeding Continues: 2 More Guantanamo Prisoners Join Hunger Strike, Military Says
Carol Rosenberg - The Miami Herald, 20 May 2013
U.S. military medical providers counted 102 Guantanamo prisoners as hunger strikers on Thursday [16 May 2013], the first increase after three weeks when the number seemed to plateau at 100. Navy medical workers were tube-feeding 30 of the hunger strikers, said Army Lt. Col. Samuel House. Three were hospitalized, but none had "life-threatening conditions," he said.
→ read full article
---