Articles by Chris McGreal
We found 4 results.
---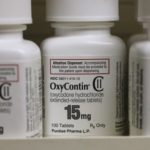 'They're Drug Dealers in Armani Suits': Executives Draw Focus amid US Epidemic
Chris McGreal – The Guardian, 8 Oct 2018
30 Sep 2018 – As the pharmaceutical industry fights off a flood of lawsuits, there's an increased call to investigate the roles of executives pushing opioid painkillers. "The more drugs they sold, the more money they made, and the more people in Massachusetts suffered and died." — Maura Healey
→ read full article
---
Mandela: Never Forget How the Free World's Leaders Learned to Change Their Tune
Chris McGreal – The Guardian, 9 Dec 2013
Among those eulogising Mandela are people who once damned him as a terrorist and supported apartheid.
→ read full article
---
Texas Attorney General Threatens to Arrest Monitors Observing US Election
Chris McGreal – The Guardian, 29 Oct 2012
State attorney general calls international group's plan to watch for fairness at the polls 'legally irrelevant in the United States.' The Texas attorney general, Greg Abbott, has threatened to arrest international election monitors invited by liberal groups to observe the conduct of next month's presidential vote in states accused of attempting to disenfranchise minorities.
→ read full article
---
Jerusalem Residents Attack Writer Elie Wiesel over Appeal to Barack Obama
Chris McGreal – The Guardian, 17 May 2010
Holocaust survivor accused of ignoring anti-Arab discrimination in Jerusalem.
→ read full article
---