Articles by Craig Whitlock
We found 6 results.
---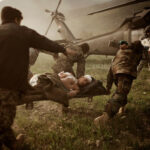 The Afghanistan Papers–>A Secret History of the War: At War with the Truth
Craig Whitlock – The Washington Post, 16 Dec 2019
9 Dec 2019 – U.S. officials constantly said they were making progress. They were not, and they knew it, an exclusive Post investigation found. A confidential trove of government documents reveals that senior U.S. officials failed to tell the truth about the war in Afghanistan throughout the 18-year campaign, making rosy pronouncements they knew to be false and hiding unmistakable evidence the war had become unwinnable.
→ read full article
---
U.S. Military Drone Surveillance Is Expanding to Hot Spots beyond Declared Combat Zones
Craig Whitlock – The Washington Post, 22 Jul 2013
The U.S. military is shifting its huge fleet of unmanned aircraft to other hot spots around the world. This next phase of drone warfare is focused more on spying than killing and will extend the Pentagon's robust surveillance networks far beyond traditional, declared combat zones.
→ read full article
---
U.S. Plans to Add Drone Base in West Africa
Craig Whitlock – The Washington Post, 4 Feb 2013
29 Jan 2013 – The U.S. military is planning a new drone base in Africa that would expand its surveillance in northern Mali, a development that would escalate American involvement in a fast-spreading conflict. Two Obama administration officials said military planners are eyeing the West African country of Niger as a base for unarmed Predator drones, which would greatly boost U.S. spy missions in the region.
→ read full article
---
U.S. Assembling Secret Drone Bases in Africa, Arabian Peninsula, Officials Say
Craig Whitlock and Greg Miller – The Washington Post, 26 Sep 2011
The Obama administration is assembling a constellation of secret drone bases for counterterrorism operations in the Horn of Africa and the Arabian Peninsula as part of a newly aggressive campaign to attack al-Qaeda affiliates in Somalia and Yemen, U.S. officials said.
→ read full article
---
With Air Force's New Drone, 'We Can See Everything'
Ellen Nakashima and Craig Whitlock – The Washington Post, 3 Jan 2011
The hunger for these high-tech tools was evident at the conference, where officials told several thousand industry and intelligence officials they had to move "at the speed of war." Cartwright pressed for solutions, even partial ones, in a year or less.
→ read full article
---
SPAIN'S JUDGES CROSS BORDERS IN RIGHTS CASES
Craig Whitlock, 25 May 2009
High-Ranking U.S. Officials Among Targets of Inquiries Spanish judges are boldly declaring their authority to prosecute high-ranking government officials in the United States, China and Israel, among other places, delighting human rights activists but enraging officials in the countries they target and triggering a political backlash in a nation uncomfortable acting as the world's conscience. […]
→ read full article
---