Articles by David Bromwich
We found 4 results.
---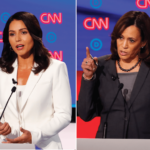 Tulsi Gabbard Has Done the Unpardonable: Criticized US Global Hegemony
David Bromwich | Mondoweiss – TRANSCEND Media Service, 12 Aug 2019
3 Aug 2019 – The Times' yellow journalism half disguised as human interest, with a few random points of political information. Headline: "Unorthodox Campaign Shows Isolationism May Have a Hold." Opening sentence: "Tulsi Gabbard is running for president of a country that she believes has wrought horror on the world."
→ read full article
---
The World's Most Important Spectator
David Bromwich – London Review of Books, 30 Jun 2014
'If we have to use force,' Madeleine Albright said, 'it is because we are America; we are the indispensable nation. We stand tall and we see further than other countries into the future.' Very much in that spirit, Obama told the graduating West Point cadets that the US must lead the world even though it cannot police the world.
→ read full article
---
Superpower Bypassed by History: The Embarrassments of Empire
David Bromwich - TomDispatch, 14 Mar 2011
Washington Wonders What to Say about Arab Freedom – From Egypt to Pakistan, February 2011 will be remembered as a month unusually full of the embarrassments of empire. Americans were enthralled by a spectacle of liberty in which we felt we should somehow be playing a part. Here were popular movements toward self-government, which might once have looked to the United States as an exemplar, springing up all across North Africa and the Middle East. Why did they not look up to us now?
→ read full article
---
AMERICA'S WARS: HOW SERIAL WAR BECAME THE AMERICAN WAY OF LIFE
David Bromwich, 23 Jul 2009
On July 16, in a speech to the Economic Club of Chicago, Secretary of Defense Robert Gates said that the "central question" for the defense of the United States was how the military should be "organized, equipped — and funded — in the years ahead, to win the wars we are in while being prepared […]
→ read full article
---