Articles by Doug Rawlings
We found 2 results.
---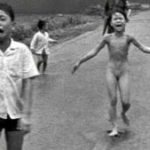 The Wall
Doug Rawlings – TRANSCEND Media Service, 20 Nov 2017
Vietnam War: what to take away? An admiration for the heroism of Americans and Vietnamese caught up in a grotesque, immoral, unjust war, just trying to survive? Disgust at the venality of the old men in the background pulling the strings? A deep, abiding cynicism as we look into the future of our country? What? I dunno. I wrote The Wall in 1986 after visiting the Vietnam Veterans Memorial in DC for the first time.
→ read full article
---
The Girl in the Picture
Doug Rawlings – TRANSCEND Media Service, 13 Nov 2017
We have seen this picture multiple times over the years, but it was just this past fall that I found out that the little girl, Kim, was nine years old when she was scarred for life. My granddaughter was nine this past fall. I wrote this poem below out of deep remorse and with a glimmer of hope — perhaps, just perhaps, there can be some forgiveness bestowed upon us if we accept our responsibility for the suffering we have caused, and if we live our lives struggling to put an end to war.
→ read full article
---