Articles by E.P. Milligan
We found 1 results.
---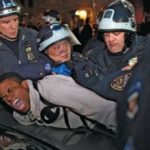 Trump "Defends" the Right to Protest in Iran, Criminalizes Protest in Washington
E.P. Milligan | WSWS – TRANSCEND Media Service, 8 Jan 2018
8 Jan 2018 – Trump's self-righteous claims to defend the right to protest in Iran are sheer hypocrisy. The first act of his administration was a police crackdown against people who protested his inauguration day. Police deployed weapons on at least 191 occasions, fired 74 sting ball grenades, a total of 230 people were arrested. The first round of trials collapsed late last year, with the jury acquitting all of the defendants. One hundred and eighty-eight defendants still await trial, many facing up to 50 years in prison.
→ read full article
---