Articles by Ed Fox
We found 1 results.
---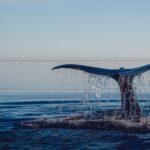 The Whale Who Sank a Ship and Became a Legend
Ed Fox | Whale and Dolphin Conservation - TRANSCEND Media Service, 30 Nov 2020
On 20th November, 1820, far out in the Pacific Ocean, an enormous male sperm whale turned on a group of American whalers, ramming their ship, the Essex, and sinking it.  News of the event shocked the whaling world, and would later inspire Herman Melville to write his great American novel, Moby Dick.
→ read full article
---