Articles by Emanuel E Garcia
We found 3 results.
---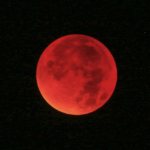 Our Misbegotten Moon
Emanuel E Garcia – TRANSCEND Media Service, 3 Sep 2018
On the 50th anniversary of that "giant leap for mankind" this coming July 20, 2019, let's see things for what they are and were: the greatest propaganda stunt of our age. It's high time we opened our eyes. Since Apollo 17 was reputed to have flown to the moon in 1972 there have been no further manned landings. None. Nobody has gone back. And for good reason: it is not yet possible now, and it was certainly not possible then.
→ read full article
---
Whence the Wheels of Our Desire
Emanuel E Garcia – TRANSCEND Media Service, 13 Nov 2017
Tufted, shades of a healing bruise,
Now they, desultory, scatter,
Distance an imagined cleft from where we lie,
…
→ read full article
---
And Night
Emanuel E Garcia – TRANSCEND Media Service, 18 Sep 2017
I was watching the mist with you
It spread over the brim of the cliffs,
Eaves that drooped and disappeared
Once the sun began to show
→ read full article
---