Articles by Emanuel Stoakes
We found 6 results.
---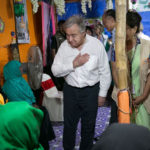 Rohingya Crisis: UN Investigates Its 'Dysfunctional' Conduct in Myanmar
Emanuel Stoakes and Hannah Ellis-Petersen – The Guardian, 4 Mar 2019
27 Feb 2019 – The UN has launched an inquiry into its conduct in Myanmar over the past decade, where it has been accused of ignoring warning signs of escalating violence prior to an alleged genocide of the Rohingya minority.
→ read full article
---
Myanmar Army Allegedly Left Rohingya Refugees with Bullet Wounds and Burns
Emanuel Stoakes – The Guardian, 15 May 2017
Shocking photographic evidence showing children among the injured adds weight to claims that military committed atrocities against Rohingya people.
→ read full article
---
Cluster Bombs Used in Sri Lanka's Civil War, Leaked Photos Suggest
Emanuel Stoakes – The Guardian, 27 Jun 2016
Exclusive: images appear to confirm use of the indiscriminate weapon in a conflict which cost the lives of at least 100,000.
→ read full article
---
When Will the World Act on Myanmar's Abuses?
Emanuel Stoakes – Al Jazeera, 28 Apr 2014
Most of all, highly credible allegations of crimes against humanity committed against the Rohingya minority underline the country's enduring backwardness on urgent moral issues. The offences continue to this day, perpetrated as a matter of long-standing state policy.
→ read full article
---
Patterns of Impunity and Deceit in Myanmar
Emanuel Stoakes - Al Jazeera, 27 Jan 2014
A UN supervised investigation is needed before more atrocities are committed against the Rohingya Muslims.
→ read full article
---
[Nobel Peace Laureate] Aung San Suu Kyi Is Turning a Blind Eye to Human Rights in the Name of Politics
Emanuel Stoakes – The Guardian, 2 Dec 2013
The Burmese politician's visit to Australia will spark praise from politicians – an unhelpful distraction from the extremely serious abuses taking place against Muslims in her homeland.
→ read full article
---