Articles by Eric Levitz
We found 1 results.
---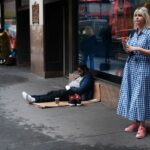 Study: Inequality Robs $2.5 Trillion from U.S. Workers Each Year
Eric Levitz | Intelligencer--New York magazine - TRANSCEND Media Service, 28 Sep 2020
14 Sep 2020 – Every few months, some group of socially conscious number crunchers will remind Americans that a tiny elite is binge-eating the nation's economic pie while the rest of us plebeians fight over table scraps. Journalists will then aggregate eye-popping statistics and edifying charts, progressives will share these over social media, adorned with red-faced (and/or guillotine) emoji — and the moral arc of history will carry on bending toward neofeudalism.
→ read full article
---