Articles by Ernesto Che Guevara
We found 2 results.
---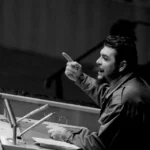 Homeland or Death! Che Guevara's Historic Speech at the UN on 11 Dec 1964
Juliana Medeiros, Ernesto Che Guevara | Jornalistas Livres - TRANSCEND Media Service, 6 Dec 2021
Che declared, in that historic UN Assembly meeting, the internationalist character of the Cuban Revolution and the non-negotiable willingness to defend its sovereignty — concepts that have become even more urgent and universal due to the coronavirus pandemic that the world faces today.
→ read full article
---
This Is What Imperialism Does to Men
Ernesto Che Guevara – TRANSCEND Media Service, 20 Feb 2017
11 Dec 1964, 19th UN General Assembly, New York – We would like to see this Assembly shake itself out of complacency and move forward. We would like to see the committees begin their work and not stop at the first confrontation. Imperialism wants to turn this meeting into a pointless oratorical tournament, instead of solving the serious problems of the world. We must prevent it from doing so. This session of the Assembly should not be remembered in the future solely by the number 19 that identifies it. Our efforts are directed to that end.
→ read full article
---