Articles by Fr. Cedric Prakash, SJ
We found 1 results.
---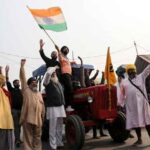 India: Let Us Learn from Our Farmers!!
Fr. Cedric Prakash, SJ | Countercurrents - TRANSCEND Media Service, 22 Nov 2021
20 Nov 2021 – The journey of the farmers is still not over! But they definitely know the way, show the way and go the way for the future of India! Let us have the openness, the humility and the courage to learn from them! Thanks to their relentless struggle and their great sacrifices, for all of us – the three anti-farmer laws have finally been repealed. For more than a year now – with blood, sweat, toil and tears, their protest has continued unceasingly. BRAVO!!
→ read full article
---